What are some of the most breathtaking mountains in the US?
The mountain ranges, like the rest of America, are diverse and prized by hikers and mountain climbers from all over the world. Some individuals attempt frozen cliffs in order to prepare for larger, more difficult slopes overseas, while others simply enjoy the splendor of these natural beauties from their base camps.
Many nature lovers cannot resist the call of the mountains. The magnificent views of staggering peaks in the distance beckon. Whether it is the crystal clear reflective alpine lakes, the various fauna that make a mountain home, or the massive meadows of wildflowers, there's always something breathtaking to view as you steadily climb on a mountain hike.
The US are spoilt when it comes to stunning wilderness areas and mountain ranges. Our list of the most spectacular mountains in the US is unashamedly subjective. In fact, we haven't used a matrix of metrics, scoring each on dominance, height, difficulty, or elegance.
Instead, we've chosen peaks that are spellbinding in a particular way. These mountains are all striking in their own way and, we believe, truly deserve a place on this list. Whether you're new to the hiking game or have been checking hiking trails off your bucket list for years, this article should give you some inspiration on which area to tackle next.
These top 7 magnificent mountains in the United States will give you a serious case of wanderlust, whether you're a beginning hiker or a seasoned K-2 climber. So, fill your water bottle, lace up your hiking boots, and prepare to venture out to see some of the most spectacular places in the US has to offer.
So, without further ado, here is our list of the United States' 7 most gorgeous mountains.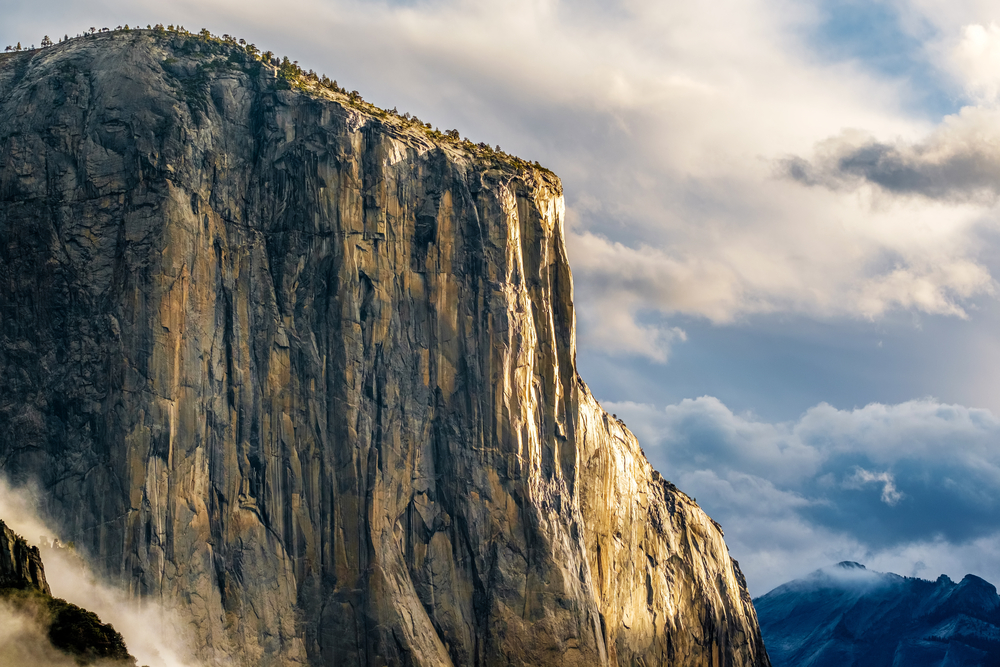 1. El Capitan
Location: Mariposa County, California
El Capitan in the Sawtooths isn't as well-known as its Yosemite counterpart, but it's just as dangerous. El Capitan was named for the spectacular dome-like face on its west side, which is located in the Sawtooth Wilderness, a federally designated wilderness area.
Mountain goats are common in this region with mountains and may be spotted on the Sawtooths' upper slopes, especially El Capitan. Wildlife biologist Douglas H. Chadwick notes in his book A Beast the Color of Winter that Idaho was one of the first states to recognize that the goat population was falling in the 1950s.
Hunting restrictions were imposed, and the goat population was mostly stabilized, unlike in other parts of the country. Idaho's mountain goat population is estimated to be approximately 2,500 currently.
2. Denali
Location: Alaska Range, Alaska
Mount McKinley was the name given to North America's tallest peak by a gold prospector in 1896 after hearing that William McKinley had been nominated for the US President. Despite the fact that McKinley never set foot in Alaska, the US government formally recognized Mount McKinley as the mountain's name in 1917.
For ages, the Koyukon people in this region of mountains have referred to the peak as 'Denali.' Following the 1917 change, the Koyukon launched a campaign to get the old native Alaskan name restored. In 2015, President Barack Obama reinstated the name Denali, which means "High One" or "Great One."
3. Mount Saint Elias
Location: Saint Elias Mountains, Alaska
Mount Saint Elias is a mountain that is on the boundary between Alaska and Yukon, Canada. After Denali, it is America's second-highest mountain and Canada's second-highest summit after Logan. It's also one of the most photographed mountains.
When European explorers first saw the peak in the mid-eighteenth century, they couldn't come up with a name for it, so it was named after Cape Saint Elias in Alaska. The US Geological Survey gave the mountain the uninspired name of Boundary Peak 186 for a short time.
After a series of botched efforts to ski or snowboard from its top resulted in disastrous events in recent years, the massive mountain has earned the title "The Man Eater." The achievement, which is thought to be the world's longest skiing descent, was finally accomplished in 2007 when an Austro-American team skied down 3,960 meters (13,000 feet) from the top.
Here's an instant camera that you may want to bring with you when exploring this stunning area!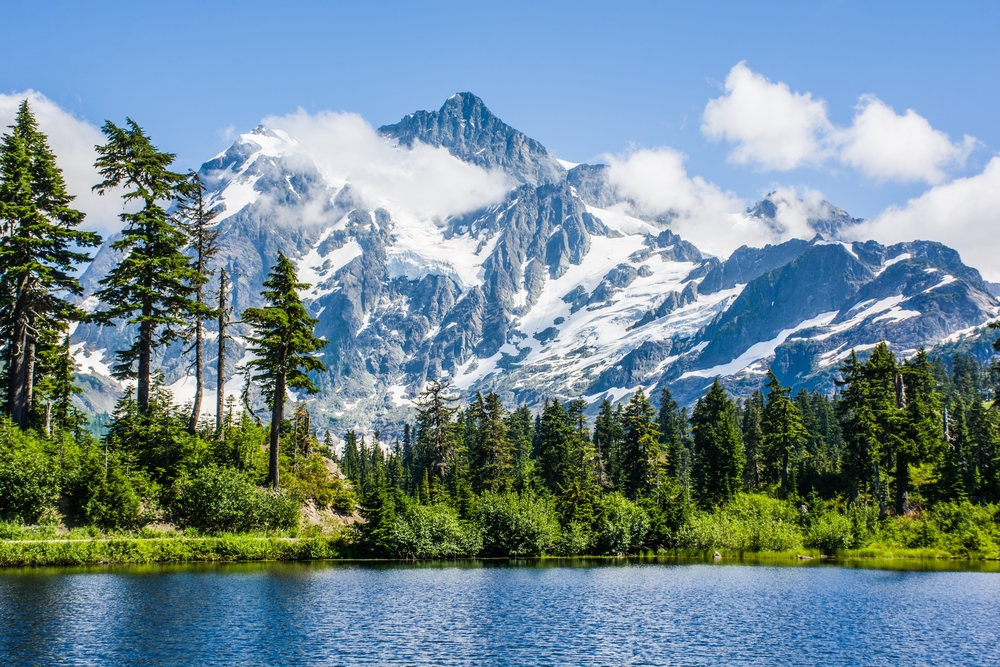 4. Mount Shuksan
Location: Cascade Range, Washington
Mount Shuksan, which in Nooksack means "high foot" or "golden eagle," is a huge mountain of pinnacles, ridges, and glaciers that effectively forms its own Cascadian sub-range. Summit Pyramid, a three-faced summit on the big alpine mountain, is the tallest and most remarkable point.
Shuksan is one of Washington's most photographed mountains, and its north face is possibly most beautiful when viewed from the Artist Point Trail or from across Picture Lake. Shuksan is especially unique for being one of the few non-volcanic summits in the Cascade Range, as well as the only one whose summit rises beyond the tree line by at least 914 meters (3,000 feet).
Keep reading to discover other breathtaking US mountains!
5. Mount Rainier
Location: Cascade Range, Washington State
Mount Rainier, as well as the Cascade Range, is Washington State's tallest summit. It is the highest glaciated mountain in the United States, and its ice slopes give birth to five major rivers. Because it shares many of the qualities and obstacles found on the continent's highest peak, the mountain is commonly utilized as a training ground for Denali.
Mount Rainier is an active stratovolcano that is regarded as one of the world's most hazardous volcanoes owing to its high likelihood of eruption in the near future, despite the fact that there hasn't been a large eruption in roughly 200 years.
Mount Rainier is one of the 'Decade Volcanoes,' a group of 16 volcanoes on the planet that pose a considerable risk to neighboring communities, according to the International Association of Volcanology and Chemistry of the Earth's Interior.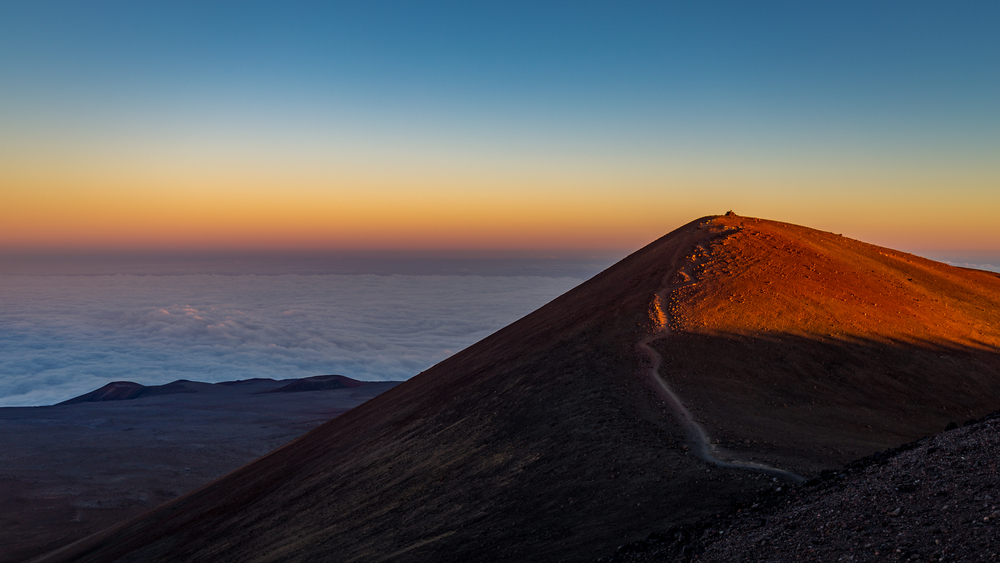 6. Mauna Kea
Location: Hawaiian Islands, Hawaii
While we all know that Mount Everest is the highest peak on the planet, Mauna Kea is the tallest. Mauna Kea is a massive mountain that rises 10,203 meters (33,476 feet) from its watery base to its top. Mauna Kea is also the world's second-highest island peak, only surpassed by Puncak Jaya in Indonesia, Oceania's highest mountain and one of the seven summits.
Mauna Kea's combination of high altitude, dry atmosphere, and consistent airflow makes it one of the greatest astronomical observation spots on the planet. As a result, the world's biggest astronomical observatory, with telescopes operated by astronomers from 11 nations, has 13 telescopes installed on its top plateau.
7. Grand Teton
Location: Teton Range, Wyoming
The Tetons, which stretch 40 miles across northern Wyoming, are one of North America's newest mountain ranges. Compared to the 'middle-aged' Rockies (50-80 million years old) and the 'elderly' Appalachians, these mountains have been elevating for less than 10 million years and are categorized as 'adolescent' (more than 300 million years old).
The Grand Teton rises more than 2,130 meters (6,988 feet) above Jackson Hole, a lush valley with a major ski resort at its eastern foot.
Grand Teton, like many other famous peaks, has its own first ascent dispute. In July 1872, explorers Nathaniel P. Langford and James Stevenson claimed to have reached the top, although it's more likely that they only made it to The Enclosure, a Grand Teton side peak. Surveyor William Owen and three friends claimed the first uncontested summit in 1898.
If you liked our article on most stunning mountains in the US, you may also want to read 50 Best State Parks Around the US!