How many state parks have YOU visited?
Discouraged about the high cost of travel? We've got great news! You don't have to go anywhere pricey or far-flung to have that dream vacation. There's plenty to see and do in our beloved country, starting with the state parks.
Although the national parks are the ones that boast massive networks of hiking trails and breathtaking views, they're also packed with tourists. State parks, however, have just as many activities to offer without all those overwhelming crowds.
Over 10,000 US state parks extend across millions of acres of our land, compared to just 423 national parks. In fact, there's more than likely a state park within a stone's throw away from your own home, no matter where you live.
So if you're looking for a more accessible trip, state parks are often less expensive, less crowded, and wonderfully underrated. But with thousands to choose from, narrowing down your options can be tricky.
And even though favorites are always subjective, there are those unique places that leave a lasting impression on anyone who visits.
We got the 411 from locals, outdoor enthusiasts, and frequent travelers in every state to gather the best state parks in all of our beautiful 50 states. Here are our top picks of our country's greatest natural wonders, one state park at a time!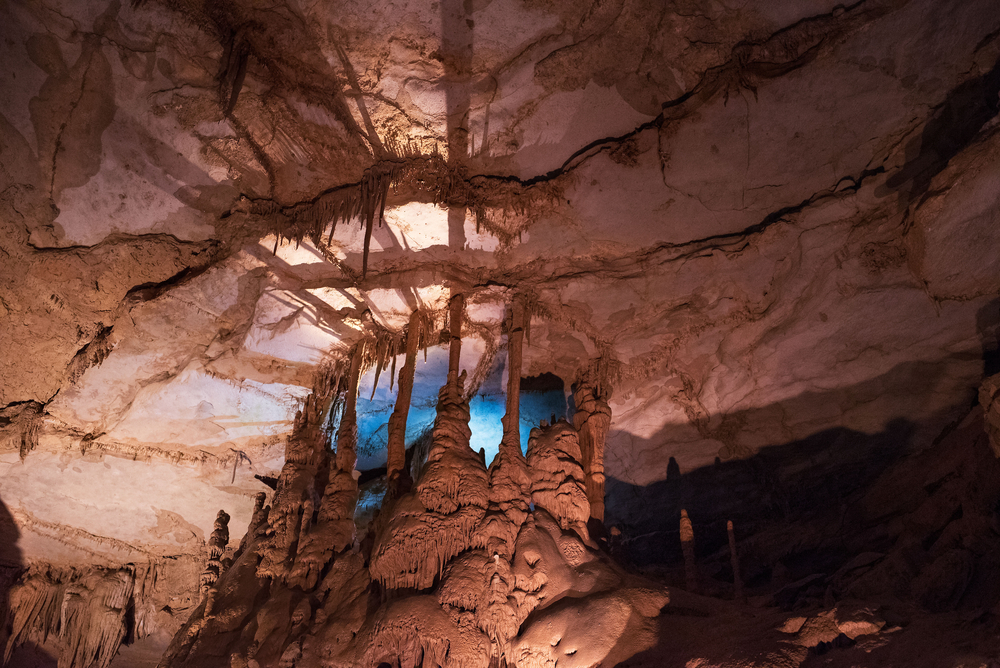 Alabama: Cathedral Caverns State Park
Cathedral Caverns State Park is named this way for its enormous cathedral-like cave and is located in the northeastern part of the state. It welcomes its guests daily on tours of the cave, where you'll be able to get a glance at one of the planet's most enormous stalagmites.
Alaska: Denali State Park
Not to be confused with the National Park, Denali spans more than 300,00 acres. That's roughly half the size of the entire state of Rhode Island!
It's almost completely made up of pure and harsh wilderness, except for a couple of beautiful trailheads, two recreational areas, and three campgrounds.
While visiting, you can expect to see a lot of wildlife, including elk, deer, moose, marmots, and even some brown and black bears. This park is a utopia for hikers, but you can also just take a drive through it or a guided kayaking trip.
Arizona: Slide Rock State Park
Arizona has no shortage of spectacular vistas, but Slide Rock's smooth red rocks and sandstone bluffs in Oak Creek Canyon are fantastic for trekking and fishing in the park's designated stream.
A can't-miss in the area is the 80-foot-long Slide Rock Waterslide, where you can slide down the refreshingly nippy waters. The walk to the slide is short and straightforward, but the park has longer trails for hiking enthusiasts.
Arkansas: Devil's Den State Park
Don't let the name scare you off! In this park, wood and stone structures dot the landscape, which is full of surprises due to a handful of dark caverns and interesting rock formations.
While here, you can try mountain biking, hiking through the forest, or rent a boat and fish Lake Devil.
California: Crystal Cove State Park
This is the park where you'll find one of the last remaining natural seashores in Orange County.
And since you're already visiting, why not go for a dip in the Pacific Ocean, explore the tide pools when it's low tide, or take a hike through the mountainous backcountry at this diverse park?
Colorado: Eldorado Canyon State Park
Climbing enthusiasts should head straight to Eldorado Canyon State Park, where they can climb and rappel on sandstone cliffs. Some are even up to 700ft high. The rocks are uneven and rough, so beginners shouldn't attempt to climb these cliffs. It's best for trained climbers.
Not to worry, though. There are many other fun activities you can enjoy in the area, including hiking, horseback riding, fishing, and even cross-country skiing once the cold weather arrives.
Connecticut: Kent Falls State Park
This park is centered around cascading waterfalls that guide you to the Housatonic River. The best time to visit Kent Falls is right after a rainstorm or as the snow melts in the springtime, which causes the stunning waterfalls to appear especially dramatic.
Delaware: Lums Pond State Park
Created surrounding one of Delaware's most extensive freshwater ponds, Lums Pond is a marsh-like getaway known for having several different dragonfly species. Its visitors can hike or stroll through the park and around the lake.
But they can also take a paddleboat, canoe, or kayak on the pond itself. There's also a Treetop Course for ziplining for adventure seekers.
Florida: Ichetucknee Springs State Park
You can explore a different side of Florida when you visit the swamps and springs of this state's interior. At Ichetucknee Springs, you can enjoy kayaking under the lush green trees or spend your day tubing down the river… favorite drink in hand, of course.
Georgia: Vogel State Park
This happens to be Georgia's second-oldest state park. The perfect time to visit is in autumn, when you can watch the leaves of the trees around the Blue Ridge Mountains change from green to gold, red, and orange.
The park, which sits at the bottom of Blood Mountain, offers many hiking trails, which range from leisurely strolls to more challenging treks up to the Appalachian Trail. Make sure you also visit the 22-acre lake, where you can kayak or paddleboard.
Hawaii: Waimea Canyon State Park, Kauai
Frequently known as the Grand Canyon of the Pacific, Waimea Canyon is home to thousands of canyons that are extremely deep and vividly multicolored, thanks to its eroded reddish rocks, lush greenery, and rushing waterfalls.
And while hiking through the park is always an option, visitors can also drive around the canyon, stopping at the picturesque viewpoints to snap a few photos and take it all in. Just make sure you arrive early to skip the fog.
Idaho: Bruneau Dunes State Park
This particular park in Idaho happens to be home to the tallest single-structured dune on our continent. And even though you can simply hike through the park, the bolder visitors are encouraged to rent a sandboard to try it out.
Illinois: Starved Rock State Park
Suppose you drive just a few short hours south of Chicago's skyscrapers. In that case, Starved Rock State Park's multiple waterfalls and rough hiking terrain make for the perfect escape from the Midwest's typical ordinary landscape.
With trails along the Illinois River, visitors can also enjoy canoeing, fishing, and even cross-country skiing in the winter.
For those who wish to visit the park but aren't into traditional camping, the recently opened Camp Aramoni features luxury tents and half-board meal options.
And while you're here, visit the waterfall at St. Louis Canyon, a one-and-a-half-mile hike away from the Visitors Center. If visiting in winter, you'll see the icicles forming.
Indiana: Chain O' Lakes State Park
The Chain O' Lakes Park in this state is the ideal location for avid boaters. With nine lakes connecting to create a chain, there are plenty of opportunities for canoeing, fishing, and many other water activities.
Iowa: Beed's Lake State Park
Once entering the park, a limestone dam welcomes guests. The Civilian Conservation Corps originally built the dam to store water for running a mill, but it has become a top-rated tourist destination nowadays.
A two-mile trail leads visitors to the dam's base, where they can enjoy a refreshing water mist.
Kansas: Wilson State Park
If you thought this was just another flat state, we're here to tell you that you couldn't be more wrong. While Wilson doesn't have any mega-gigantic peaks, it DOES offer its visitors hilly terrain that's simply perfect for cycling.
It even has some spectacular rocky cliff formations around the reservoir. For a leisurely stroll, walkers should opt for the easy one-mile Cedar Trail. And after you've finished, you can fish and swim in designated areas, as well.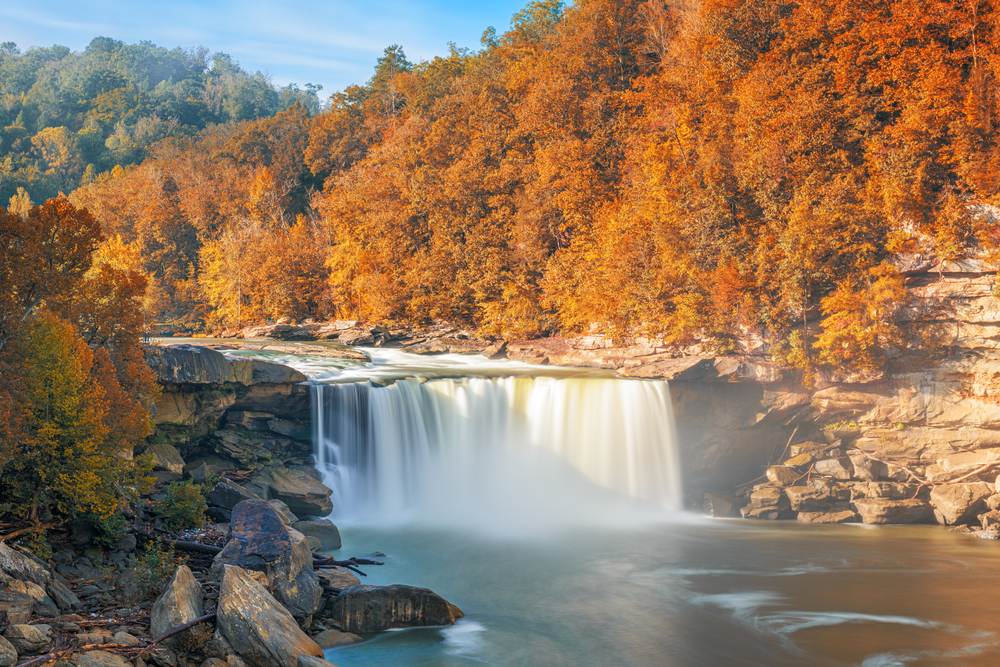 Kentucky: Cumberland Falls State Resort Park
Also known as the "Niagara of the South," Cumberland Falls is home to a 125ft wide waterfall that creates a moonbow at nighttime.
And during a full moon, the falls make a stunning rainbow from the moon's light, a spectacle you can't find anywhere else in the Western Hemisphere.
Louisiana: Chicot State Park
This park features 6,400 acres of fruitful hills, swamps, and woodland circling Chicot Lake. Fishing enthusiasts can catch bluegills and largemouth bass at the beautiful 400ft fishing pier, while children can enjoy the water playground located here.
There are even several picturesque hikes and strolls through the park's mangroves and forests. If visiting The Arboretum, you won't want to miss the magnolia and beech tree forest.
Maine: Quoddy Head State Park
Quoddy Head is located on the coast of Maine and boasts a bright red-and-white-striped lighthouse. Commissioned by Thomas Jefferson and built in 1808, you can still climb the lighthouse today to take in the spectacular views. You might even spot some migrating whales.
Maryland: Assateague State Park
Maryland's oceanfront state park is on a barrier island between the Atlantic and Sinepuxent Bay. The two-mile-long island offers sandy beaches, coves, and marshes that visitors can explore by kayak.
The one thing that absolutely CAN NOT be missed is the park's herd of wild horses, which you may view from a distance.
Massachusetts: Walden Pond State Park
Fanatics of Henry David Thoreau's "Walden" should visit this park, home to the famously tranquil Walden Pond and Walden Woods. If you DO happen to be a Thoreau enthusiast, you can also see a representation of Henry David Thoreau's house.
This area is ideal for a peaceful escape to mull over life and its meaning. Visitors can stroll or hike along trails circling the pond, unwind on the beach, go swimming, bird watching, or canoe in the pond.
Michigan: The Porcupine Mountains Wilderness State Park
With over 90 miles of trails, Porcupine Mountains Wilderness State Park is also Michigan's LARGEST state park.
We recommend you check out the Summit Peak observation tower for some breathtaking views of Lake Superior, the lush forests, and the beautiful streaming rivers.
Minnesota: Itasca State Park
As you can expect from a state like Minnesota, Itasca has more than 100 lakes within its borders. But what truly makes this park unique is the fact that it holds the headwaters of the Mississippi River.
Mississippi: Tishomingo State Park
Going through this park, you'll get to drive the historic Natchez Trace Parkway, a road that dates all the way back to the 1800s. It's got sensational scenery, and it's situated at the foot of the Appalachian Mountains.
This mountain is home to some very unique geological highlights, including stone-cut ravines and boulders that are scattered throughout the park. Visitors can camp, hike, canoe, fish, and picnic at the park. Rock climbing is also an option, but only with a permit.
Missouri: Prairie State Park
Since there are less than 65,000 acres of tallgrass prairie that remain in our country, prairie park offers a glimpse of the vanishing ecosystem. The park has over 150 different kinds of birds, 500 plant species, and many other unique wildlife.
Montana: Lewis and Clark Caverns State Park
Even though a few states might have a state park named Lewis and Clark, Montana's is the oldest and stands out from the rest due to its underground limestone caverns and caves.
Besides checking out some of the largest caves in the Northwest, visitors can also benefit from the park's more than 40 campsites, plus areas that are just perfect for fishing and hunting.
Nebraska: Smith Falls State Park
If you're a fan of waterfalls, this place is for you! It's home to Nebraska's tallest waterfall. From the park, you can paddle your way down the Niobrara River or hike to the closeby Fort Niobrara National Wildlife Refuge and get a glimpse of the area's bison and elk.
Nevada: Valley of Fire State Park
Those who visit for the nature and not the casinos should head to the Mojave Desert. It's just a 45-minute drive away from the strip. In this park, you'll find roughly 50,000 acres of 2,000-year-old petroglyphs, colossal sandstone rock formations, and petrified trees.
You can learn more about the park's fascinating landscape at the Visitors Center, or dive right in and set up camp! You'll simply love the park at dusk when the colorful sunset hues give you hints of how this location got its name.
New Hampshire: Franconia Notch State Park
The aerial tramway at this park takes visitors up about 4,080ft to the summit of Cannon Mountain. Visitors will get to see the mountains of New Hampshire, Maine, Vermont, New York, and even Canada on a clear day.
During your visit, you can swim in Echo Lake, go fly fishing at Profile Lake, do some rock climbing, bike, and so much more.
New Jersey: Island Beach State Park
As you may have guessed, this park is all about fun in the sun. The small barrier island stretches for over 10 miles, offering miles and miles of sandy coastline and seaside dunes.
New Mexico: City of Rocks State Park
This park is just as its name suggests: a square-mile cluster of giant volcanic stones that date back millions of years. Some are even up to 40ft high. The rocks form a city, with paths between them as if they were buildings that suddenly appeared in the middle of the desert.
But even though the main attraction might be the rocks, the park also offers hiking, birdwatching, camping, and stargazing.
New York: Niagara Falls State Park
Niagara Falls State Park is probably one of the most famous, but it's also one of the oldest. Inside this iconic park, you'll find destinations like Bridal Veil Falls, American Falls, and part of Horseshoe Falls.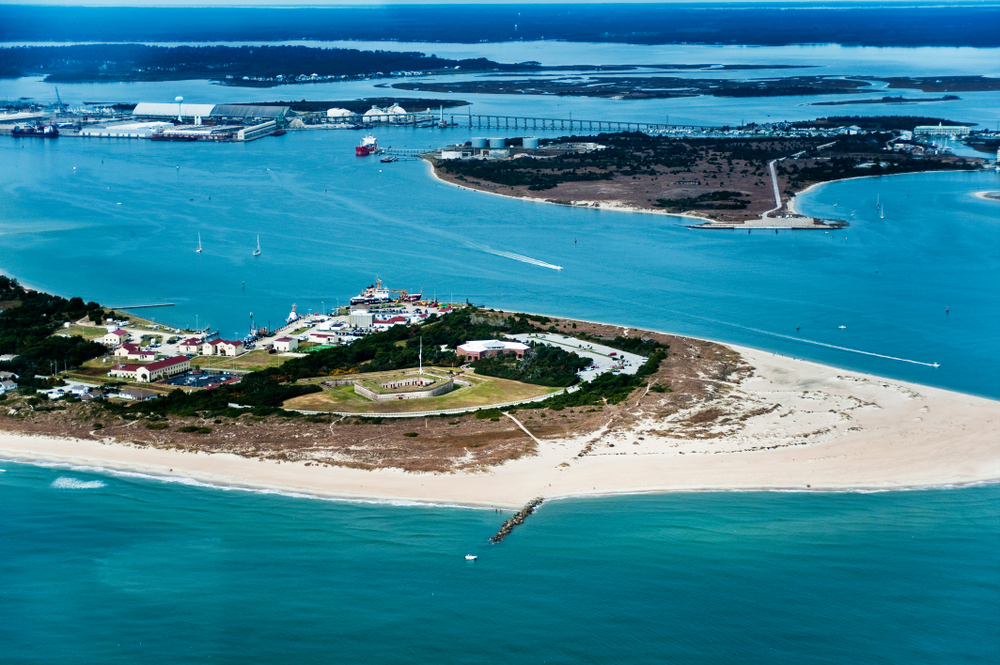 North Carolina: Fort Macon State Park
This park offers the amenities of a coastal beach park with just a smidge of American history added to it. After touring the Civil War-era fort, visitors can go fishing on the inlet or take a refreshing dip in the Atlantic Ocean.
North Dakota: Little Missouri State Park
With over 30 miles of trails that go through the Badlands, this park is an oasis for hikers. It's also one of the state's horse parks, meaning there are 81 corrals that riders can use when exploring the park while horseback riding.
But look out into the horizon! Keep your eyes peeled for bald eagles, golden eagles, cooper's hawks, mountain bluebirds, prairie falcons, and turkey vultures.
Ohio: Hocking Hills State Park
Hocking Hills has many activities besides its natural beauty. Visitors can enjoy archery, fishing, disc golf, and hiking through caves, waterfalls, and under shaded gorges.
Oklahoma: Lake Murray State Park
Lake Murray is the centerpiece of this park, not surprisingly. But what might be unexpected are the beautiful beaches, campgrounds, hiking trails, and golf course that's found within.
Oregon: Smith Rock State Park
One of Oregon's 7 Wonders has over 2,000 climbs for adventurous types. They're ideal for climbers in groups of beginner to advanced and everyone else in between.
But don't worry! You don't have to be a climber in order to enjoy the magnificent scenery Smith Rock has to offer. Imagine steep ridges, craggy basalt peaks, and river canyons. While here, be sure to hike one of its popular trails: Summit Trail or Misery Ridge.
Pennsylvania: Cherry Springs State Park
Given its secluded site on pristine land in Pennsylvania, Cherry Springs is known for its unrestrained night sky views.
The clear skies permit astronomy enthusiasts to view the Milky Way and planets from its overnight Astronomy Field or short-term Night Sky Public Viewing Area.
Rhode Island: Colt State Park
This small area of open space has some of the best ocean views Rhode Island has to offer. Here, you can kick back and watch sailboats voyage by or jump on the East Bay bike path and pedal your way around to explore the scenic area.
South Carolina: Jones Gap State Park
Visiting this state, you can enjoy some of the best trout fishing the area has to offer. The park itself is where the Middle Saluda River drops into the Coldbranch Spring.
But besides fishing, park-goers can hike over 60 trails in the 13,000-acre park, covered with sprawling mountains and forests. Or they can spend the night at one of the 16 campsites.
South Dakota: Custer State Park
Across its 71,000 acres, this park welcomes guests with its abundance of activities, diverse wildlife, and breathtaking picturesque views. Visitors can rock climb, hike, or swim, all while catching a glimpse of the unique wild animals, including bison or elk.
Tennessee: Justin P. Wilson Cumberland Trail State Park
Where this park is situated is what makes it unique. It's perched atop the eastern Cumberland Mountains and gives nature seekers access to stunning vistas, waterfalls, and dizzying gorges.
Texas: Palo Duro Canyon State Park
This park is where you'll find the second-largest canyon in our country, located in the Texas panhandle. Hikers can head down 800ft into the canyon and explore over 15,000 acres of trails.
But if you just want to take in that gorgeous scenery, there are plenty of viewpoints easily reached by car. Many camping options and horse trails are available, as well.
Utah's Dead Horse Point State Park
Despite its somber name, this park used to welcome cowboys herding wild mustangs sometime back in the 1800s. Today, visitors can view the mesmerizing desert landscape atop the sandstone cliffs.
Vermont: Smugglers' Notch State Park
Named for the thin, 1,000ft tall rift through the Green Mountains, Smugglers' Notch is the sort of place worth visiting just to snap a photo. But we recommend staying a while. Visitors truly appreciate the easy access to hiking and wonderful picnicking spots.
Virginia: First Landing State Park
Named to celebrate the first European settlers' landing on the continent, First Landing is a beach-goers' dream.
With effortless access to the Atlantic Ocean and the Chesapeake Bay, this park delivers tranquil waters, undercrowded beaches, and easy boardwalk access. Visitors looking to escape the busy pace of Virginia Beach can also rent a cabin and stay overnight.
Washington: Wenatchee State Park
The understated magnificence of this park comes from the immaculate, five-mile lake and river. With hiking, biking, and guided horseback rides that span the park's highland forests and mountains, it's easy to submerge yourself in nature.
Luckily, camping is available all year round, including snow camping for those gutsy enough to face cold temperatures.
West Virginia: Blackwater Falls State Park
The water flowing down the Blackwater River may look black, but this gorge and waterfall shouldn't be missed, especially if you've got a camera in your hand. In addition to the captivating scenery, the park also has plenty of biking, hiking, and fishing opportunities.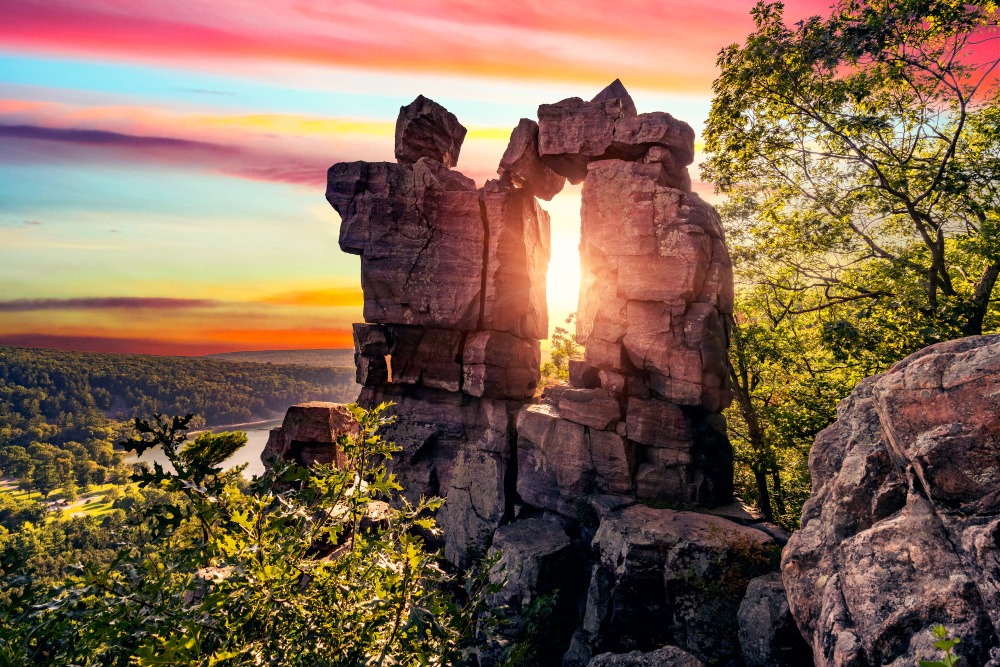 Wisconsin: Devil's Lake State Park
Just a short drive from Madison, Devil's Lake is located on native land, home to effigy mounds, part of the Ho-Chunk cultural origin. Nowadays, the park offers a couple of sandy beaches, picnic areas complete with barbecue grills, and the option to swim or kayak.
Be sure to pack a picnic basket, to take a break and enjoy the views. We recommend the Sunflora Picnic Backpack from Amazon.
You can expect to see over 29 hiking trails and 500ft hike quartzite bluffs that offer stunning views of the park. The best part is that you can go for a day trip, or you can camp overnight at one of their 423 sites.
Wyoming: Hot Springs State Park
Rightly named after its natural hot springs, Hot Springs has a free bathhouse where visitors can appreciate a therapeutic dip in waters that constantly remain at 104 degrees Fahrenheit. Adventure seekers can hike, boat,… and maybe even get a view of the park's bison herd.
Don't forget to leave us a comment to let us know if we included YOUR favorite park on our list.
And if you wish to explore some more fascinating parts of our country, we've got many options to choose from, including: 7 Magical Healing Spots You Should Visit in the US