Have you ever heard about these cities before?
We are sure you are sick of all the people around you and tourism sites suggesting the same exact cities again and again! Naturally, they are worth visiting and we are sure they are not singing them praise for nothing, yet it can sometimes be a bit hard to get to see something unique when everyone and their mother is there to do the exact same thing you are.
It can be upsetting when you are visiting a city and it's very crowded or when you are trying to admire nature but there are tons of people trying to take selfies there.
However, we have a solution for all of these! Why not visit some of the lesser-known cities in the same states, where you can enjoy most of the same things but in a quieter setting? It's a win-win situation: you get to relax and enjoy the hustling and bustling city on a day trip, but not have all your days be plagued by crowds and noise while also visiting another town!
Read all about these amazing scenic cities that you probably never heard of, but should definitely be open to!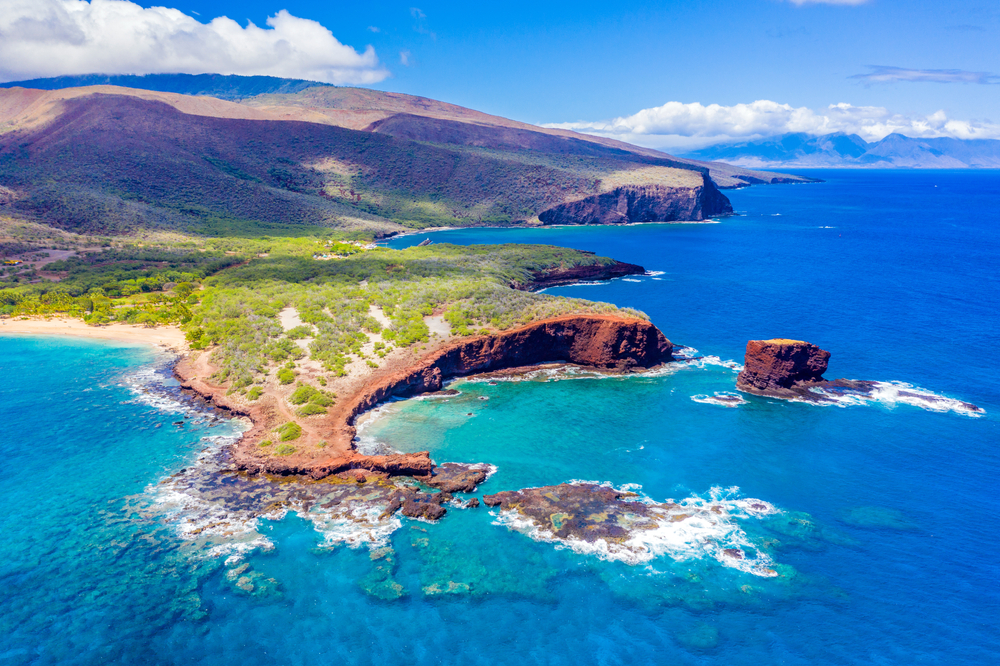 Lanai
With how much more popular Hawaii is now compared to how it once was, it is pretty hard to find an island, forget about cities, when it comes to the tropical paradise. Most of the tourists are heading towards Maui, Oahu, the Big Island, and Kauai, making them a people-filled nightmare at the height of the season. Despite this, there is a hidden gem that can make your vacation so much more stress-free and relaxing, just by getting away from all the hustle and bustle of the popular islands.
Lanai is not that far away from Honolulu, only a 25-minute flight, and is the epitome of Hawaii's gorgeous sights, without them being spoiled by a plethora of other travelers. Without all the throngs of other tourists, you can enjoy what makes Hawaiian cities so famous, from enjoying the clear waters for snorkeling, and some good ole swimming, to the amazing rugged trails for horseback riding or hiking— just remember to not touch the vegetation and make sure you do not leave any trash behind by accident.
Lanai is the perfect spot for a relaxing getaway, a honeymoon vacation, or just a spell of solitude in a little corner of paradise. The island has wonderful accommodations, so you do not have to worry about anything of the sort. Moreover, you won't have a second to get bored, as there is plenty to do there. Don't miss your chance to explore paradise!
Eureka Springs
If you ever heard someone mention "The Magic City", you should know that they were, in fact, talking about Eureka Springs. Despite not being known by this alias anymore, it's easy to see why this Victorian resort village ended up getting the nickname. Sometime around the turn of the 20th century, people believed that the springs in Eureka were actually full of magic, and had healing properties. This magic-prone reputation surprisingly continues to stick even to this day!
The city is famous for its bed-and-breakfasts, magic shows, everyone's favorite outdoor theatre, and mostly for its healing spas. They also have a worthy reputation for being LGBTQ+ friendly, receiving quite a lot of praise from this community, and celebrating gay pride three times a year. You can choose to stay in their luxurious inns or cottages, in quaint bed and breakfasts, some of which are famous all across the United States. We are sure you will have a relaxing vacation between visiting the historical center of Eureka Springs and spending a relaxing time in the spas.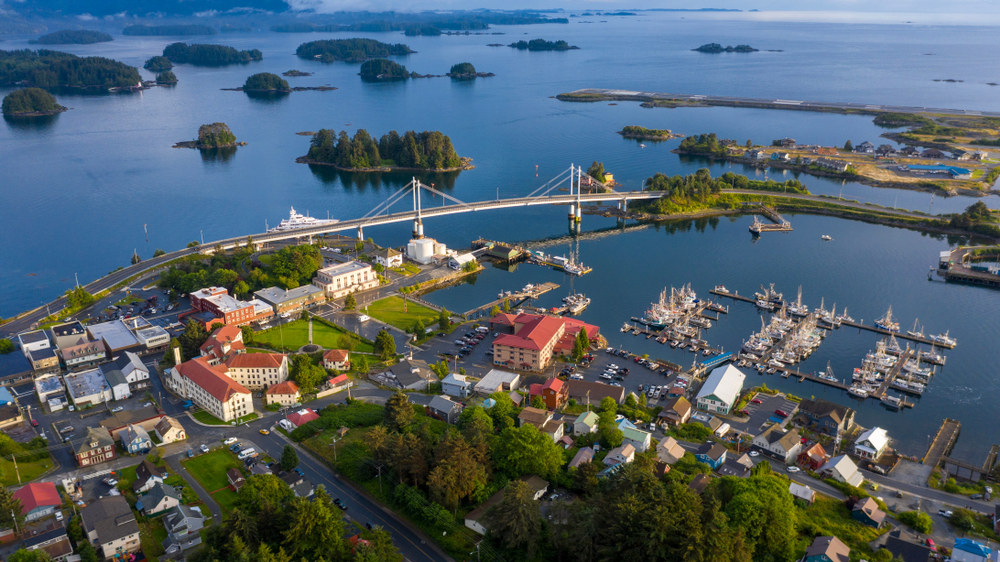 Sitka
We are sure you have heard about a lot of cities in Alaska that everyone says you "must" visit. And of course, you should give their scenic capital Juneau a visit, after all the views are breathtaking. However, Alaska's hidden gem is one of the capital's neighboring cities, Sitka! The city is well known for its raw natural beauty and one-of-a-kind experiences.
Where else in America can you take a hike through a rainforest full of totem poles and enjoy the sunset while the dormant volcano looks like it is swallowing the sun? There are some things you truly have to experience for yourself as pictures do not do them justice, and Sitka is one of them. What's even more interesting is the city's history, which starts back in 1867 when the United States bought the state from Russia. You can learn and see more of the Russian roots of this city in its museums and parks, getting to experience how they managed to merge the old with the new.
There are numerous attractions and activities that you can do, so we are sure you will not be disappointed if you choose to visit Sitka in the near future. Just make sure you can brave the cold if you want to see Alaska's frozen winter beauty!
Florence
No, we do not mean Italy's Florence. As it happened after they arrived on what would become U.S. soil the pilgrims named their cities after their hometowns to pay homage. This city in the northwest part of Alabama raised up to the stardom of its namesake! Florence is part of this region's "quad cities", all of which have something that makes them relatively famous: Sheffield is well known for being the city in which Etta James and Aretha Franklin recorded their music at FAME Studios, Hellen Keller was born in the town of Tuscumbia, and Muscle Shoals is mentioned in the (unfortunately) unofficial state anthem, Sweet Home Alabama.
Florence's claim to fame is by far the most exciting as it is one of America's up-and-coming foodie towns! From high-end seafood restaurants to cute cafes and exciting cuisines for every budget and taste, it is a town that you will not want to miss. They even have a revolving rooftop restaurant from which you can see the whole city and admire the sunset!
The best part yet? Despite starting to be known amongst food enthusiasts there are not that many tourists there, so you will not have to battle to get a reservation at the town's best restaurant.
All of these gorgeous cities are worthy of being celebrated and remembered! This is why you should definitely make sure you remember these places even years after you have been to them. The best way to do that is to commit to a travel journal. This one from Amazon is affordable and sturdy, and it will help you remember all these great memories even years later!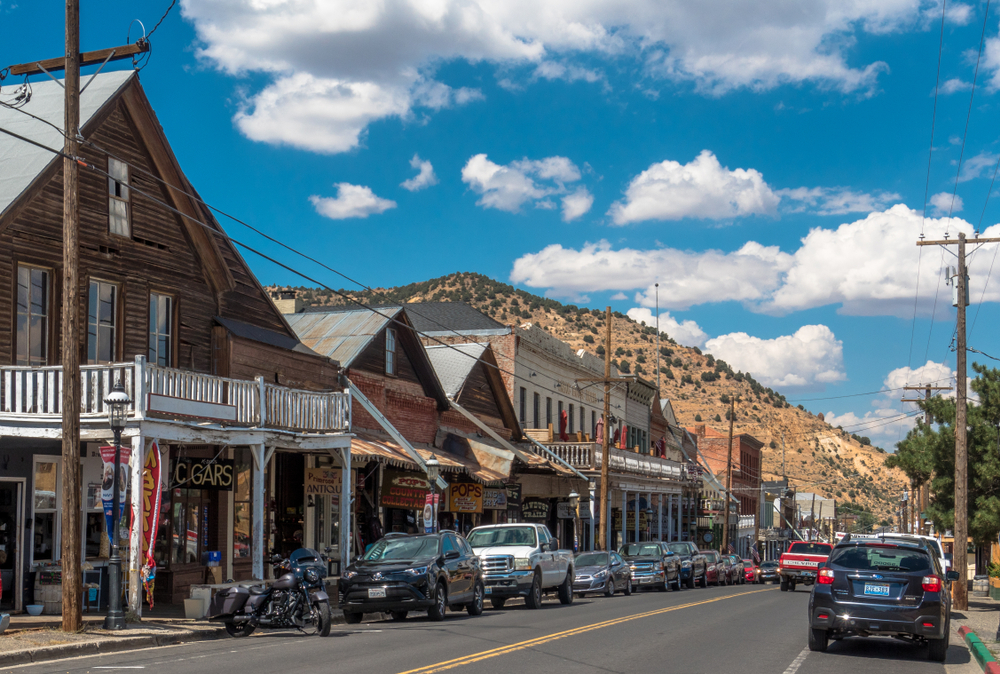 Virginia City
Most travelers who choose to visit Nevada make sure they do not miss the Vegas strip. Yet, as everyone is bound to, at one point you will get tired of all the showgirls, bright lights, and casinos. To get a break, you can choose to step out and visit Virginia City, which will show you all the forgotten glory of a Wild West mining town. Frankly, it would be impossible to get bored here.
From exploring the Chollar Mine to catching a ride on the historical V&T railroad, you can also just take the trolley or walk around to take in all the town's beauty. If you are lucky and a bit savvy when it comes to the time of year you choose to visit, you can even end up seeing a rodeo or romped into a saloon crawl. There are lots of things to do, all while enjoying the Western atmosphere of the town.
The city is just a stone's throw from Reno, and an amazing day visit choice if you happen to be in the area. Lots of people go to Reno and the cities around in order to ski, for the golf courses, or the horseback riding adventures, but not many know or appreciate the amazing adventure a small town like Virginia City can bring you. Don't miss out on an authentic Wild West experience and give this city the chance it deserves!
Slaughter Beach
We know, the name is quite terrifying, but we assure you the beach is anything but that! Especially if you like sea critters. With Delaware being the second smallest state, you would not count on anything amazing being there. Except, the state is known for being a giant when it comes to beaches and beach towns, with Rehoboth, Dewey, and Bethany being some of the best-known beaches in the state.
Yet, if the famous beaches that gather tons of people are making you uncomfortable and you don't want to spend time fighting with others to get to lay down your towel, Slaughter Beach is the best place to go to plant your umbrella. Even if the name might be a bit ominous, the beach is perfectly lovely and an amazingly quiet place to get your fill of sunshine without any crowds around. The name has been inherited because over the years it has become a sanctuary for swarms of horseshoe crabs that wash up on the shore each year.
The place is amazing to get your fill of water fun and a great tan, get some fresh seafood for lunch, and, if you are bored, even a trip around the nearby Prime Hook National Wildlife Refuge! This may be in one of the smaller cities of Delaware, but you shouldn't sleep on it!
If you want to add more exotic places to your bucket list, look no further! We have some exotic destinations that will take your breath away!