Have you heard about these strange amusement parks?
When we think of amusement parks, our minds immediately turn to the House of Mouse! But Disneyland isn't the only show in town. There are theme parks dotted across our nation offering a wealth of amusements like roller coasters, bumper cars, and corn dogs. However, some are just slightly different from your usual amusement park fare. And by 'different,' we mean utterly bonkers!!!
Many of these parks don't get the recognition the more famous locations get despite their themes being more than eye-catching. So, we thought we would shine a light on some of the more out-there theme parks that exist in the United States.
Some of these you'll be hard-pressed to believe even exist but trust us, they definitely DO!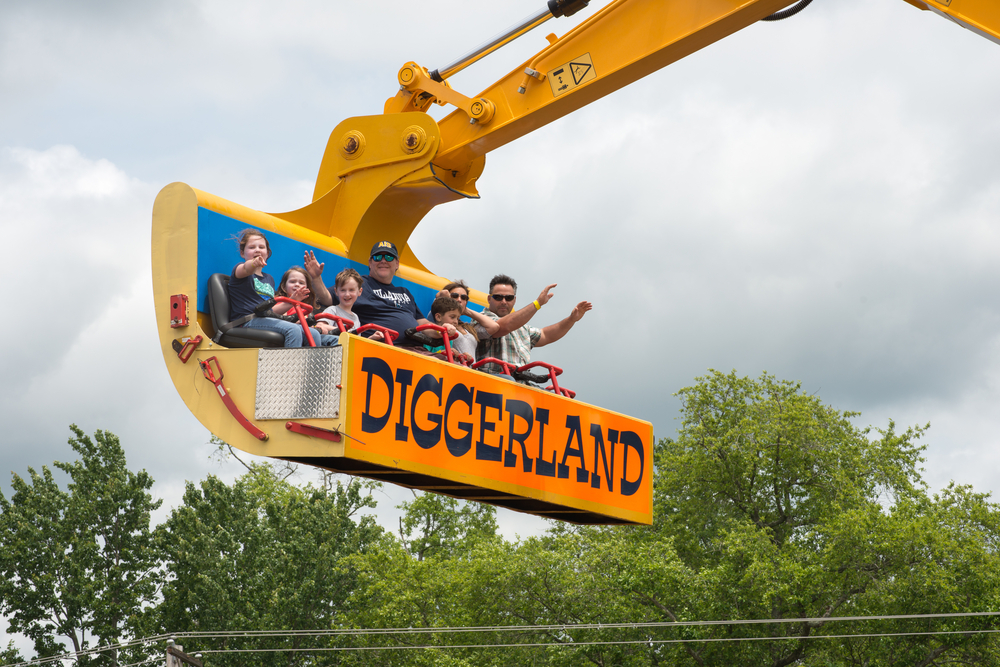 1. Diggerland – West Berlin, New Jersey
If you are REALLY into construction, then New Jersey's Diggerland is just the place for you. The idea for the theme park originated in the United Kingdom in 2000, and it was so popular that they opened four theme parks in England. A fifth park was opened in the United States in 2014.
It's really a big hit with both kids and adults as they can work the controls of heavy machinery in a safe and controlled environment. Even if you don't feel like digging a hole for yourself, there are plenty more things to do as the park boasts 40+ attractions for every age. And once you've had your fill of digging, you can cool off in the Water Main Park right next door.
2. Action Park — Vernon, New Jersey
Staying in New Jersey, this time in Vernon, if construction just isn't your thing, we can guarantee that action is! Opening on May 26, 1978, and located on the grounds of the Vernon Valley/Great Gorge ski resort, Action Park gained itself a bit of a reputation as it was once labeled "America's most dangerous theme park." And boy has it earned that name!
The fact that at least a dozen people have lost their lives at the park is a testament to that. It was hit with so many lawsuits that it gained yet another name, "Class-Action Park." The cases against it became so extensive that it was forced to declare bankruptcy and close in 1996! But don't worry, after a massive overhaul, which included extensively renovating and repairing attractions, it opened its doors again as Mountain Creek Waterpark in 1998.
3. Tweetsie Railroad Wild West Theme Park — Blowing Rock, North Carolina
First of all, if anyone reading this knows what a 'Tweetsie' is, we'd love to know! The park itself, located between Boone and Blowing Rock, is a call back to the days when you used to run around your yard playing cowboys and Indians. The park's centerpiece is the two old coal-powered locomotives that meander around the grounds.
It is also much more than its Wild West theme as there are plenty of thrill rides, a small zoo, and plenty of live shows featuring shootouts, can-can girls, and even a magician! There is definitely something for everyone in a park that has been going since 1957.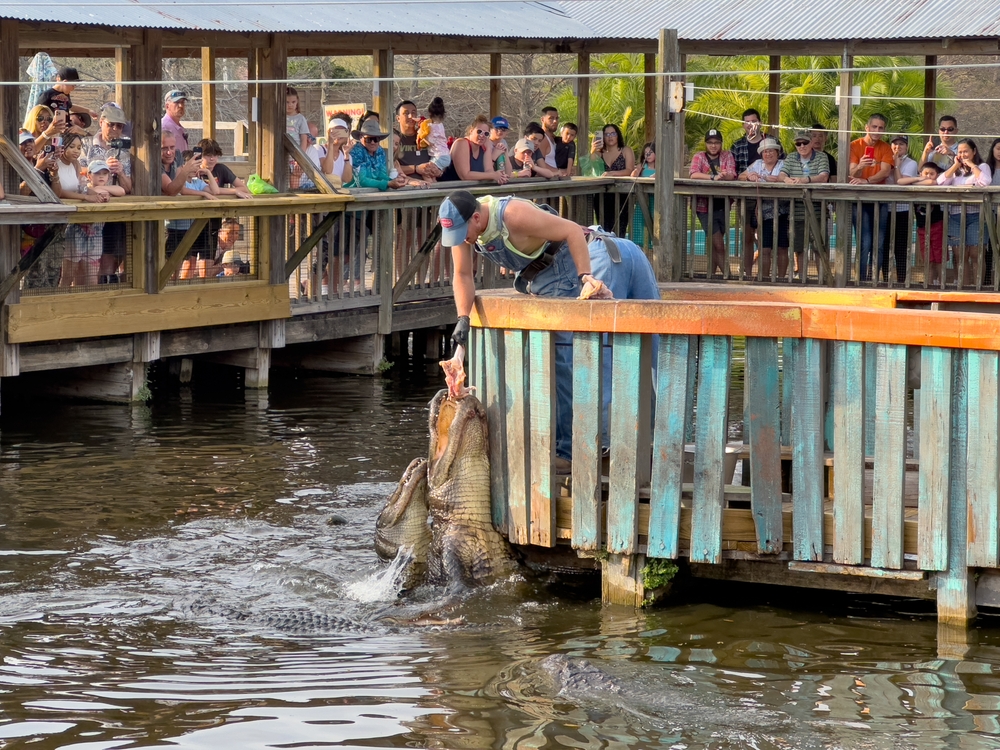 4. Gatorland — Orlando, Florida
Founded 72 years ago by Owen Godwin on former cattle land in 1949, Gatorland is precisely what you think it is….. a land full of alligators (and crocodiles, including rare leucistic alligators). It's not called the "Alligator Capital of the World" for nothing! And when we say there are a lot of gators here, we really mean it as the park is home to thousands of alligators and crocodiles, as well as many other animals.
There are lots of gator-related things to see as you can watch professionals feed and even wrestle gators, or if you're feeling brave, you can hand-feed them yourself and even pose for photos with live alligators crocodiles, and various lizards. Although, it should be noted that between 10 and 15 people die at the park every year, because….. you know….. it's full of man-eating lizards!!!
5. Holy Land Experience — Orlando, Florida
If gators aren't your thing, then we know God is! If you've ever considered making the pilgrimage to Jerusalem to visit the Holy Land, why bother when you could have taken a trip to Orlando instead? The Holy Land Experience is filled with replicas of the Great Temple of Jerusalem and Jesus's Tomb. You can also behold God's glory revealed in the Ark of the Covenant.
And while mom and pop are enjoying a recreation of the Last Supper or learning Biblical history in the Scriptorium, the kids can visit Jonah in the belly of the whale. Unfortunately, it seems the park is not in God's good grace anymore, as, in February 2020, it looked like the doors were closing for good.
6. Weeki Wachee Springs State Park — Spring Hill, Florida
Although the name might sound made up, Weeki Wachee was actually named by the Seminole Indian, meaning "little spring" or "winding river." And while the name might be native Indian, what the park offers is far from it as we don't remember mermaids being a big part of American Indian culture. Well, for the past six decades, there have been mermaids aplenty at this now iconic park.
Home to the deepest freshwater cave system in the country, Weeki Wachee's mermaids perform in pure aquamarine water that flows from a first-magnitude spring. Water is the main attraction outside of the fish-tailed ladies as you can rent canoes and kayaks or take a dive into the water park with flume rides, a kiddie pool area, beaches, and sand volleyball.
One thing you are going to need for this amusement park is to make sure that you get yourself a good swimsuit. This one is our recommendation if you want to do any of the water activities!
7. Paul Bunyan Land — Brainerd, Minnesota
The park, originally known as Paul Bunyan Center, was founded in 1950 in Baxter, Minnesota, by Sherm Levis and was built around the statue of Paul that Levis and Roy Kuemicheal had purchased from the Chicago and North Western Transportation Company. This 26-foot-tall animated and talking statue of Paul Bunyan actually welcomes each guest by name as they enter. And of course, where there's Paul Bunyan, there is Babe the Blue Ox as well.
Despite starting small, it has grown into a 23-acre park, along with rides, a petting barn, and the Old Farm Pioneer Village, which boasts the largest one-man collection of antiques from the late 1800s to early 1900s in Minnesota.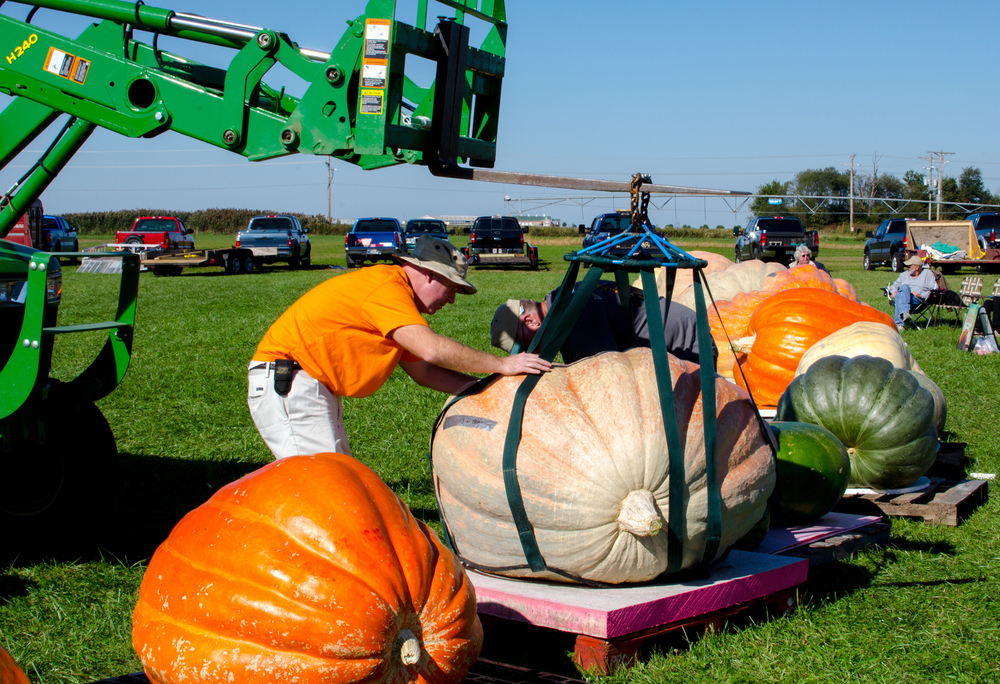 8. Fair Oaks Farms Dairy Adventure — Fair Oaks, Indiana
If you've not 'heard' of this place, you really should go on a dairy adventure. Despite advertising itself as a theme park, Fair Oaks Farm is a working dairy farm and one of the largest in the country. It prides itself on educating its visitors about the day-to-day life of a dairy farm and what goes into food production on the Fair Oaks Farms campus.
You can even watch the next generation of animals being born right before your eyes! But if watching a calf being born is a memory you can do without, the farm also provides fun ways to learn with their Dairy Adventure, Pig Adventure, and Crop Adventure.
9. Rockome Gardens — Arcola, Illinois
We bet you'd never think there was such a thing as an Amish theme park. Well, there most definitely IS (was). Built-in 1937 and operated by members of the nearby Old Order Amish Community, Rockome Gardens is unsurprisingly the only Amish theme park in the world. And while you might be asking why on earth anyone would want to visit such a place, people actually come to enjoy the pleasures of a simpler life.
You can take a buggy ride around a park filled with Amish houses and fairly accurate recreation of an Amish town with a blacksmith's shop, or visit the cheese shop on the grounds and Rockome's very own horse-drawn buzz saw. Although the site is now home to Aikman Wildlife Adventure, a drive-through wildlife park, some of the buildings have been preserved.
10. San Francisco Dungeon — San Francisco
Taking its inspiration from its European counterparts like the London Dungeon and the Amsterdam Dungeon, the San Francisco Dungeon was opened in June 2014 on Fisherman's Wharf. I mean, who doesn't want to experience being locked up in Alcatraz or kidnapped and forced to serve as a sailor? It's all part of the incarceration fun.
Combining impressive special effects and live actors to recreate historical events, the park also offers a number of attractions that highlight the darker side of San Francisco's history. There's even a recreation of the streets of San Francisco during the bubonic plague epidemic in 1900. How quaint… So, if you're going to get yourself locked up, you might as well do it in style!
11. Enchanted Forest — Turner, Oregon
Don't let the name fool you, it may be called the Enchanted Forest, but it is as far from Disney as you can get. Many guests report that parts of this fairytale-themed park are more creepy than magical. Regardless of its weird vibe, a lot of work has gone into its creation as the park was created and hand-built by Roger Tofte over a period of seven years in the late 1960s.
The attractions offered include the Ice Mountain Bobsleds roller coaster, the Haunted House (not for those easily scared, apparently), and the Big Timber log ride, the largest of its kind in the Pacific Northwest. So if you're looking for something a bit darker in your parks, the Enchanted Forest is the place for you.
If amusement parks are not your type of fun, do not worry! Check out our list of the best picnic spots in the United States!