Ready to discover a new picnic spot?
Every now and then you may experience that common need where you simply just want to relax and enjoy the beautiful weather and nature, while also eating a good meal. Well, everybody deserves to enjoy their weekends or days off in a comforting manner, such as going to a picnic.
You can truly have a great day if you go and lay on a blanket in a breathtaking place, and enjoy a glass of wine or a tasty snack. However, even though it does seem like a good idea, most people have trouble finding the perfect spot, filled with silence and surrounded by nature, away from the busy city life.
We have listed the best spots in the U.S. where you can go for an unforgettable picnic.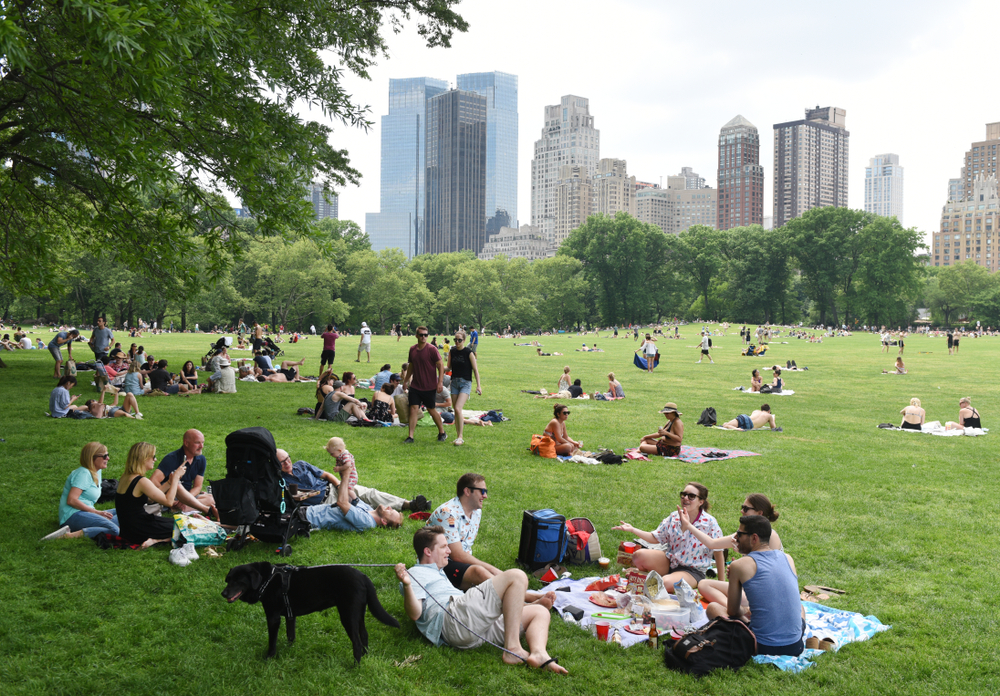 1. Central Park, New York City
I know what you're thinking: What?! Central Park?!
Even though New York City is one of the busiest and most crowded cities in the world, Central Park is one of the best places for a picnic. The park itself is a major landmark in our country and it's surrounded by beautiful nature.
And yeah, during the weekends it can get a little bit too crowded, the good news is that the park is HUGE. You can easily find a more quiet and intimate place to enjoy your lunch and have a good quality time with your significant other, your friends, or just by yourself.
2. Glacier Point, Yosemite Valley
In my opinion, this is the best place for a picnic. Hiking to Glacier Point can be a bit exhausting, but it's so worth it. The breathtaking view, the nature, watching the sunset from that spot, while also enjoying a glass of wine can be one of the best feelings in the world.
Once you reach there, set out your lunch/dinner, and lay down, you will never want to leave this amazing place ever again. It can also be a very romantic date for you and your significant other or it can be the most comforting experience just for your mind and body.
3. Columbia River Gorge, Oregon
A dreamy location for all outdoor and nature lovers. The river, the trails, the trees, and the flowers are just…well, astonishing. You can go there during the late summer and enjoy the beautiful sunset, the perfect weather, and the orange groves. A picnic there would be an amazing escapade in nature.
You can also hike, bike, or even take a quick swim. It's a quiet environment, where only the birds and the river can be heard, the ideal combination if you ask us. It's great for conversation, a quiet and intimate time.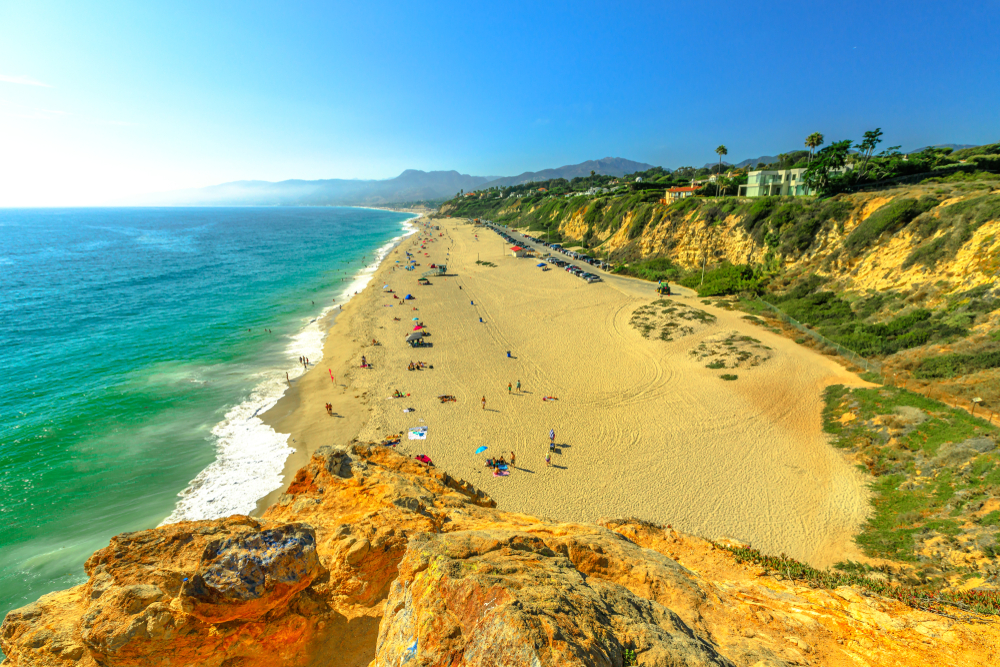 4. Point Dume, California
We suggest going there during late spring or summer so that the sun or the heat won't be a complete pain in the neck for you, and ruin your whole day. This landscape is a little bit more special than the previous ones, because of its close proximity to the beach.
The serenity of the waves, and spending time here can be the biggest painkiller for any kind of headache. You can come here for a picnic, a walk, or just to relax and enjoy the sound of the waves crashing into the shore.
5. Hamilton Pool Preserve, Texas
Hamilton Pool Preserve is in close proximity to Austin and it's also a protected natural habitat. It's the best place for a romantic picnic and a hike, changing the scene a little bit with a breathtaking reservation.
The small waterfall and the cliffs make it the perfect ambiance and the serene pool is just ideal for a good, well-deserved swim! The mix of nature with the grotto is to die for! Visitors are crazy about it. If you happen to visit Austin you need to make a stop here, it will be more than just worth it, we promise you.
6. Pictured Rocks National Lakeshore, Michigan
The mesmerizing waters surrounding the cliffs will make you instantly fall in love with this landscape. This beautiful landmark got its name from the sandstone cliffs. It is surrounded by Lake Superior and the beautiful aesthetics of the caves and arches add more allure to the place.
After you're done with your picnic you should definitely consider going on a nice hike because it's 100% worth it. Or if you don't feel like it… you can just observe the beautiful sunset over a cliff, maybe even go in for a nice swim.
No matter where you are going, you will benefit from carrying your picnic on your back! This is why this picnic backpack from Amazon will solve all your problems and not hinder your experience if you have to hike!
7. Grayton Beach, Florida
Yes, another beach. Let's face it the beach is among the most relaxing places you can find yourself at. Besides the crystal-clear water that asks you to enter for a swim, the relaxing sound of the waves crashing into the shore is a very relaxing part.
Staring into those deep blue waters, feeling the wind is among a few amazing factors that it's worth paying a visit for. Besides that, the white soft sand is just perfection. We suggest that you avoid the unbearable heat though and choose a time when it's not insufferable to be out in the sun.
8. National Gallery of Art Sculpture Garden, Washington
What do you do when you feel like doing multiple things at once? Go to the National Gallery of Art Sculpture Garden. Enjoying art while also relaxing at a picnic with your friends, loved ones, or by yourself, can be a fun way of spending your weekend or day off.
Going to art galleries can be a good idea, it's educational and both entertaining at the same time. In addition, the ambiance of this garden can be very comforting and relaxing. Plus, changing the scene a little bit from a dull park or a nice forest can be interesting.
9. Guadalupe River, Texas
Surrounded by nature, this location is the best place for outdoor activities, and it's highly popular for it. Lots of people come here for rafting, canoeing, tubing, and…well…picnicking. The river happens to run through the Texas Hill Country and to Kerr County and its final destination is the Gulf of Mexico.
Be careful not to go there during the summer because there are lots of people who tend to go for a picnic there during the summer, so you might not be able to enjoy the experience to its fullest. Better go when it's quieter so you won't regret it.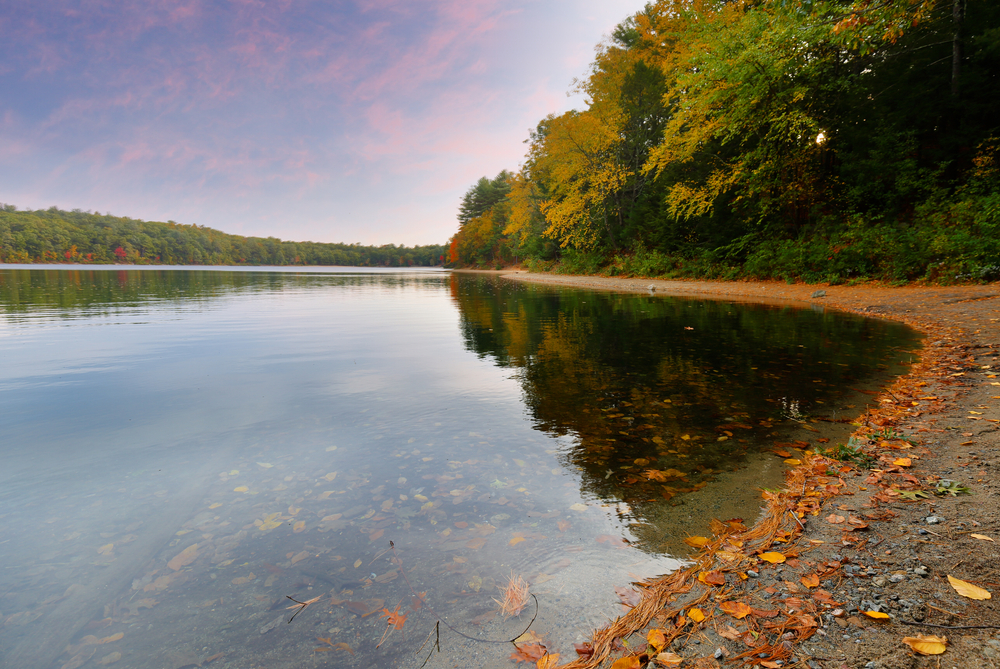 10. Walden Pond, Massachusetts
It looks just like the landscapes from a postcard, the whole setting is truly unbelievable. You can go for a boat ride, you can hike or you can even swim! There's nothing like swimming on a nice warm afternoon and then enjoying some quality food with a picnic.
It's actually more fun if you come here with your loved ones or your friends, however, if you wish to come along it's even better since you can enjoy the peace and quiet all by yourself!
11. Your Garden, Home
Traveling or going out can be very fun and entertaining, however, we have to admit some things are done better right in the comfort of our own homes. There's nothing like a picnic with our friends and family right in our beautiful garden, there's silence, peace and it's our own setting.
Sometimes going out for a picnic should be right in the place where we feel the most comfortable.
Well… what more can I say? With a little bit of imagination, you can transform any place into a picnic spot. And you can also find some new places where you can maybe have a picnic or just explore around to discover a new picnic spot! These cities here are going to take your breath away, and you may just discover a new picnic place in them!