Discover the stunning colors Colorado offers in the fall!
If you live in the Colorado region or happen to be passing through during Autumn, consider yourself lucky! It offers some of the most incredible fall foliage around. Many of us are excited about the arrival of Autumn and all that comes with it: the crisp air, cool temperatures, bluebird days, and perhaps most important of all, mountainsides turning gold. The fall colors in Colorado are very different than many of the places to the east.
There is one primary color, aspen gold! Still, what they lack in diversity of color they make up for in the epicness of the landscape. The display starts high up in the mountains and works its way down as temperatures get colder. Splashes of orange, yellow, and red all mingle along rolling country roads.
Here's where you can find the 11 most incredible spots throughout Colorado for viewing autumn colors.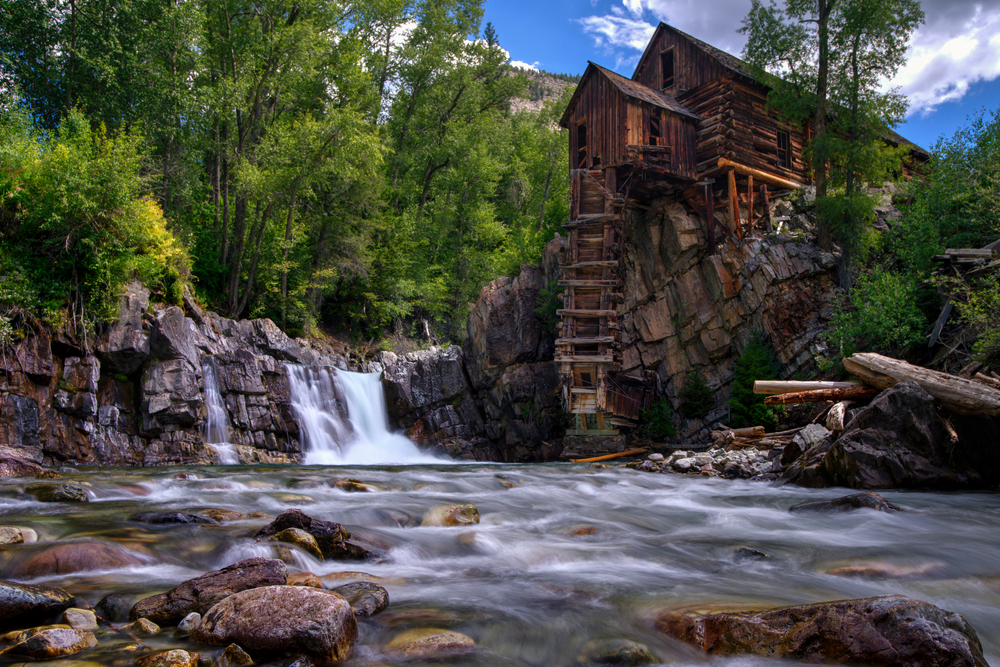 Rocky Mountain National Park
Rocky Mountain National Park offers magnificent scenery all year round, but autumn is when it's arguably at its best. To enjoy some jaw-dropping fall colors and landscapes, take a ride on Trail Ridge Road, the highest unbroken paved road in North America, which winds through the park from Estes Park to Grand Lake, Colorado.
With more than eight miles above a maximum elevation of 12,183ft, it makes an ideal vantage point for leaf collectors and draws photographers from across the globe to capture all of those beautiful hues. Fall is also the perfect time to be in this park to watch and listen for the elk because it coincides with the elks' rut season when the male elks look for females to mate, which leads us to Bugling. It's a loud call that the bull uses to attract them. So, grab your picnic basket and enjoy the view!
Aspen
Aspen is an obvious choice being famous for its glorious display of, what else but aspens! This mountain town in Colorado is encircled by grand shades of golden bronze and dazzling yellows and claims an array of thrilling outdoor attractions. On your way into Aspen, if you cross Independence Pass, which is the highest paved pass in North America, peaking at more than 12,000 feet above sea level, you'll find one of the best fall foliage arrangements in the world.
Another option is to drive or take a shuttle from Aspen to the Maroon Bells, where you'll see the stunning autumn colors with the jagged mountain peaks reflecting onto Maroon Lake. The iconic Maroon Bells are two towering 14,000ft mountains nuzzled in the Maroon Bells-Snowmass Wilderness and are the most photographed peaks in North America.
Kenosha Pass
Kenosha Pass is one of the most common locations to see fall colors along the Front Range of Colorado. Most of the area around the pass is a national forest, and the Colorado trail also moves through the area, providing you with miles of hiking to enjoy the gorgeous aspen trees.
Aspen groves surround both sides of the pass, with some very close to the road, which you will have to share with other travelers. Or miles away to enjoy some peace and quiet. Many of the parking areas around here can fill up fast during weekends, so be prepared to wait for a spot if you can't arrive early. This pass can be reached from the east or west along highway 285.
Capitol Creek Trail
The views from the end of Capitol Creek, Colorado are also famous for their sheer jaw-dropping beauty. Even though you'll find a sometimes narrow and rugged dirt road, the end result is an excellent view of the majestic Capitol Peak and miles of aspen trees showcasing that peak.
For the more adventuresome, walking along Capitol Creek as far as the eye can see is a beautiful way to spend one's day. Don't miss the views at the end of the road as you look east, as there are some stunning views that way as well. If you plan to capture the sunset, make sure to get there early because it has become a popular spot over the last several years.
Peak to Peak Scenic Byway
Peak to Peak byway provides 55 miles of beautiful views of the continental divide from Estes Park in the north to Blackhawk to the south. This is Colorado's oldest scenic byway and is ideal for those who don't want to travel too far from Denver, being just a little over an hour's drive away.
It's a pleasant drive any time of the year but comes alive in the fall when the aspen trees light up all along the route. Several bigger groves of aspen on National Forest land provide walking access.
Just remember to stay close to the road because much of it is private property. The hike to Sandbeach Lake is a great experience right along Highway 7. The byway is a local pick, especially after snow in the high country serves as a backdrop for the beautiful aspens closer to the road. Acres upon acres of aspen stands create a dazzling blanket of yellow, gold, orange, green, and brown across the landscape.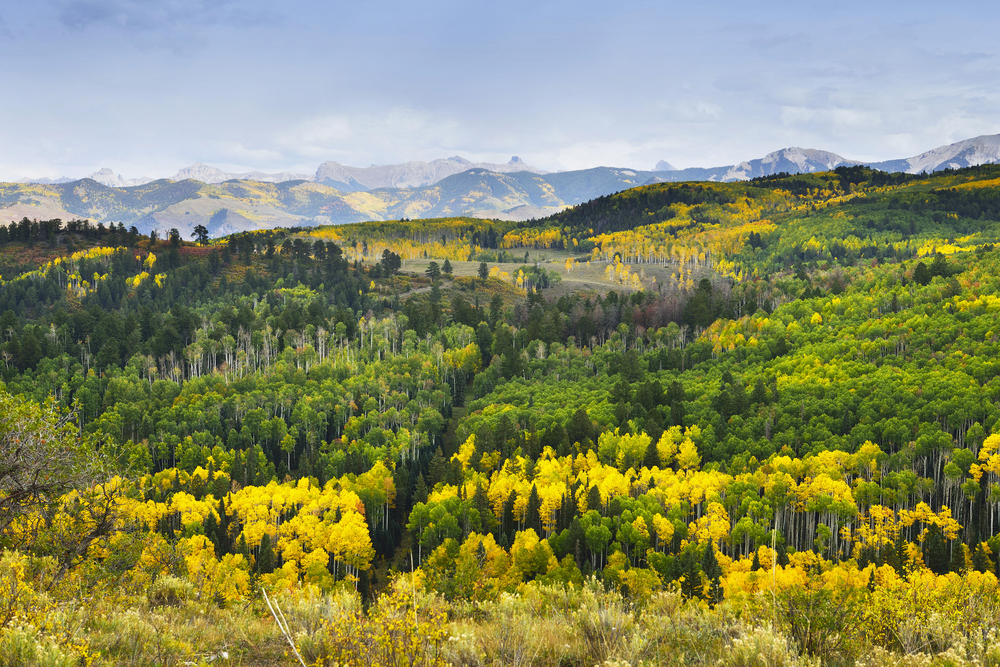 Mt. Sneffels
The Mt. Sneffels and Dallas Divide area is probably the most popular location in southwest Colorado to capture the fall colors. It brings together all types of climbers, from beginner hikers to expert mountaineers. All mountains, including Mt. Sneffels, often have a thin layer of snow above the vast hillsides of beautiful aspen above the many scenic ranches in the area.
But It's no wonder this area has been THE place for fall color for landscape photographers for many years. Many of the best roads start from Ridgway and Telluride, Colorado. Sneffels has also made appearances in several westerns, including "How the West was Won" and "True Grit," which can be seen in flattering vistas from the Dallas Divide.
Next to Maroon Bells, Sneffels is Colorado's most recognizable mountain.
Twin Lakes Area
The Twin Lakes area consists of large glacial lakes surrounded by some of the tallest mountains in the state: La Plata and Mt. Elbert. These can provide a beautiful scene in any season, but it truly comes to life in the fall. Usually, these groves contain more red aspens than some other places in Colorado.
Many wanderers stop and hike to the lakeshores to take in the gorgeous views, but if you drive a 4×4 or enjoy hiking, the slopes of Mt. Elbert also provide a terrific vantage point to enjoy this show. To get to the Twin Lakes area, just turn onto highway 82 towards Aspen and Independence Pass.
As you continue on Highway 82, look out for those incredible and picturesque vistas all the way to Independence Pass and down the west side into Aspen.
Kebler Pass
Kebler Pass is another of the most photographed areas in the state during autumn. It's a stretch that covers the 30 miles between Crested Butte and Highway 133, climbing more than 10,000ft past the old Keystone Mine. There are miles of aspen easily reached by Gunnison County Road 12 and many others by those wanting to explore the ridges and valleys of the area.
The views facing the Beckwith Mountains are some of the most popular in the state, but the entire drive itself is scenic. There are also a couple of lakes in the area that are beautiful spots worth checking out to catch reflections.
You might want to start at Ohio Creek Road because it passes several unique natural landscapes like the series of ranch buildings that mark the deserted site of Castleton and the grand pillars of "The Castles." These are what remain of volcanic ash and mud that erupted from the West Elk Volcano more than 30 million years ago. This Colorado road is open to all cars, with some sections even paved, and you can gain access from state highway 133 or through the town of Crested Butte.
Golden Gate Canyon State Park
This one offers its own unique vantage spots for leaf peepers. The State Park is only a 45-minute drive away from Denver, Colorado and provides 12,000 acres of aspen and pine forest and trails. It's a perfect place for camping, fishing, hiking, biking, and horseback riding.
The canyon is lined with aspens, and from the Panorama Point Scenic Overlook, you'll be able to see more than 100 miles of them on the Continental Divide. If you want to get a better look, go for a hike on the Mule Deer Loop, which will not only get you to the overlook but the trail itself is lined with glorious aspens.
Telluride
For a memorable fall experience, head to Telluride, Colorado. It's filled with golden trees and numerous historical sights. It also has a gondola that will carry you up from town to the Mountain Village for 360 views of the San Juan Mountains and aspen groves. The Telluride Gondola is one of the most popular ways to view its fantastic autumn colors. The aerial views include the town of Telluride, its box canyon, and colorful valleys filled with aspens and evergreens.
But another way to see Telluride's foliage is located right in town. Locals suggest the Jud Wiebe Trail, a 3-mile loop that weaves through huge aspen groves and passes by Comet Falls. You can hike one of the various paths from the top to view the foliage right up close. Lizard Pass is another great option in the area.
If you walk the 11-mile loop, you'll get far-off views of the Lizard Head aspens in the distance and up close and personal views of the Black Face aspens.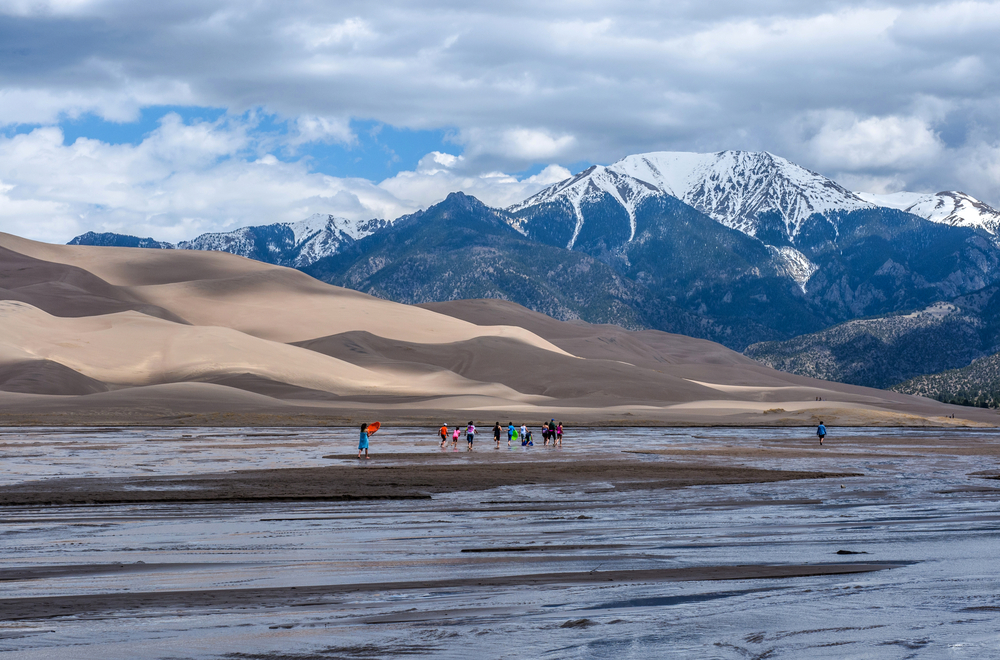 Highway Of Legends
Highways Of Legends glides through the southern foothills of Colorado. It's usually an overlooked destination for people up north, but it's one of the state's most beautiful and welcoming parts. The peak on the Cuchara Pass gives you great views of the Sangre de Cristos and Spanish Peaks. You should stroll through all the historic towns on the way as well.
Walsenburg is considered a gateway for the Southwest. And in La Veta, you can catch a ride on the Rio Grande Scenic Railroad, which departs from Alamosa, Fort Garland, and La Veta. Through these, you can see fall colors by train that you would miss by driving.
At Cuchara, there's a delightful mountain village with a picturesque center of town. You'll find some good restaurants, a coffee shop, a general store, an inn, and mini-golf.
No matter how many of these stunning locations in Colorado you get to check off your bucket list, be sure to pack a comfy pair of walking shoes. You can find our favorites on Amazon: SK·TRIP Women's Walking Shoes!