Deciding where to spend your vacation can be overwhelming. But if you don't feel like planning an entire complicated trip to a foreign country, why don't you try something different this year? A staycation! Visit some of the most beautiful beaches in the USA!
Enjoy your vacation on a perfect sunny beach, getting a tan, and sipping a mimosa. And you don't even have to pay hundreds of dollars to go abroad since we have mesmerizing beaches right here in the U.S.
Sip a good cocktail on these amazing beaches, and as a bonus, we will give you some nearby accommodation suggestions.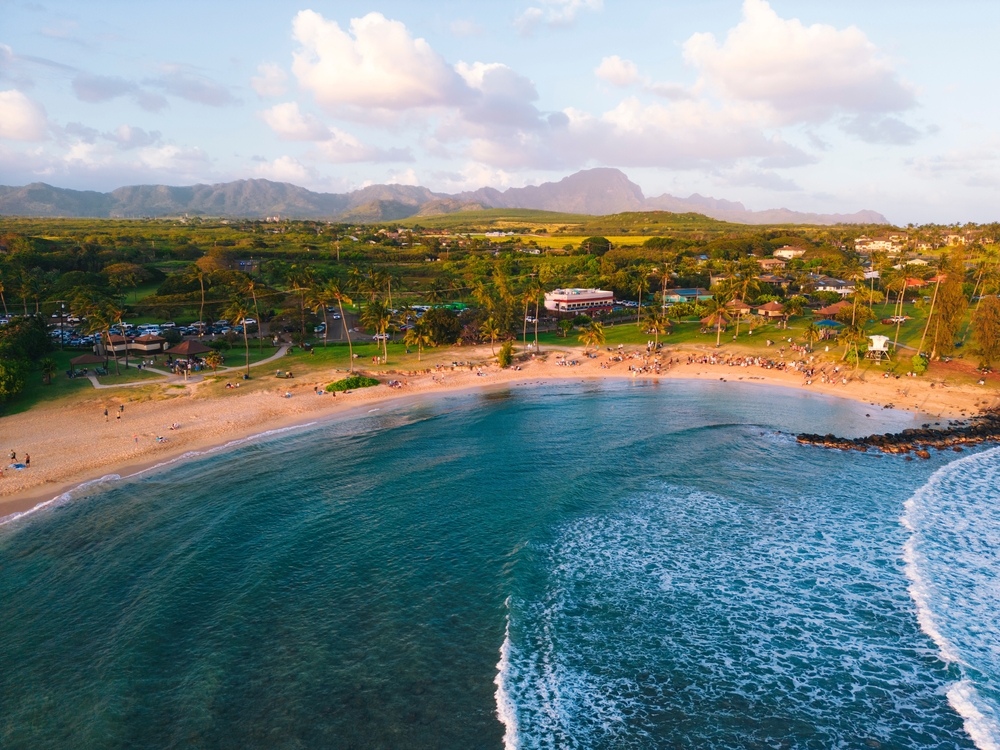 1. Poipu Beach
Location: Kauai, Hawaii
Poipu Beach is considered to be the best beach in the U.S. There are actually two beaches separated by a phenomenal tombolo and a sand spit. One of the sides is very popular for its surfing, snorkeling, and boogie boarding activities, and the other for its shallow waters.
The view is absolutely breathtaking, and spending your holidays in complete peace with the sound of the waves is definitely the best experience you can have. Keep in mind that a trip during the holidays can be quite expensive, especially for this location, but booking it in advance can get you a reasonable price.
Nearby accommodation suggestions: Banyan Harbor Resort, Kauai Inn, Kauai Beach Resort & Spa, Koa Kea Hotel & Resort, Sheraton Kauai Resort
2. Beautiful beaches? Try Coronado Beach
Location: San Diego, California
The sunny and warm beach is reason enough to spend your holidays here. Surfers, families, sunbathers, and swimmers stop by every day to enjoy a beautiful day, followed by astonishing sunsets.
There is a dog-friendly beach nearby. There are lots of other activities and tourist attractions nearby, so if you are planning a longer stay and you happen to change the scene for a while, you have plenty of options.
Nearby accommodation suggestions: Hotel de Coronado.
3. Clearwater Beach
Location: Clearwater, Florida
Famous for its white sand and crystal-clear water, Clearwater Beach is an amazing destination. You can even go fishing there. Don't you have the equipment with you? That's fine; you can just rent some there! Pier 60 is an amazing hub that promises lots of fun and entertainment all year! This beach also prides itself on amazing sunsets!
Nearby accommodations: Sheraton Sand Key Resort, Pelican Pointe, Barefoot Beach E116, Seaside Inn& Suites.
4. Glass Beach
Location: Port Townsend, Washington
This one is not for you unless you're up for a hike. It starts in North Beach, and then you have to take a hike for about three miles until you reach this magnificent beach, but if you are into hiking and being active, this will be an amazing adventure!
Plus, when you reach your destination, you will be delighted with a sunset that's out of this world, whales, sea otters, and bald eagles! This is a wild beach, also referred to as a former town dump. If you have an adventurous spirit, this journey is for you!
Nearby accommodations: The Palace Hotel, People's House, Manresa Castle, and The Bishop Hotel.
5. Oak Street Beach
Location: Chicago, Illinois
You will be surrounded by umbrellas, lounge chairs, urban cabanas, and delicious local food at this amazing beach, located on the shores of Lake Michigan. There is so much to do while relaxing here: playing chess, reading a good book while tanning, observing the locals, or taking a well-deserved swim.
What is certain, though, is that you will never want to leave again! Get yourself a nice, cold Cosmopolitan or any other drink you please and watch the sun go down while leaving a true masterpiece in the sky.
Nearby accommodations: Gale Chicago, Millennium Knickerbocker Chicago, Hotel Audrey, The Whitehall Hotel.
6. Carlsmith Beach
Location: Hilo, Hawaii
Yes, another masterpiece in Hawaii. We have to admit it: Hawaii is the best state when it comes to incredible, heart-stopping beaches. It's an amazing place for snorkeling due to its marvelous corals and multi-colored lagoons.
However, it's not the turquoise water that will make you love the entire environment, but the friendly and adorable sea turtles. The colorful sunset will reflect its shades into the mesmerizing water and make your journey truly memorable.
Nearby accommodations: SCP Hilo Hotel, Paradise Cottage at Anthurium Hale, Hilo Condo.
7. Santa Monica Beach
Location: Santa Monica, California
One of the most popular beaches in the U.S. and probably the world. This can be suitable for you if you prefer something fun and tourist-like, giving the nostalgic years a comeback. It's filled with attractions, but that's not what draws millions of tourists every year.
The waves, the hypnotizing blue shade, and the vibrant atmosphere make it the best place to spend your vacation. The iconic amusement park and the famous carnival-specific food create a whole different ambiance.
Nearby accommodations: Wyndham Santa Monica At The Pier, Hampton Inn & Suites Santa Monica, Bayside Hotel, Hotel Carmel Santa Monica, and Viceroy Santa Monica.
8. Crystal Lake State Park
Location: Barton, Vermont
It's not your typical beach scene, but the views are something out of this world. It's surrounded by mountains, and the lake's history started in the 1700s. If you wish to spend your holidays away from the busy city life, your chaotic family, and all of the responsibilities and duties, this might be just the perfect place to do so.
You can fish, have a picnic, and even swim! The colorful hills, quietness, and peace are the perfect gifts you can give yourself this year.
Nearby accommodations: Phineas Swann Inn & Spa, Burke Mountain Hotel, Jay Peak Resort, The INN,
9. Park Point Beach
Location: Duluth, Minnesota
If we have praised the other spots for their sunsets, this one is famous for its sunrises. A fun fact about this place is that it's the largest lake in the world and has the longest freshwater sandbar. The views of Duluth and Lake Superior are just spectacular. Among other things, there are several barbecue grills nearby.
Dogs are also welcome as long as they are kept on a leash (so the rules say). So you can take your beloved pet with you if you feel like it.
Nearby accommodations: Hampton Inn Superior, Holiday Inn Express & Suites, Park Point Marina Inn, and Comfort Suites Canal Park.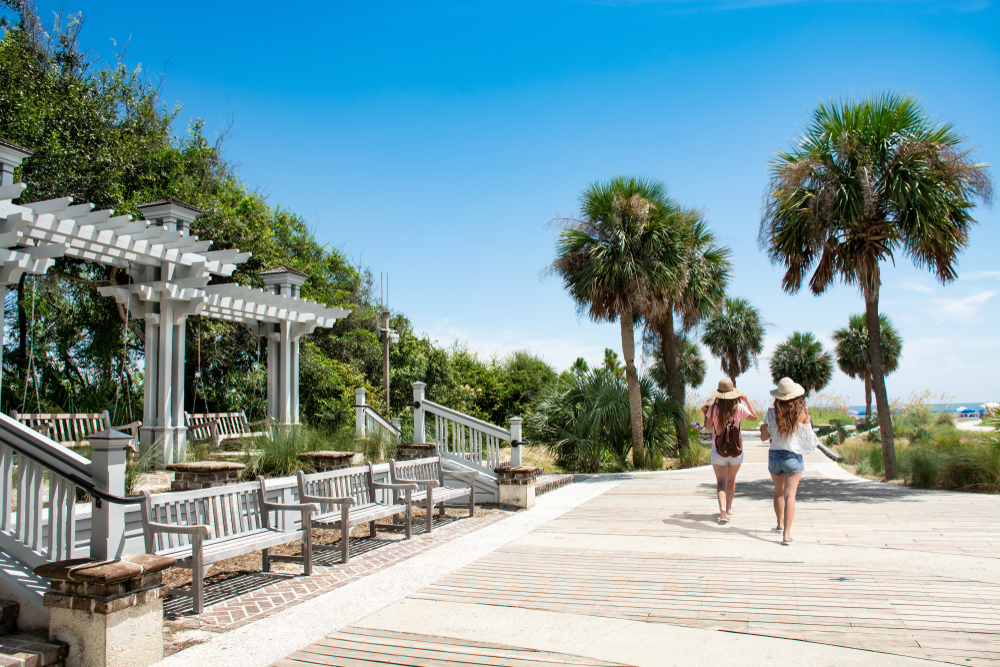 10. Coligny Beach Park
Location: Hilton Head, South Carolina
This one is known for its good condition since it's kept in good condition with good maintenance and care. It offers plenty of amenities such as showers, gazebos, swings, and so much more, but you will have to get there to find out!
What is truly spectacular about this place is the occasional visit dolphins pay tourists at dawn. Just like the rest of the beaches, this one has exceptionally beautiful sunrises and sunsets. In case your accommodation is not right near the beach, don't worry. The shore is accessible by car, foot, or bike.
Nearby accommodations: Breakers At Hilton Head, Breakers Hilton Head by MC.
11. Coney Island Beach
Location: Brooklyn, New York
Probably the most famous in the world! The magnificent beach has a long history, and for all New Yorkers, it's a special place full of memories and tradition. If you're looking forward to spending your vacation in a vibrant, fun, and dynamic place, Coney Island could be an interesting choice.
Nearby accommodations: Holiday Inn Brooklyn Downtown, Wyndham Garden Brooklyn Sunset Park, and Even Hotel Brooklyn.
If you plan to visit some of these beaches, we think that you might really need a beach towel. These ones are incredible, and you can purchase them from Amazon for a good price: Nova Blue Turtle Beach Towel
If you liked this article, check out this related post: These 9 Magnificent Bluest Waters Worldwide Are Beckoning You