Where's the bluest water YOU'VE ever seen?!?
There comes a certain point when the stress of everyday life builds up, and all you need is to re-center and refresh your mind and body. We've got the perfect solution! How about gazing off into a tranquil blue ocean?
We've searched for some of the bluest waters our beautiful planet has to offer to help you find your inner peace and maybe even catch a few waves and rays while you're at it.
These beaches, lakes, seas, and bays have sceneries that range from brilliant navy blues to the lightest, most transparent turquoise you could ever imagine.
They're the perfect places for you to reconnect with nature, family, and most importantly… yourself. So let's check out the world's 9 bluest waters, waiting for tourists to plunge into their watery depths!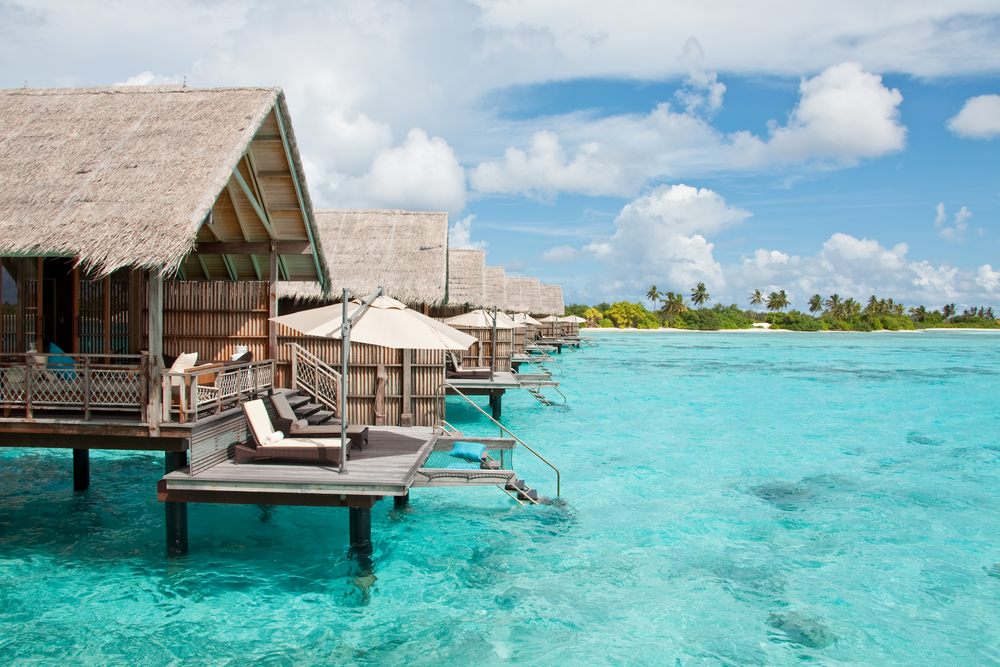 The Maldives
You've probably already heard that you can find some of the bluest waters in the world at this location. As one of the world's finest islands, it's no surprise that the Maldives is a favorite vacation spot for many celebrities.
You'll find this low-lying island nation in between the Indian and Arabian seas. It has some luxuriously set bungalows placed over dazzling blue waters and is surrounded by talcum-soft white sand beaches.
This is basically everything bucket lists are made of. When not admiring the view, visitors can spend their days visiting an underwater playground, exploring the coral reef, or relaxing in one of the world's best spas.
Egremnoi, Greece
No matter where you go in the beautiful country of Greece, you're sure to find some magical views. And if you choose to visit the Lefkada island, it's hard to find a spot that doesn't have some kind of spectacular view of the crystal clear Ionian Sea.
But Egremnoi beach on the west coast is particularly worth viewing.
To get to the beach, it requires a steep hike down some stairs, which tends to thin the crowds, but once you've made that descent, the white sand stands in stark contrast to the bluest waters you've ever seen, making it ideal for spending the day relaxing in the sun.
Crater Lake, Oregon
You didn't think we would overlook out on our own wonderful country, did you? Now, how blue is blue? If you want to find out, you'll need to visit Oregon's Crater Lake!
This caldera is a spectacular landmark that's sprinkled with dramatic mountains and old-growth forests. But what's even more appealing to tourists is the lake's hue of some of the bluest waters you can find.
Crater Lake also happens to be one of the deepest lakes in the world, and its waters are some of the most pristine, coming from melted snow and rain. The view of this volcanic lake makes for a picturesque hike around the Crater Lake National Park.
To Sua Ocean Trench, Samoa
Commonly known as "The Big Hole," this local swimming area in the South Pacific is a natural wonder besides being one of the bluest waters in the world.
Travelers have to hike through a dense green forest in the lava fields outside of Lotofaga village on Upolu Island in Samoa to be able to enjoy the translucent teal water.
From there, it's a bit of a climb down a steep ladder, or a quick jump for the bravest, into the hole that is almost 100 feet deep. The water comes in from lava tubes connecting to the ocean, ensuring that this downright gorgeous swimming hole never dries out.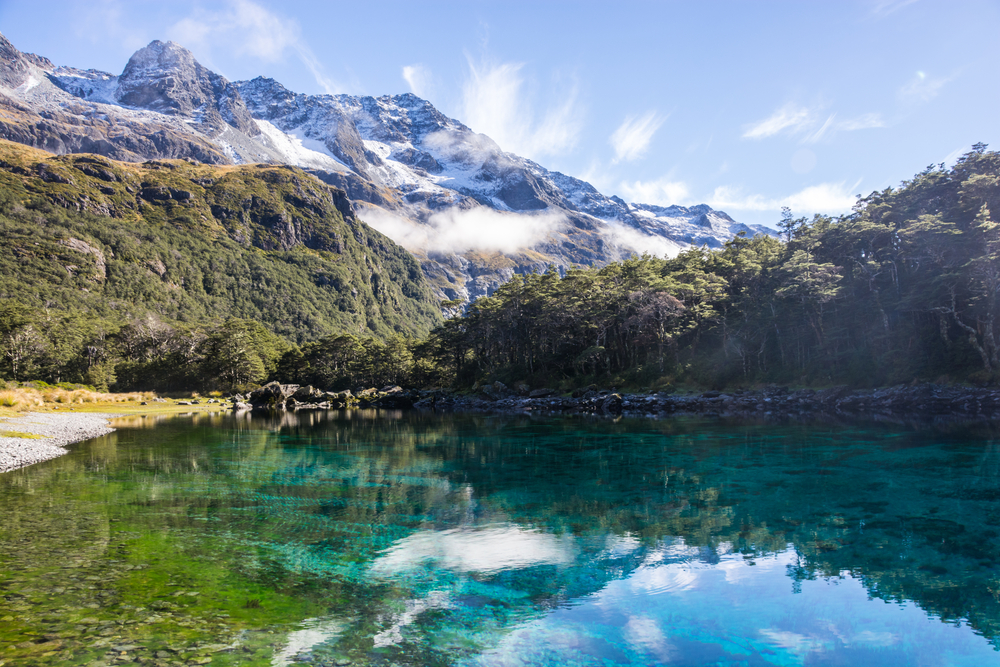 Blue Lake, New Zealand
On South Island, visitors can find the Blue Lake in New Zealand's Nelson Lakes National Park. And as its name suggests, this lake is pretty blue. But what makes one of the world's bluest waters so special is that it's also incredibly clear.
Also known as Rotomairewhenua, it's one of the numerous natural wonders of the country because it holds the world's clearest natural waters. The lake is so utterly transparent that you may see 260 feet deep if you fly by helicopter.
Its beauty is also known to be sacred to the Maori. The park that surrounds the lake is open all year long, so paired with the lovely views of the lake, it makes for a great trip of hiking and exploring any time you wish.
Grand Prismatic Spring, Yellowstone National Park, Wyoming
Many people have seen lots of photos of Yellowstone National Park's Grand Prismatic Spring, whether through travel blogs or videos. As one of the biggest hot springs worldwide, this gorgeous site shines with shades of green, red, blue, yellow, and even a bit of pink.
Its fiery colors result from microbial mats, or coatings of bacteria and other microbes, that create these various colors. Many people may wonder if they can go for a swim in the Grand Prismatic Spring with its popularity and stunning views.
But unfortunately, swimming isn't an option due to its high temperatures and acidic content. The second-best option? Admiring this natural beauty and taking a ton of photos!
So even though this isn't exactly one of the bluest waters in the world, it's definitely worth adding to your bucket list.
Mount Ijen Crater Lake, Banyuwangi, Indonesia
This bluest water in the world simply has to be seen in order to be believed! The billowing smoke seen in this crater lake only adds to its charisma.
Travelers who head over to the Kawah Ijen Volcano in Banyuwangi will be welcomed by a brilliantly blue crater lake that almost resembles candy.
Yet unfortunately, this lake isn't safe for swimming because of its incredibly high hydrochloric acid content, which interestingly gives the lake its signature color. Visitors can also get a glimpse of the blue fire at Mount Ijen Crater Lake, making for a great photo op.
Plitvice Lakes National Park, Croatia
You're in for a real treat with this one! It's considered a UNESCO World Heritage Site, and those who venture to the Plitvice Lakes will feel like they've just stepped into a different world.
This stunning national park contains a network of lakes that formed thousands of years ago. The National Park takes up about 30,000 acres of land, complete with ragged rocks, spectacular waterfalls, and a few of the bluest waters you can find in Croatia.
Luckily, you can take a leisurely dip in the blue waters while being amongst the tranquility of the rolling meadows and forest.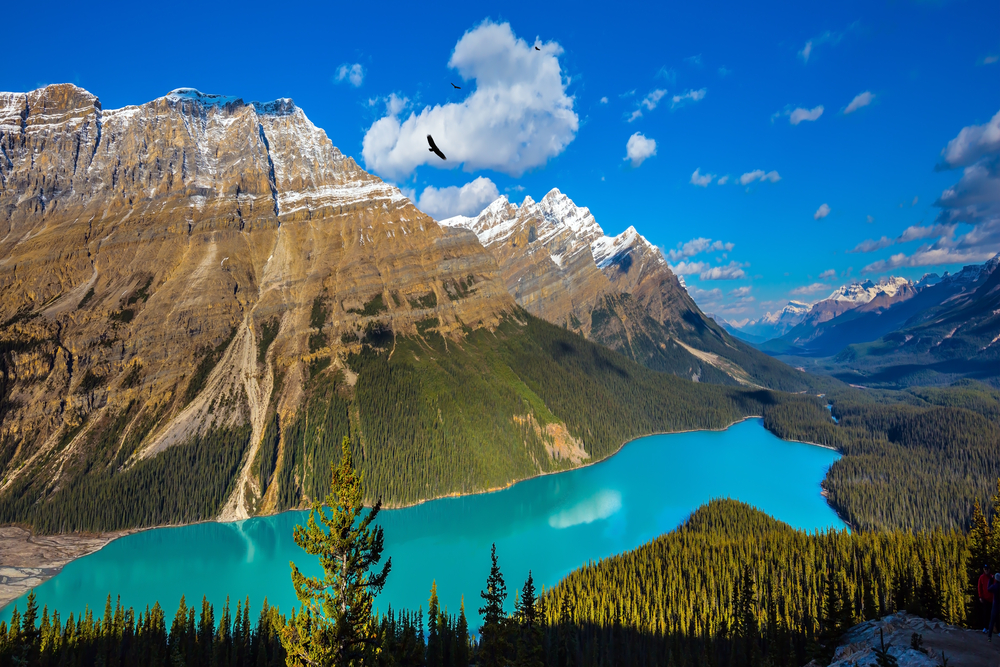 Peyto Lake, Alberta, Canada
Banff National Park has created a reputation for itself as being one of Canada's most iconic but also oldest national parks, and it's not hard to comprehend why. Would YOU be able to resist the crystal, pure waters of Lake Louise?
Similarly, Peyto Lake, which is also located in Banff, draws in and attracts tourists each year because of some of the bluest waters the country has to offer.
The glacial lake is so blue that you may just confuse it with Kool-Aid! What's more, Cauldron Peak overlooks Peyto Lake, creating an exquisite backdrop for this popular tourist site.
So what do you say? Have we convinced you to pan your next trip to visit the world's bluest waters? Make sure you share your thoughts with us in the comments section below!
But in the meantime, if the world's bluest waters aren't enough for you, Adventure In America has many more articles for you to enjoy. We especially love this one: 8 Bucket List Destinations You'll Fall in Love With