Who hasn't dreamed of going on a safari trip?
If you have an animal-loving family, an African safari will be a once-in-a-lifetime event for both you and the kids. Take a drive through stunning landscapes as the sun rises, keeping an eye out for elephants, lions, and giraffes in their natural environment.
Whether you're enjoying a thrilling game drive, sitting down for a delicious dinner, or transferring between camps, safari travel puts you in the great outdoors and keeps you away from crowded places.
One of the most wonderful experiences is witnessing your children's awe when they encounter their first elephant or giraffe – and it's one you'll wish you could bottle and preserve forever. After all, an African safari is a huge adventure for both little and big kids.
Africa is a massive continent that has inspired millions of people to want to see exotic critters in their natural habitat and to experience the unique culture Africa has to offer. There are over 60 national parks on this continent, all with different wildlife species and terrain.
With so many options to choose from it can be quite hard to decide where to go. But that's why we're here! We've rounded up the best safari destinations and most stunning national parks in Africa for you below.
This once-in-a-lifetime journey will undoubtedly leave you with lasting memories. So, without further ado, here are our picks for the top 6 safari destinations.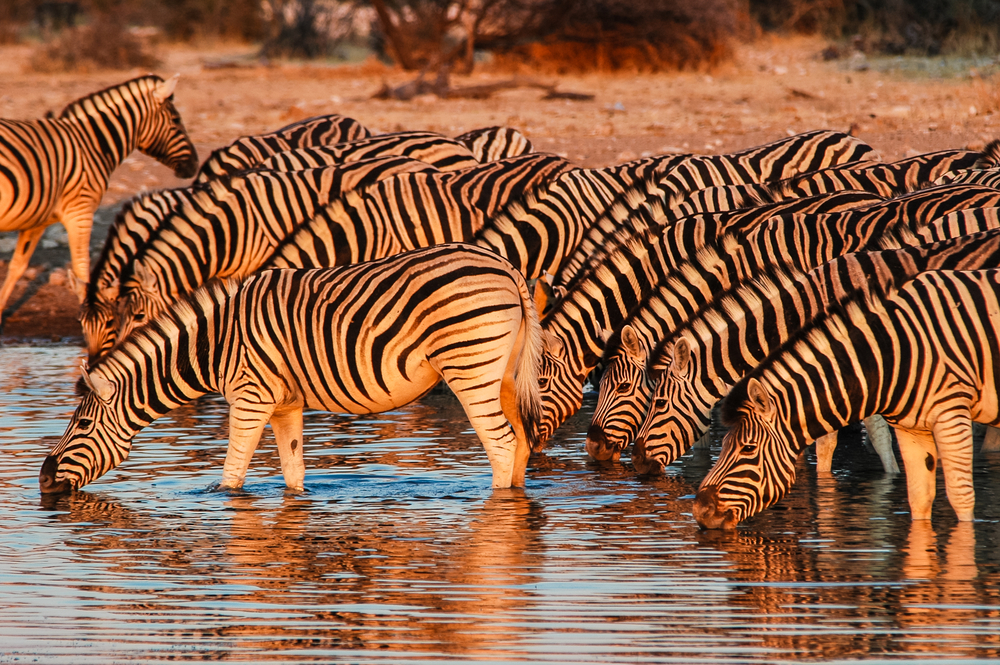 1. Etosha National Park, Namibia
Because of its simple roads and facilities, Etosha is a great place to self-drive. It's difficult to expect to see hippos and crocs in the absence of waterways. Every year at the end of the dry season, the park goes through a severe thirsty game. Some species, like zebras, giraffes, and others, compete for a position, giving way to elephant herds and other creatures, such as black rhinos.
During the dry season, you might not want to leave your camp because each of the public campgrounds overlooks a bustling waterhole surrounded by wildlife.
During the wet seasons, you will have the opportunity to see flamingos on their trip to temporary lagoons, which is breathtaking. The best time to visit is between June and November when the scenery is at its most spectacular.
2. Serengeti National Park and Ngorongoro Crater, Tanzania
The Serengeti National Park in Tanzania is one of the most well-known animal destinations on the globe. The Serengeti is about 15,000 square kilometers in size, ten times the size of the Masai Mara, yet it has the same incredible predator sightings and migration scale.
Because of its immensity, the Serengeti has a wider range of habitats than the Masai Mara. The Serengeti Park's central section, near Seronera, is typically crowded, although the north and west parts provide more personal and private possibilities.
The Ngorongoro Crater, located to the east of the Serengeti, is a must-see attraction. This volcanic area encompasses 250 square kilometers of woodland, lakes, and a diverse range of species, including lions, black rhinos, and elephants.
The location is regarded as a massive wild zoo that draws visitors from all over the world. The park is most lovely between June and October, although it is equally magnificent all year.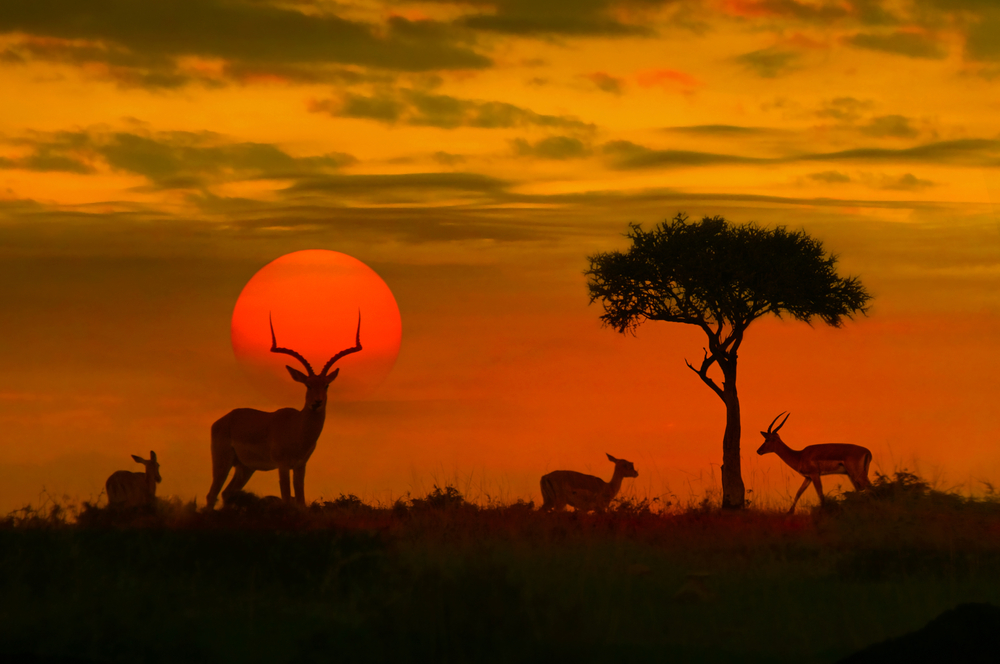 3. Kruger National Park, South Africa
The Kruger National Park in South Africa has everything you're searching for in an African wildlife safari. It's a massive public park and camp that covers 22,000 square kilometers. Kruger National Park is the greatest Safari location for first-timers in terms of affordability and animal discovery.
The park is Africa's most spectacular destination, with its backroads and different bush camps for people seeking wilderness. You will be able to witness several wild creatures in their native environment, including cheetahs, wild dogs, huge herbivores, and more than 500 kinds of birds. There is a large variety of wild creatures to be found there.
The park's environmental diversity is what sets it apart. From grassland and breathtaking hills to woodland and riverside woods, the park has it all. It is also good for visits all year, however, the months of November to March are generally rainy.
4. Queen Elizabeth National Park, Uganda
Nothing compares to the wildlife encounters in Uganda, particularly in the Queen Elizabeth National Park, where you can go gorilla trekking. Elephants and buffalos may be seen on the lakeshores, while hippos can be seen on the Kazinga Channel. The tree-climbing lions of Ishasha in their native habitat are a sight not to be missed.
The animals and nature will wow you if you are going on an African wildlife safari for the first time. If you are a seasoned safari visitor, the range of ecosystems in a tiny park like this one will astound you. The park is small, yet it has a large variety of species. Don't miss out on seeing the chimps and some of the 610 bird species that live there.
Aside from animal safaris, there are several things to partake in, including boat sailing. The wettest months, April, May, October, and November are the greatest times to visit since the roads are easier to navigate.
Don't forget to bring your camera with you! Step up the game and get an instant camera that prints out your photos on the spot!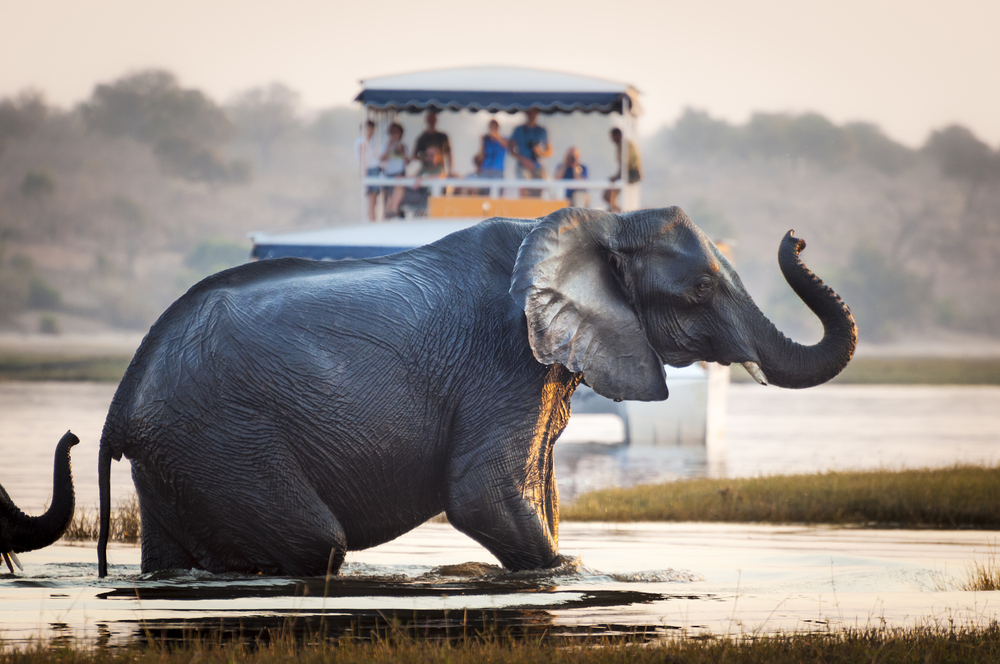 5. Chobe National Park & Moremi Game Reserve Botswana
Botswana is famed for its arid land, but the greatest views may be found on the sea. When the dry season arrives, wildlife congregates along the river in the Chobe National Park's far north. A large number of elephants and buffalos may be seen during boat tours.
Along the loop roads, you'll witness lions and other wild creatures. Victoria Falls is a must-see for anybody visiting Botswana, and it's only a day's journey away from the park.
The Moremi Reserve, which stretches along the eastern margins of the Okavango Delta, is located further south. You will get the opportunity to witness various natural predators such as wild dogs, which may be found in great numbers there. Boat tours go over the lagoons, allowing you to see everything while navigating the small canals.
It is common to combine excursions to the Chobe National Park with the Moremi Game Reserve. In high season, these areas may be quite busy, therefore the ideal time to visit is between June and October.
6. South Luangwa National Park, Zambia
South Luangwa Park in Zambia is an excellent choice for individuals who are interested in going on their first safari vacation. The location is one of the most popular safari locations in Africa, because of its stunning landscape and knowledgeable guides.
During the end of the dry season, a large number of wild animals like hippos, rhinos, and cheetahs congregate near the river. During the journey, you will get the opportunity to carefully observe animals.
The park is famed for being the home of the walking safari, where visitors may take a guided stroll into the bush to get a closer look at the leopard and other big animals.
The best time to visit is between June and October, when game viewing is at its height, while November to March sees floods and camp closures.
You might also like: Top 6 Best and Worst States to Drive In.