For those of us who are amazed by a vibrant, colorful landscape, autumn is the greatest season of all. Not only are you surrounded by rusty, golden leaves, but it's also the beginning of the comfy season when we're basically sliding into our favorite sweaters and grabbing a cup of pumpkin spice latte.
So, you can understand our enthusiasm for sweater weather! If you want to know where the best places to admire this season unfolding are, we've got you covered! There are lots of places where you can enjoy this season, such as Maine, New Hampshire, and New York.
Have a look and tell us what you think!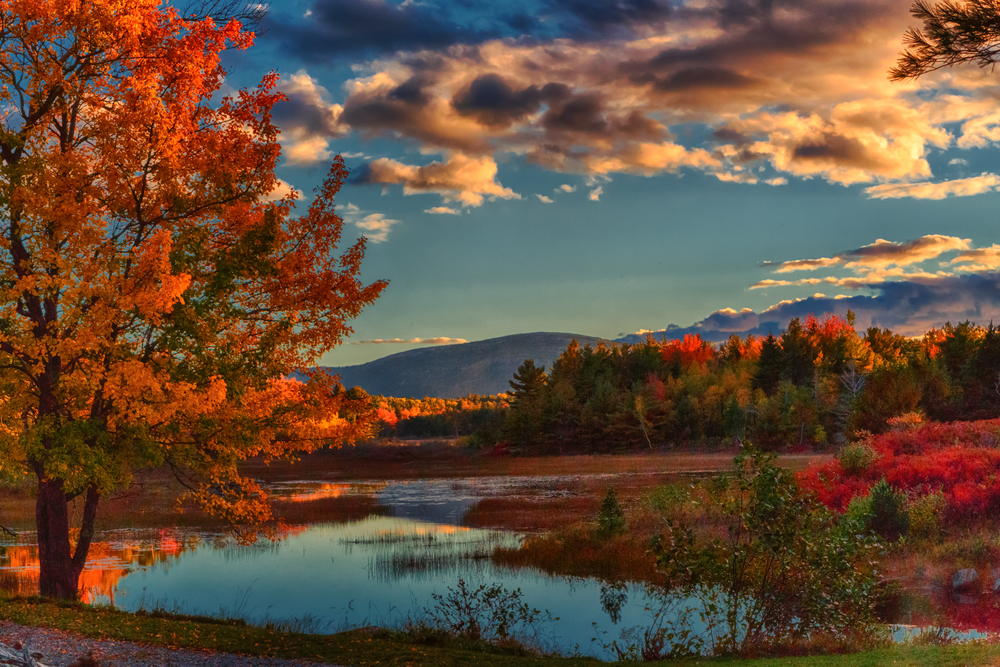 Bar Harbor, Maine
Bar Harbor is the perfect destination for those who want to get away in the middle of October. Over there, you're going to get your fill of salty sea air while watching the gorgeous colors of autumn. There are many shops to visit downtown, but many people prefer to kayak or visit Acadia National Park.
Ozark National Forest, Arkansas
Ozark National Forest has over 1.2 million acres of incredible scenery. In October, you can fully see the fall's foliage, wandering your eyes through the beautiful fall hues of gold, orange, and red. Plus, there are lots of mountains, springs, rivers, and breathtaking parks worthy of a picture, so you definitely need a camera!
Catskill Mountains, New York
The Catskill Mountains are definitely on the list of perfect fall landscapes. You can enjoy the scenery by going on a hike or a drive, followed by a visit to the local cideries and breweries. You'll fall in love with the culture of the Catskills towns, such as Livingston Manor, Woodstock, and New Paltz.
Huntington, New York
Caumsett State Historic Park Preserve has over 1,600 acres and 27 trails. It's the home of many maples, tulips, hickory, sassafras, and dogwood.
And if in other seasons this wouldn't have so much importance, when it's about autumn, you want to visit those parks that are as diversified as possible.
Stowe, Vermont
Unsurprisingly, Stowe is called "Fall's Color Capital". There is such a wide variety of plants that during autumn are turning different shades of yellow, red, orange, and brown from September through mid-October that it's really worth seeing.
Plus, it's a great place to hike and ride. And even if the weather might be a little colder, you can still take a scenic drive on Mount Mansfield Auto Toll Road.
Columbia River Gorge, Oregon
The Columbia River Gorge can be found between Washington and Oregon. To explain in a few words why it is such an amazing destination, I'll just say that it has over 50 water falls.
Eastern Shore, Maryland
If you're visiting the Maryland crabs, make sure to take plenty of walks around Elk Neck State Park and gaze at the gorgeous colors. The Eastern Shore surrounds the Chesapeake Bay and the Delmarva Peninsula.
North Conway, New Hampshire
Kancamagus Highway is tucked in the White Mountain National Forest. To find it, you have to go through more than 34 miles of a roadway full of leaf peepers in order to enjoy all the beautiful sightings in early October.
There are so many things to do in this place, from hiking, biking, and rock climbing to visiting a variety of cozy restaurants.
Lenox, Massachusetts
You can hike or bike yourself to Pleasant Valley Sanctuary to see the beautiful and vivid colors of this magical Massachusetts town. The best time to visit is around mid-October.
If you want other alternatives, the Berkshires are a great New England alternative to New Hampshire or Burlington, Vermont.
The Poconos, Pennsylvania
The Pocono Mountains are the perfect place to gasp at fall's foliage. You can reach them by taking Route 507 around Lake Wallenpaupack. You're going to have a trip you'll never forget by taking this road, as it has such a relaxing, autumnal view. The leaves reach their colorful peak in October.
Taos, New Mexico
When thinking of leaf-peeping, many people associate it with the Northeast. But in reality, people who live in the Southwest desert can enjoy some seasonal colors as well.
The southwestern landscape of New Mexico is definitely a must-see in the fall season, especially if you're driving around on one of America's most scenic drives: the Enchanted Circle.
On the 83-mile drive, you'll pass through many towns, such as Taos, Eagle Nest, Red River, and Questa.
Amicalola Falls State Park, Georgia
This place is home to Georgia's tallest waterfall. At 729 feet, you can admire it from many different trails along the park, and on the bottom of the falls, you can see Georgia's wonderful plant life.
Franklin, Tennessee
In early November, which is a bit later, bright fall colors can be seen in Tennessee. The area is crowded with poplars, maples, oaks, and hickory trees, which makes the town come alive with color. If you're a leaf chaser, a long walk in the historic downtown will be the perfect afternoon activity for you.
Staten Island Greenbelt, New York
City lovers won't need to go too far to get to one of New York's most spectacular forests, which is located within the five boroughs of Staten Island. There are maple, tulip, beech, oak, and hickory trees in the forest, so basically all the ingredients needed for leaf peepers
Cape May, New Jersey
Although it's an old, seaside resort town, in mid-October and all of November, it becomes an autumn haven. There are some historic lighthouses in the area where you can admire the changing fall colors.
Brooklyn, New York
Urban jungle lovers don't have to go too far to admire autumn colors. They can simply go to the Brooklyn Botanical Garden to get their fall foliage fix.
There are 52 acres of space, paved pathways, themed gardens, specialty plant pavilions, and many native species of plants from all corners of the world. You can enjoy fall colors in their full "bloom" right in the middle of the city, especially in mid-to-late October.
Cape Cod, Massachusetts
Cape Cod, Massachusetts, is definitely a popular summer destination, but only a few people are aware of how wonderful the autumnal landscape is here.
For those who don't like to just sit and watch, you can check out a cranberry bog or go pumpkin picking while watching the beautiful changing colors of the Northeast.
Aspen, Colorado
The place got its name from the gorgeous aspen trees with the perfect shade of yellow-gold in the fall. Right before winter kicks in, visitors have a wide range of outdoor activities they can choose from. If you want to enjoy the spectacular views, stopping over at Maroon Bells is a perfect choice.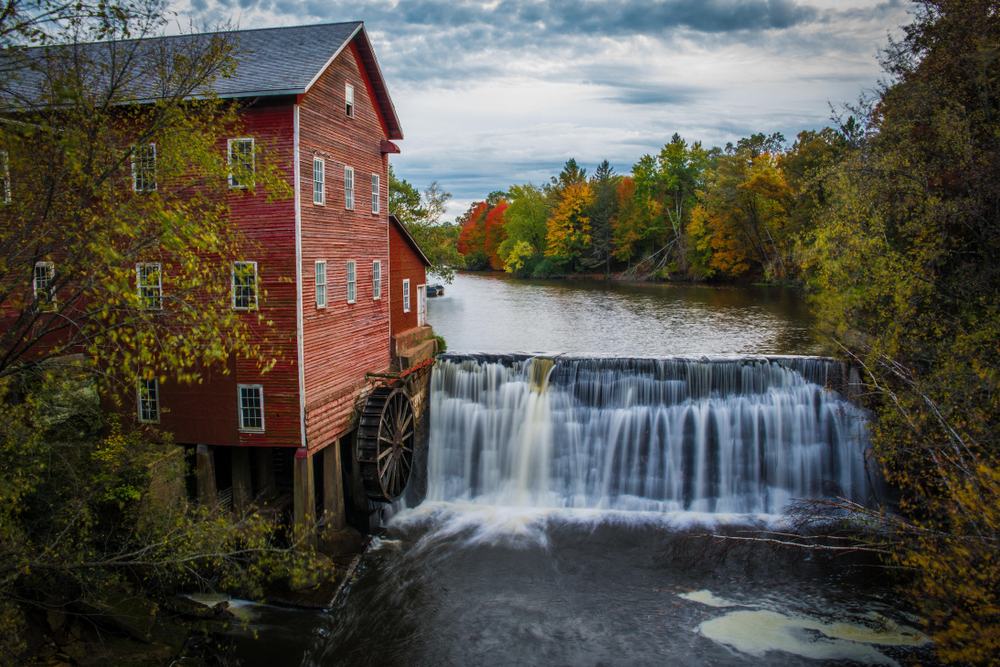 Wisconsin Dells, Wisconsin
Along the Wisconsin River, you'll find a strikingly beautiful glacier-formed gorge called the Wisconsin Dells. During the fall, the Dells are extremely peaceful, which is perfect for leaf peepers who want to photograph the changing foliage.
There are many popular attractions here, such as boat tours, river walks, and sightseeing in Devil's Lake State Park.
Massapequa Preserve, New York
Massapequa Preserve on Long Island is, in my opinion, the best place to experience fall foliage without going too far from NYC. If you want to know when the best time to go there is, somewhere between late October and early November would be perfect to enjoy the vibrant views.
Okanogan-Wenatchee National Forest, Washington
It is only natural that leaf peepers are immediately attracted to anything slightly related to "maple". Well, the Lake Ann/Maple Pass Loop Trail is the best possible destination in mid-October.
Its forest develops a gorgeous pattern of yellow, orange, and red. The forest lies east of the Cascade Crest and is, in fact, so diverse thanks to its wide geographic range. It has high, glaciated alpine peaks and deep valleys of old-growth forest, which makes it the perfect destination for any nature lover.
One thing you can do while admiring these beautiful fall landscapes is to observe the migration of the birds. And when doing this, you will surely need a pair of binoculars. These are amazing, and you can easily purchase them from Amazon: Large Eyepiece Waterproof Binoculars for Adults Kids
You should also read: 7 Magical Healing Spots You Should Visit in the US