It's time to learn about some healing spots around the world!
From the beginning of time, people have always traveled to discover and follow their curiosity. And in recent years, city life has increasingly gotten chaotic. People have started looking for ways to integrate with Mother Nature and wildlife.
Therefore most folks' holiday habits have changed. The vacation spots that are more sought after are mainly peaceful and calm, away from the hustle and bustle and seasonal crowds.
Health tourism is also a rising trend that has become increasingly popular all over the world in the last couple of decades.
Extensive studies have been done on the healing effects of water, and researchers agree that we can spend a peaceful vacation getting rid of health problems like joint aches or chronic illnesses.
Some of them might possess powers that are said to soothe various ailments. Others may restore your spirits. Whatever you're looking for, expect some magic at these 7 healing spots right in our own backyard!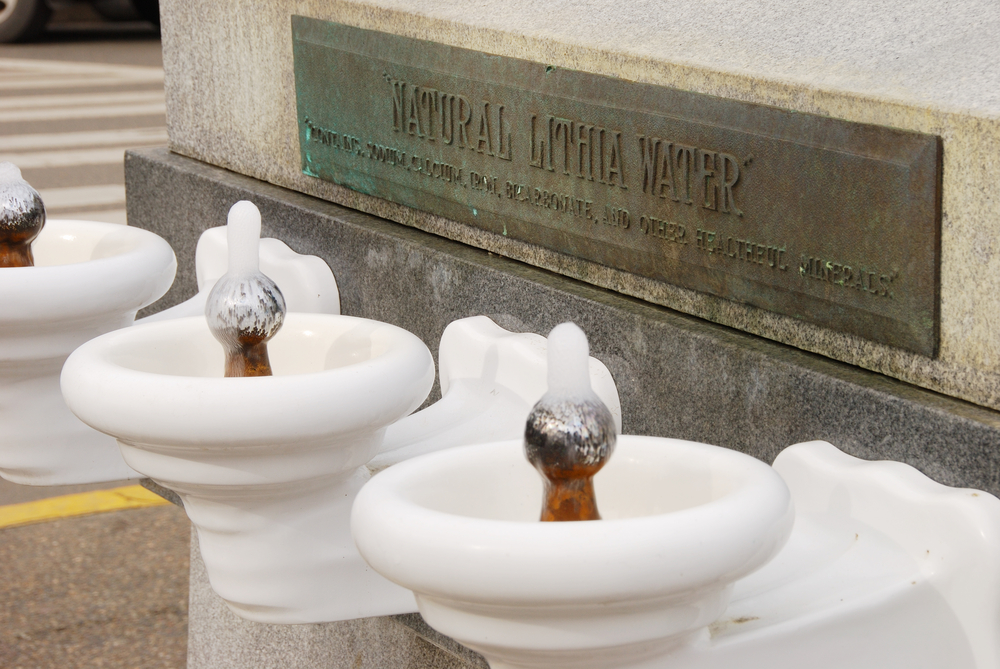 Ashland, Oregon- Lithia Fountain
Visit Lithia Park, cradled along Ashland Creek in the southern part of Oregon, and in this healing spot you'll find a fountain supplied with Lithia water, named for the natural lithium oxide deposits in the spring.
These waters have been known as health-supportive for over 100 years. And in 1911, locals discovered it was located next to the second most lithium-loaded spring water.
The city decided to pipe the spring water into town with a multi-spouted drinking fountain near the downtown area. In 1982, it was even declared a landmark by the American Water Works Association.
Therapeutic properties due to the sulfur and other minerals in the springs apparently include helping cure skin diseases, arthritis, digestive disorders, and sore muscles. The water at this healing spot is even known to soothe poison oak rashes.
Even if you're skeptical about the spring water's detox abilities, it's safe to say you'll feel calmer and less burdened by your daily stress at Lithia Springs Resort & Wine Garden, a great place to experience this mystical H2O.
The property has executed a process of aeration that minimizes the strength of the strong sulfur odor while preserving the valuable minerals. While visiting, you can either drink the water or bathe in it.
You can even grab yourself an Adirondack chair by the beautifully landscaped pond in the garden and chase your wine with some glasses of this invigorating water.
Taos, New Mexico- Ojo Caliente
Convincing us to go to a spa is not exactly a hard sell, especially when it has natural mineral springs filled with healthful properties. At Ojo Caliente in Taos, one of the oldest resorts in the US, it's also possible to enjoy the breathtaking views of the abrupt cliffs of the desert.
The forest is sprinkled with aspens between dips in the pools of mud, arsenic, or kiva, each praising its own healing properties and aura.
One of the most popular features of the healing spots at Ojo Caliente is that they're considered the only ones in the world with four different types of sulfur-free mineral waters, including iron, soda, arsenic, and lithium.
Iron-based bathing is beneficial for immune health, and arsenic bathing is recommended for those who seek relief from arthritis or even ulcer pain.
While at this healing spot, take a dip in the rock-lined pool to calm your mind or the lithium-rich pool for some potential help with your digestion or depression.
Bimini, The Bahamas- The Healing Hole
This healing spot can be found on the east side of Bimini. It's a freshwater pond unlike any other you've seen and can only be accessed by boat.
The cold channel of freshwater that mixes together with the warm salt water outside the Bahamian mangroves is professed by some to be quite the elixir.
Finding this mineral-rich cure-all on your own is no easy feat, so we suggest hiring a guide with a shallow boat to lead the way to this magical healing spot.
One thing worth noting is that neurophysiology researcher Dr. Richard Wingate tested the Healing Hole's composition, only to find that it contains high sulfur, lithium, and magnesium levels.
Lithium is perfect for treating mood disorders, magnesium is used to help muscle function and produce energy, and sulfur is necessary for your body to function well. This makes the Healing Hole a triple threat when it comes to wellness.
New York- Saratoga Springs
In this location, you've hit the jackpot of healing spots! You've got Geyser Island Spouter, Hayes Well Spring, and Charlie Spring all ready for you to enjoy. You'll be greeted with so many mineral waters that you won't know which to choose first!
In fact, this ever-charming town is named after its famous spring waters. While you're in Saratoga Spa State Park, you can bike or walk your way around the lush acres to try out the many springs, which contain calcium, iron, magnesium, potassium, and much more.
Visitors to this healing spot have been going to Saratoga Springs to "take the cure" since the 1700s to treat skin conditions, help with digestive problems, and make them feel better overall.
While on your trip, besides taking a tour of the springs to drink the healing waters, you also have to option of taking a private mineral bath in the bubbly, carbonated waters at the Roosevelt Mineral Baths and Spa for a treatment that will blissfully soothe you.
Yellowstone National Park- Grand Prisma And Mammoth Spa
Grand Prisma is considered the third-largest spa in the world, but it takes the #1 spot as the most well-known resort. The reason for this is both the shape and the colors it contains. Some of its algae include orange, red, and green tones.
Each year at least 5 million people benefit from these healing spots. The length of Grand Prisma is 262 feet, the width is about 300 feet, and the depth is 175 feet. Thanks to the many colors created by the algae, you'll also get some unbelievable views.
Now, like Grand Prisma, Mammoth Spa can also be found in Yellowstone. The most important feature of this healing spot is the display of the most carbonated area in the entire world.
That's due to the many centuries of intense carbonate in the interior and the travertines forming.
Okanagan Valley, British Columbia- Spotted Lake
We know, we know…this healing spot isn't in the US. BUT, it's just a skip and a jump away! This fantastic healing spot is known to the First Nations People of the Osoyoos area as Kliluk, a sacred site that's been used for healing for many centuries.
The shimmering, colorful lake is simply out of this world. It's also overflowing with some of the highest amounts in the world of sodium sulfates, calcium, and magnesium sulfate.
Also, the lake even contains exceptionally high levels of eight other minerals, as well as small doses of four others, silver and titanium included. Each spot in the water is believed to have its own set of healing properties.
The grounds surrounding the lake was privately owned for 40 years. But in 2001, the government obtained it for the Okanagan Nation, protecting it from development.
When visiting, keep in mind that visitors are not allowed beyond the viewpoint out of respect for this hallowed area and the native communities who reside here. Still, the vantage point from the highway is nevertheless stunning.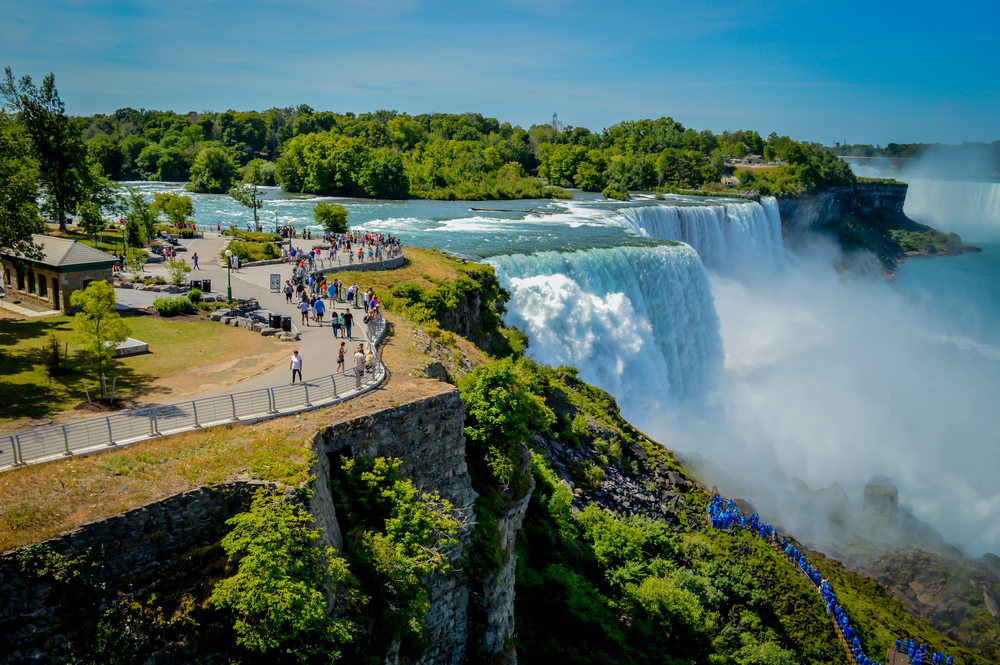 New York- Niagara Falls
Fun fact you might not have known: Niagara Falls has its own healing capabilities. As anyone who's visited these towering falls before will say, the views there are AH-mazing! But did you know that it's believed waterfalls can be a natural source of negative ions?
And Niagara Falls is known to be one of the world's most significant bases. For those of us who aren't well-informed about earthly particles, negative ions are molecules in the air that are charged with electricity and may have positive effects on mood and stress levels.
So what does that mean? That cascading avalanche of water at this healing spot releases negative ions into the air and even a little boost of "good feelings" into your body!
To conclude, if something ails you, a healing spot might just cure you! Let us know if you've tried any of them before and how it went. And if you haven't had the pleasure of experiencing a healing spot yet, be sure to grab your swimsuit and snap some shots when you do go and share them with us!
And if you're looking for some other fantastic getaway ideas, Adventure In America has got you covered! Check out: 7 Incredible Vacation Ideas You've Never Thought of But Really Should Try