Hot air balloons are becoming more and more popular, and many people have had the opportunity to enjoy the sensation of gently floating thousands of feet above the stunning scenery. Looking at your favorite destination from the comfort of a hot air balloon provides you with a whole different viewpoint from a bird's eye perspective.
You can better comprehend how huge and gorgeous nature's features are, and you may even get a new appreciation for cities and towns you thought you knew. Whether you want to get away from it all for a few hours or have a romantic interlude, here are some hot air balloon rides and wonderful rides to go on in the United States.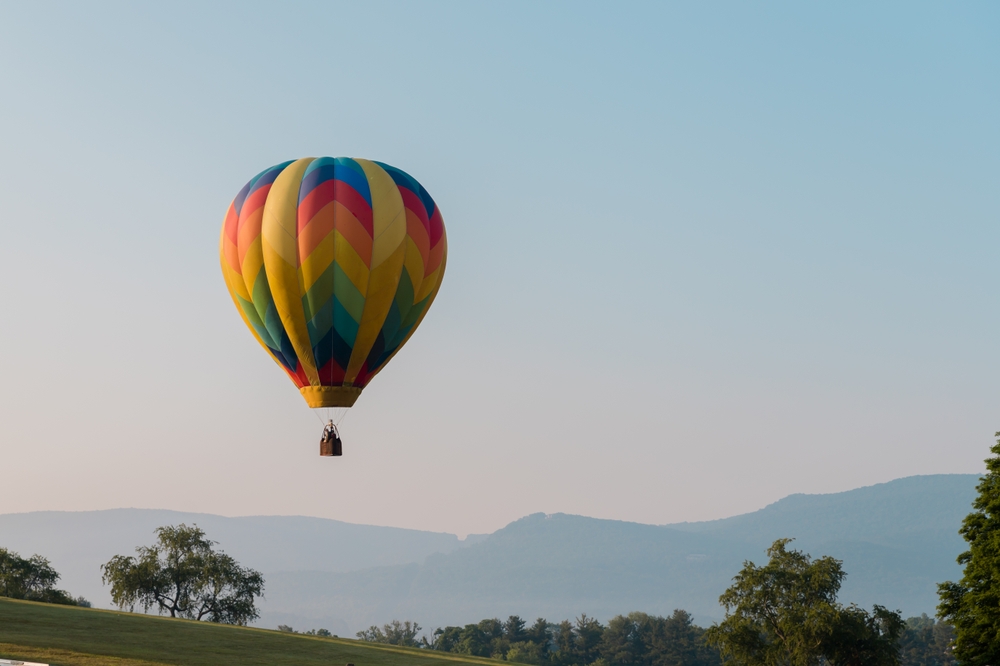 1. Quechee, Vermont
In Quechee, hot-air balloon enthusiasts may float across the rolling hills of central Vermont and glide over Lake Pinneo at such low altitudes that they can see birds catching their meals.
"Vermont's Grand Canyon," soaring above Quechee Gorge, provides an incredible perspective of the Ottauquechee River below and a magnificent bridge that crosses the Gorge. Another site to look out for as the balloon glides over the hamlet is the Quechee Covered Bridge.
Quechee is an unincorporated community in Hartford, close to the Vermont/New Hampshire border. In the fall, one may expect to witness the stunning autumn colors for which Vermont is famous. What better way to take in nature's splendor than from above in a hot-air balloon?
2.  Lake Geneva, Wisconsin
This historic vacation town located along the scenic beaches of Geneva Lake is about 45 miles southwest of Milwaukee. Following the Civil War, this year-round vacation spot was dubbed the "Newport of the West" because rich Chicagoans erected summer houses and estates along the town's shoreline.
During your balloon ride, you'll get a bird's eye view of the stunning surroundings around the lake, as well as some of the historic homes and mansions. While traveling along Lake Como on one of the Lake Geneva Balloon Company's itineraries, you may see beautiful dawn.
Another flight leaves from Burlington Municipal Airport and takes passengers down the White River Valley, which feeds Geneva Lake.
Riders may observe animals such as coyotes, foxes, white-tailed deer, red-tailed hawks, and the odd bald eagle on this excursion. Flights are accessible every day of the year, weather permitting. The cost per person starts at around $260. Private tours for two people are also available via the firm.
While you're in town, check out Lake Geneva Ziplines & Adventures for another thrilling trip.
3. Newberg, Oregon
The community of Newburg, located about 40 miles south of Portland, Oregon, is famous for being the home of former President Herbert Hoover as a child for four years.
His former residence is now a museum, and passengers on a hot-air balloon trip fly above the Willamette Valley and the Willamette River. On a clear day, you can view 10 mountain summits, including the stunning Mt. Hood.
You could even spot more balloons flying close by. In what is known as a splash 'n dash,' your balloonist may descend to just above the waters of the Willamette River to give you an extra thrill.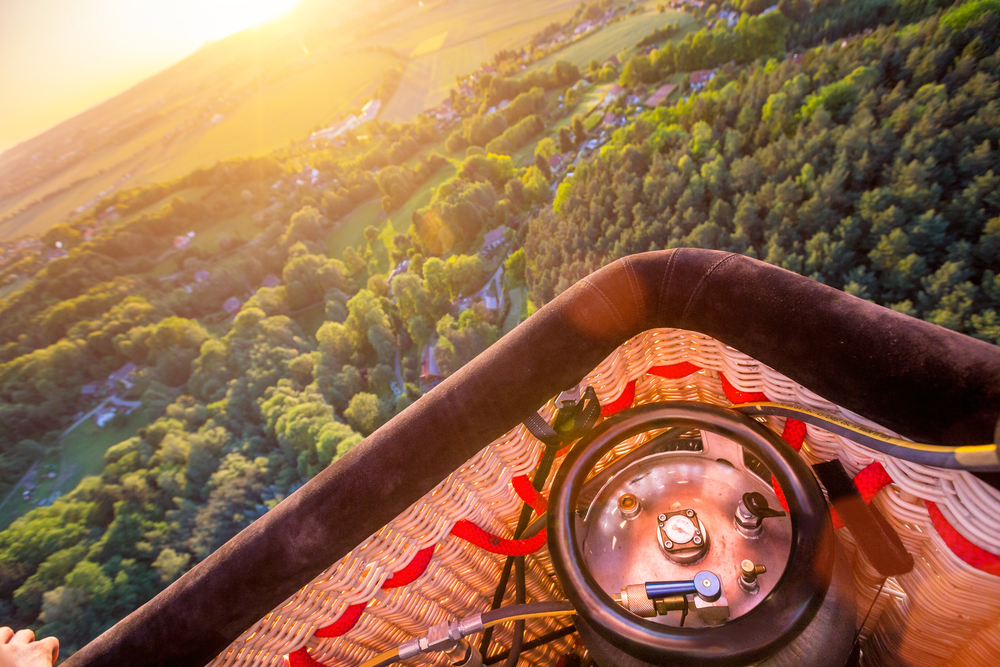 4. Napa Valley, California
The beautiful green vistas of Napa Valley, along with rolling hills and vineyards, make it one of the most stunning settings in the United States for a hot air balloon journey. This region is also famed for its world-renowned wines (it has over 400 wineries), magnificent resorts, and top-notch restaurants, so there's plenty to do while you're still on the ground.
Napa Valley Aloft provides semiprivate flights for eight to twelve guests, with the Yountville Valley as the principal destination.
Balloon trips can take anywhere from 40 minutes to an hour, depending on the wind speed. Another tour provider, Napa Valley Balloons, flies above wine country at around 2,000 feet in the air, with baskets that can hold six to twenty people. Prices for adults begin at $250.
This is a great place to take instant pictures with this camera!
5. Asheville, North Carolina
Western North Carolina's countryside is beautiful all year, but flying is the finest way to observe the region's spectacular grandeur between spring and fall. This is the best time to go ballooning since the winds are calmer.
Plan your vacation for mid to late October to experience the magnificent foliage in the Blue Ridge Mountains. The one-hour journey by Asheville Hot Air Balloon connects Pisgah National Forest and downtown Asheville. You'll fly over rural areas studded with farms and fields, as well as woods encircled by 360-degree mountain ranges, during the flight.
Another tour company that provides this flight is Asheville Balloon Company. Prices start at $300 per person for standard excursions and $400 per person for private trips, with a minimum of two individuals necessary.
Back on the ground, take in Asheville's diverse cultural, gastronomic, and brewing scene. If you prefer outdoor activity, the French Broad and Davidson rivers are two of the greatest in the United States for trout fly-fishing. In Pisgah National Forest, you may also camp, hike, mountain bike, and climb.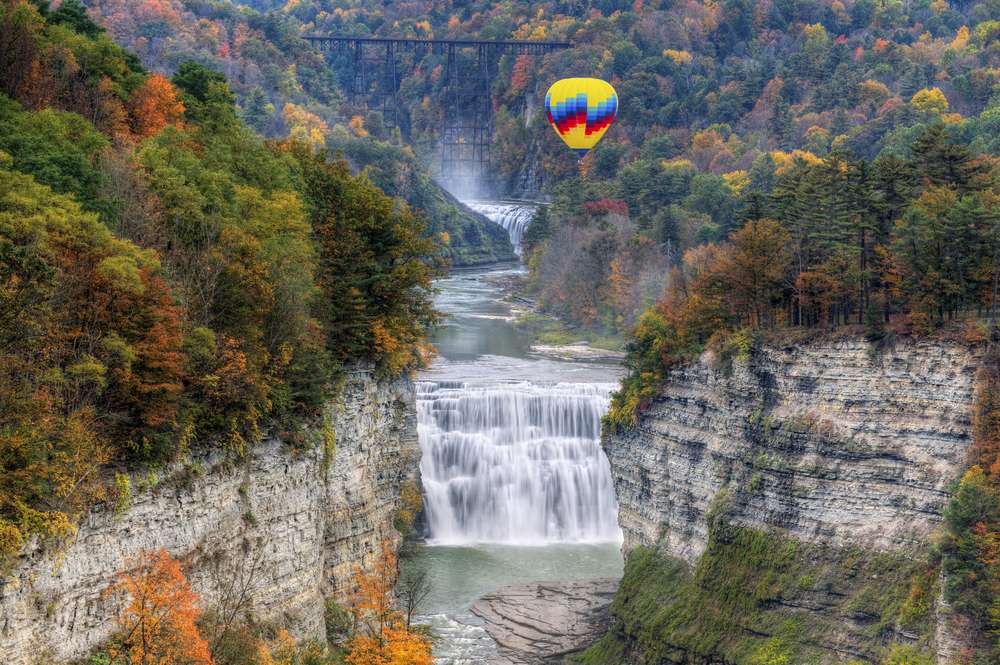 6. Letchworth State Park, New York
Letchworth State Park, located roughly 40 miles southwest of Rochester in upstate New York, is known as the "Grand Canyon of the East." It's also one of the most beautiful places in the Eastern United States, with the thunderous Genesee River canyon passing through the park and flanked by cliffs and woodlands.
You'll also view magnificent waterfalls, some of which peak 600 feet above the ground. The Liberty Balloon Company sails over New York's gorgeous countryside from Middle Falls, one of the park's most stunning locations. The company's normal flights last around an hour, but the overall time is three to four hours.
Tours can seat four to eight persons, with pricing beginning at $310 per person. Although the primary season runs from May to October, the firm also provides private flights, romantic experiences (think: marriage proposals), and winter trips.
Another alternative is to buy a package that includes lodging at a Finger Lakes bed-and-breakfast. On the ground, the state park offers 66 miles of hiking trails, whitewater rafting, kayaking, guided hikes, and historical and performing arts activities. Tent and trailer campsites are provided in the park for outdoor enthusiasts.
7. Black Hills, South Dakota
South Dakota's Black Hills, known for their enormous splendor and unspoiled mountains, lakes, plains, and valleys, are particularly stunning from above. Look for plentiful wildlife such as buffalo, mule, and whitetail deer, elk, and antelope when flying over Custer State Park and the Custer Valley in the southern Black Hills.
The Cathedral Spires, Crazy Horse, and perhaps Mount Rushmore may be visible in the distance depending on the winds. Between May and October, Black Hills Balloons departs from Custer on a daily basis at a cost of around $325 per person.
In mid-September, the firm also provides a three-day tour flying from the Stratobowl. The Stratobowl was used by the Army Air Corps and the National Geographic Society to launch crewed balloon flights in 1934 and 1935.
One of these flights reached the stratosphere at a record altitude of 72,395 feet in November 1935, and the pilots acquired the first photograph of the Earth's curvature.
Plan to explore Custer State Park after returning to the ground, and then go about 30 miles north to Mount Rushmore for a closer look at this amazing national monument. Book a Buffalo Safari Tour for a different kind of experience, and you'll be able to see these magnificent beasts from just a few feet away.
You might also like: 10 Best US "Green" Cities For the Nature Lover.