Cenotes
Do you remember the last time you took a trip to Mexico? If you're like me, even when you did go, you probably stuck to Cancun for your daily fun-in-the-sun needs. But we'd like to offer up a more unique adventure; you won't soon forget! We've found many underground AND underwater sinkholes, aka Cenotes, from the Mayan word "Dzonot," meaning "abyss."
They usually form when soft limestone is eroded throughout hundreds of years, and you'll experience a fantastic getaway if you ever get a chance to visit one. You'll find more than 7,000 of these cenotes all around Mexico. Three thousand are estimated to be located in the Yucatan Peninsula, and many are still left undiscovered throughout Mexico. So let's take a look at what we mean.
Keep reading for 11 of the most amazing cenotes you'll find in Mexico!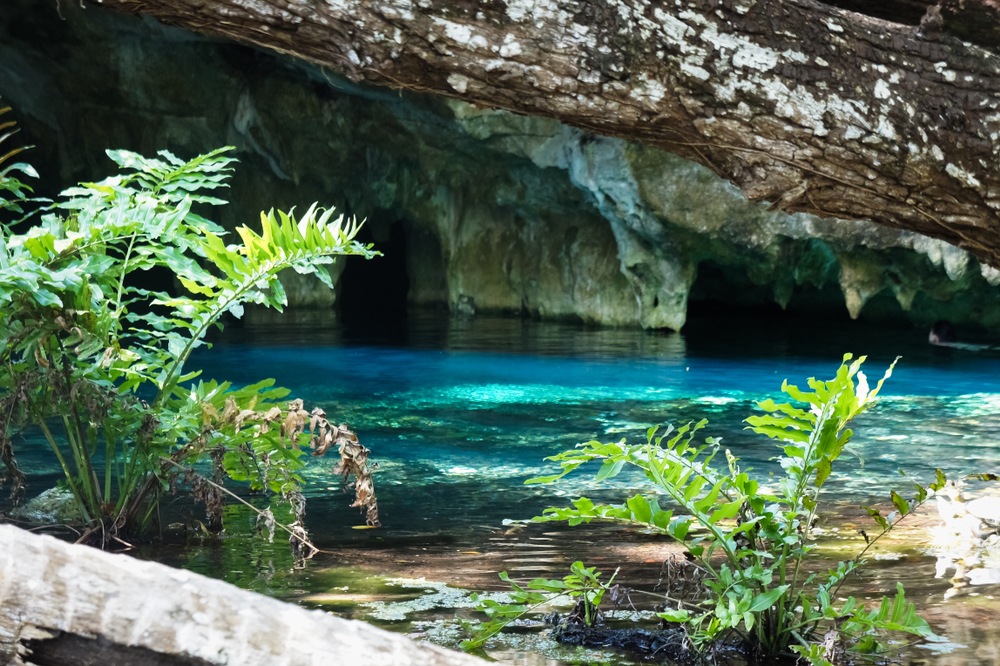 Grand Cenote, Tulum
Located just outside of Tulum on the 307 highway, Grand Cenote is one of the best Cenotes you could ever visit. It contains plenty of mineral formations in its crystal water, and you'll also see many fish and turtles. This particular Cenote is likely one of the most known ones in Mexico, attracting almost 1 million visitors each year.
It is an unbelievable destination where visitors can also enjoy a lot of sea life. But we suggest you are very cautious about not touching the turtles. You can reach Grand Cenote from Tulum by Taxi or by car, and the best time to visit this location is December and January when it's the peak travel season.
Cenote Manati
This open cenote resembles a lake, and it's located right near the road. You take an internal unpaved road from the Carretera Federal going towards the sea, following Pavo Real Resort's indication at about 6 miles from Tulum. You'll get to it right after the hotel on your left side.
The cenote is called Manati, or casa cenotes, because of the presence of some funny marine mammals in the area. But unfortunately, you can rarely see them nowadays because they have been scared off by human proximity. You can pay at the entrance to the restaurant opposite the cenote, called Casa Cenote, and here is where you'll also be able to find lodgings.
You'll find a pebbled beach right in front of the cenote with transparent water and the reef just at a few strokes. You can also snorkel or dive if you choose to. There is a diving center right across the road to rent equipment and book your diving.
Chaak Tun, Playa del Carmen, Quintana Roo
This is one of the most visited sinkholes in the Riviera Maya, hidden away behind the jungle of Playa del Carmen, and is a natural paradise and favorite among tourists. Visitors here can enjoy many leisure activities, including swimming, snorkeling, and scuba diving in low-lit caverns with natural pools and mineral formations.
You can reach the cenotes by private taxi, which you'll find at the main gate, but expect a 20-minute walk through the jungle as well. The best time to visit the area is in April, May, and November. But the waters of the Cenotes remain around 77 degrees year-round so that visitors can enjoy a delightful experience.
Cenote Crystal and Escondido
These two beautiful cenotes are located right outside Tulum if you're coming from Playa del Carmen, less than one mile from the center of the city, and are across the road from each other. If your lodgings are in Tulum, you can easily reach the area by bicycle. Cenote Crystal is one of the more sizeable and open cenotes, surrounded by thick vegetation reflecting on the magical blue water, making it even more beautiful.
It's 23 feet deep, and you can both swim and relax or jump from an elevated platform built for the adventurous. Cenote Escondido is just as charming and even cleaner on the other side of the road. There are some ropes that allow you to pretend you're Tarzan, or you can just swim around.
Cenote Azul
Even though it's not precisely in Tulum, the cenote Azul is worth mentioning and is truly one that you should include in your next adventurous itinerary. Located at a 30-minute drive from Tulum and the same distance from Playa del Carmen, the Cenote Azul is worth your while and attention.
It's enormous and made of different pool formations, marked by rocks and lots of tropical vegetation. There is also a ten-foot platform to jump from for the more adventurous. And for those who want to just unwind, they can take a relaxing swim or just lay out in the sun.
FUN FACT: Cenotes were considered sacred places by the Mayans, and they were used to get the water they needed for their survival and some of their rituals!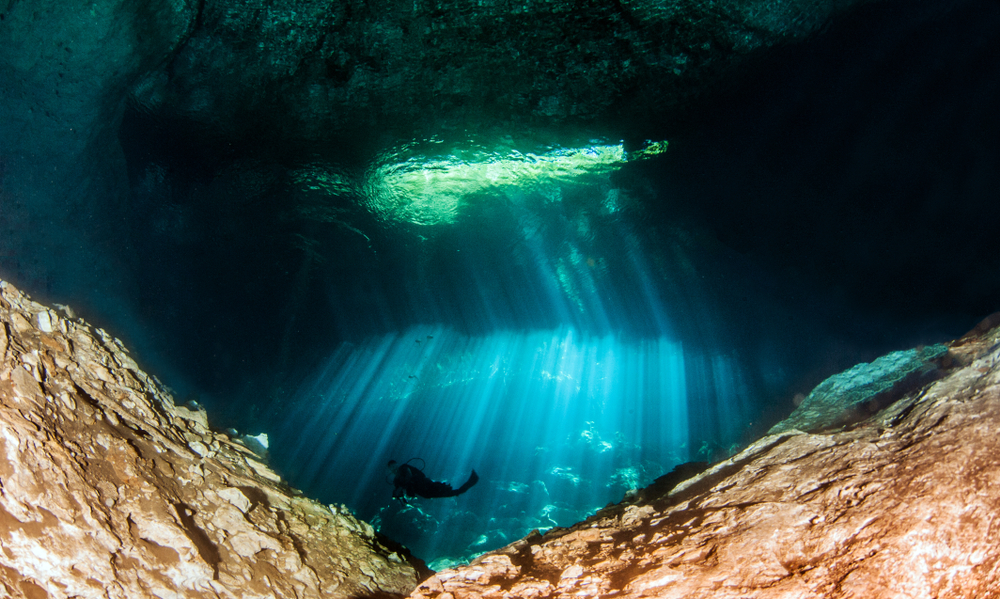 Cenote Jardin del Eden
This Cenote is about a 40-minute drive from Tulum in the direction of Playa del Carmen. At just a few feet from the Cenote Azul, you'll find the Cenote Jardin del Eden, adored by both swimmers and divers. It's a gorgeous open cenote where you can jump, swim, dive or snorkel. It's also one of the biggest cenotes of the Riviera Maya.
It's enormous, and it's the perfect place to spend the day meditating. The rock formation inside it is incredible, and an abundance of lush vegetation also surrounds it, making for a spectacular subject for pictures, besides having fun snorkeling around them. There's even a platform you can jump from.
Cenote Xkeken And Samula
Cenotes Xke'Ken and Samula are located in the same area, next to each other. You can buy your tickets for just one or both of them, but I highly recommend experiencing both. These cenotes are located in caves in Valladolid, and they both have a large hole at the top allowing light to stream through them.
Cenote Samula is much more significant with its crystal clear water, turning a darker blue the more profound the water gets. Meanwhile, X'keKen is smaller, but it's very much about the cave itself rather than the water. You'll notice many impressive mineral formations and columns of limestone formed over the past million years. A swim in both is a huge must, even if it's just to cool off and enjoy the fresh water. Also, be sure to bring a tripod here for photography as they are both dark inside.
Cenote Suytun
You've probably seen this one on Instagram a hundred times already but haven't been able to place it. Well, it's exactly what it's cracked up to be and more. In fact, the photos on Instagram don't do it justice. This cenote is the one with the stone platform extending out into the water, and at a particular time of day, it gets illuminated by a beam of light coming in from the opening above.
And even though it's an incredibly photogenic cenote, it's also one where you can feel all the years of history that it has. You can swim in the calming blue waters and just take it all in. If you want to catch the cenote when the light beam hits the platform, make sure to visit on a sunny, clear day.
Side Note: In 2020, several hurricanes and tropical storms tore through the Yucatan, raising the groundwater level in the area. As a result of this, the platform is now underwater. But it still makes for excellent photos, though.
Cenote Aktun Ha
Also known as the cenote car wash, this one doesn't have dramatic views because you won't see any caves unless you go diving, but divers especially love it… And there are, in fact, a few underwater caves that you can explore if you dive in. When you visit, you won't see many swimmers.
But, it IS a huge natural pool of crystal clear water, and it is VERY inviting. You'll also find lockers here, available for your personal items. The entrance fee is only 50 Pesos unless you dive, in which case it's 250 Pesos, besides the cost of the dive itself. All in all, we say it's worth a visit!
Cenote Ik-Kil
This cenote is the farthest of all of them, near Valladolid. But we say that it's well worth your trip. It's also one of the most famous cenotes of the region, not only because it's absolutely jaw-droppingly breathtaking but also because it's also near Chichen Itza. Many of Chichen Itza's tours stop here on the way out, so it gets jam-packed.
You should try getting here as early as possible in the morning. Compared to other cenotes, this sinkhole is more extensive and much deeper, and the water is crystal clear and dark blue. You'll find streams of water cascading down the sides, vines and roots hanging down, barely touching the water's glassy surface, and you'll hear atmospheric Mayan music playing in the background.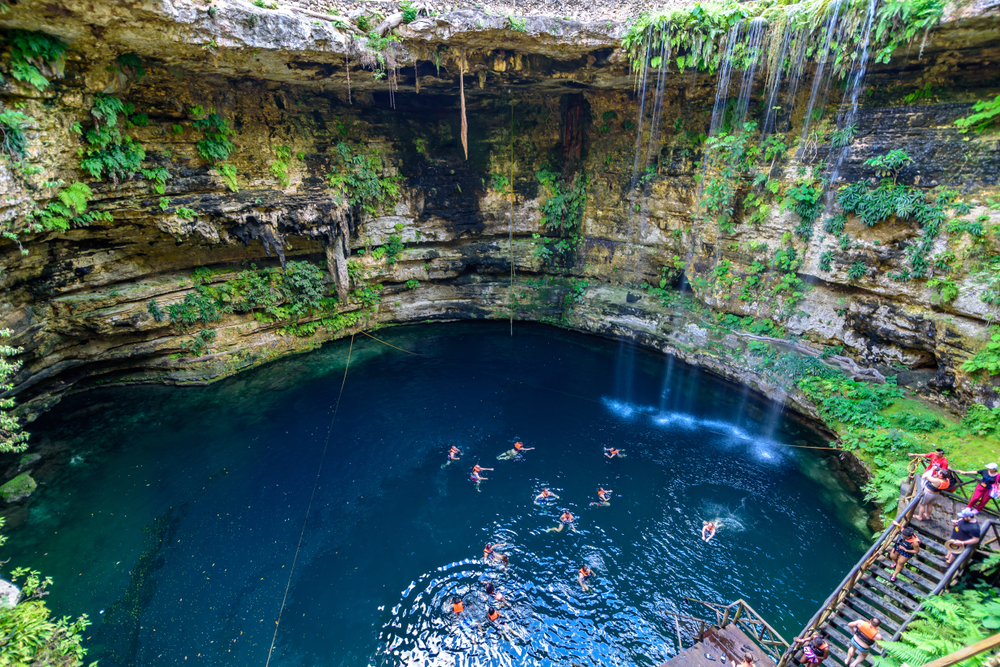 Cenote Dos Ojos
This is the most impressive and the most famous cenote. It's included in the cenotes of the Riviera Maya, a 30-minute drive from Tulum. It's also one of the first that was ever discovered. This cenote is most popular with divers and swimmers because of the astonishing rock formations.
The cenotes Dos Ojos, which means two eyes, is a flooded cave system that explorers have been searching since 1986, and it's still on the radar of archaeologists and passionate divers. The underwater cave system is about 38 miles long, with a depth of around 396 feet, being one of the top 10 aquatic cave systems in the world.
As you can imagine, diving here requires a good level of preparation, proper equipment, and an expert guide. But if diving isn't your thing, you can also enjoy swimming and snorkeling.
What did you think about these incredible locations? Have you packed your bags yet? Let us know in the comments section down below!
And Also Check Out: These 9 Magnificent Bluest Waters Worldwide Are Beckoning You