Adventure in America presents you: beautiful mountain towns that will take your breath away!
Winter is here, the hot chocolate season has finally arrived, and the desire for a nice vacation is already in your heart! As far as destinations go, nothing compares to going on a trip to the mountain towns! The snow-dusted pine trees, the cold weather, the beautiful and natural landscapes, and the peaks of the mountains will surely take your breath away!
You will most likely get in a holiday mood when you will see the twinkling shop lights, the winter puffy jackets, and mountains that can not wait to be hiked!
Whether you like being in the cold air, love the snow, like to hike, or just like walking around and admiring the landscapes, these 12 mountain towns will surely make you feel like you are in a wonderland!
This season, consider getting out of your routine and taking a quick trip into the mountains! Put on your winter shoes, a hat, and a scarf, and let these mountain towns take your breath away!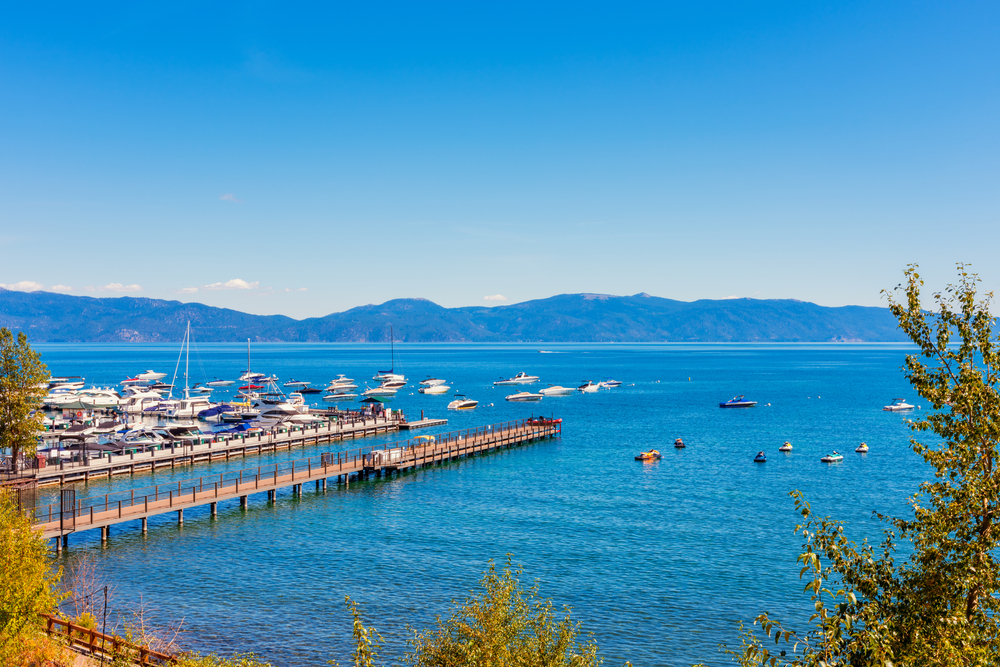 1. Tahoe City, California
Tahoe City is an unincorporated town in Placer County, California. It is comprised of a string of beautiful mountains that are scattered around Tahoe Lake, at the outlet of another water, the Truckee River.
Tahoe City has a high elevation, which makes the climate of the region Mediterranean, meaning that summer days are warm and dry, while the nights are chilly. The winter in this beautiful city is icy, with regular snowfall that can build up to 52 inches.
If you want to visit this town, don't forget to put on a nice sweater and don't forget your camera at home! The landscapes are amazing, and everything is picture-perfect! Just like I told you earlier: these mountain towns will take your breath away!
2. Squamish, British Columbia
Squamish is a district municipality and a community in the Canadian province of Brish Columbia. It can be seen as an outdoor haven that is located at the north end of Howe Sound.
This region is well-known for its touristic activities, such as rock climbing and mountain biking in the summer. A favorite spot of rock climbers is the Stawamus Chief, which is a massive cliff-faced granite. Although it looks scary and incredibly abrupt, people who love challenges and adventures don't seem intimidated by the huge cliff.
When the weather gets colder, people love to go skiing and snowshoeing. If this mountain town sounds like the perfect destination for a mini-getaway, make sure you don't miss the Brew Hut Paul Ridge and the Red Heather Hut.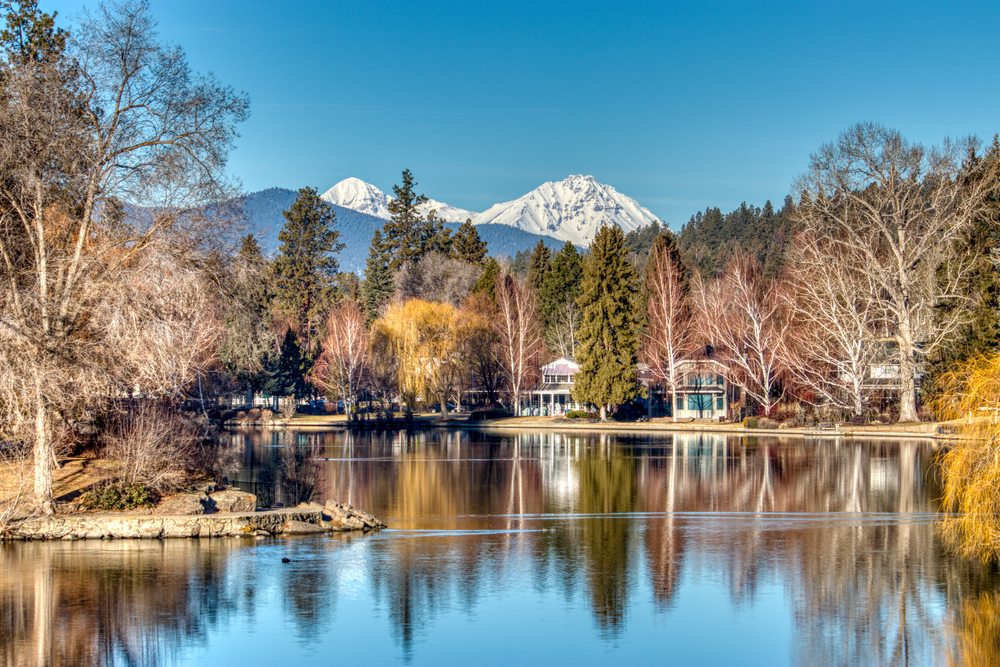 3. Bend, Oregon
Bend is one of the most beautiful mountain cities in the United States of America! It is located in the county seat of Deschutes County, Oregon and it is the main city of the Bend Metropolitan Statistical Area.
It is the biggest city in Central Oregon, although it has a modest size. People love to visit this mountain town, especially because it has great winter activities, such as snowmobiling, snowshoeing, rock climbing, and trail running.
Did I tell you that they are also famous for their delicious beer? They have at least 7 breweries worth visiting. If you crave a good beer and some winter activities, this is the place to go! Don't forget to check out Vista Butte and Cinder Cone.
4. Leavenworth, Washington
Leavenworth is a city in Chelan County, Washington and it is part of the Wenatchee−East Wenatchee Metropolitan Statistical Area. If you visit this town, you will see that its center is based on a Bavarian village. This is due to a civic initiative that was taken in the 1960s.
Although some people believe that this Bavarian theme is quite kitschy, the town is visited all year round and it organizes several festivals almost every month.
If you want to visit this breathtaking mountain town, make sure you check out Leavenworth Ski Hill Trails and Leavenworth Golf Course Trails. This mountain town is gorgeous, and you should definitely visit it when you have the chance!
5. Stowe, Vermont
Stowe is a small town located at the foot of Mount Mansfield, which is Vermont's highest peak. Although it is not a big city, this town is filled with everything people need to make their well-deserved memories: from breathtaking views to world-class recreation to cultural experiences, and even local food, full of flavors.
For those who love adventure and like to see beautiful landscapes, summertime is perfect for Gondola SkyRide and Auto Toll Road, which will give tourists an impressive view of the Stowe Valley. There are many hiking areas in the zone, which are a perfect fit for people who want to observe the mountain town.
On the other hand, in the wintertime, this place is great for skiing or taking on the snowboarding trails at Stowe Mountain Resort. Don't forget to grab your camera, because you don't want to miss the breathtaking views this mountain town has to offer!
6. Lake Placid, New York
Pack your bags, put on the coziest jacket you have, a scarf around your neck, and maybe get some mittens on, and you'll be good to go to Lake Placid. During this upstate New York escape, you will see the rolling hills hiding under the snow and you will enjoy looking at the high peaks while breathing the clear, cold, fresh air.
This mountain town is a historic, yet modern place, the perfect location for a quick getaway! If you are craving some outdoor activities that will leave you saying "wow", head out for a snowshoe hike, explore some cross-country ski trails, or try out fat tire biking!
From single people to couples and kids, this place is great for those who want to have fun and relax at the same time!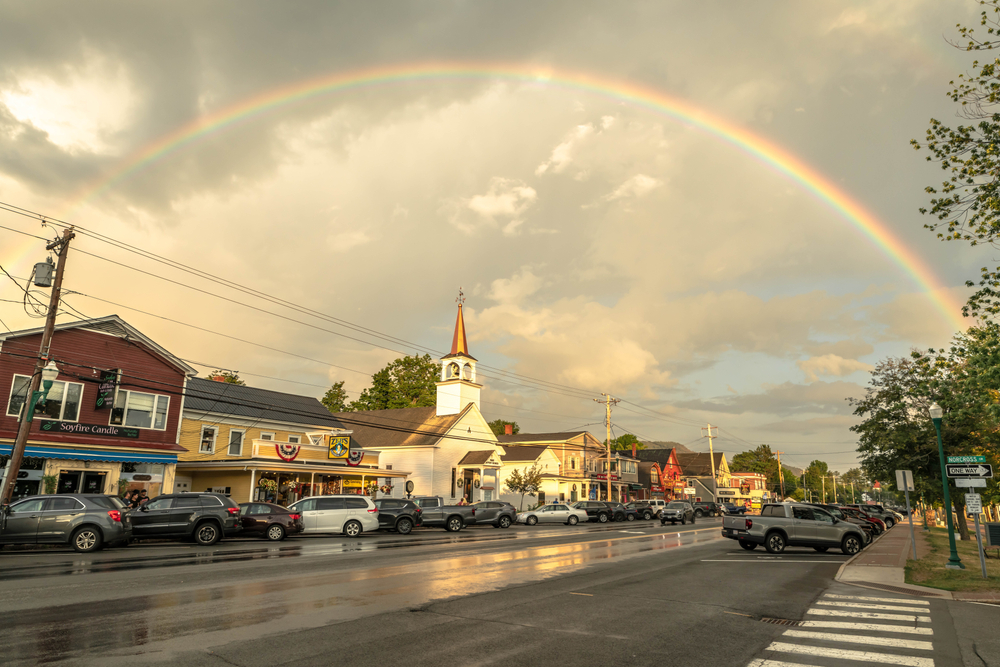 7. North Conway, New Hampshire
You can not go wrong with a destination like this! North Conway is a village in eastern Carroll County, New Hampshire. If you are willing to do some shopping while you are in the area, this place is well-known for its several outlet shops.
If the only thing you are interested in is doing an outdoor activity, you chose the right place, because this location is crossed by the White Mountain National Forest from north to west. You can peek up a trail to explore, such as Echo Lake State Park, Cathedral Ledge, and Cranmore Mountain Resort.
You will surely have the time of your life in this gorgeous mountain town!
8. Bethel, Maine
Another great destination for those who love mountain towns is Bethel, a town in Oxford County, Maine, United States. Even though it was originally a place for logging and farming, the town changed and became a tourist destination, well-known for its recreational activities.
People who want to enjoy some time in the mountains can opt for physical activities such as kayaking, hiking, and skiing. If the weather is not suitable for you, no worries, because you have many art galleries, restaurants, and unique museums to choose from!
Bethel is a great mountain town! You shouldn't skip it!
9. Park City, Utah
Park City is a place in Summit County, Utah and it is believed to be part of the Wasatch Back. This place is a great destination for those who are feeling adventurous and for those who are feeling extra adventurous! There are over 300 miles of maintained trails for hiking and mountain biking.
This one is for the people who are up for a challenge! "The Comet", which is a bobsled ride from the Utah Olympic Park, will be the ride of a lifetime for anyone who dares to try it!
It is one of the longest slides in the world! It has over 3,000 feet of fast and crazy sliding and gliding. If this is not enough for you, then try the Park City Mountain Resort Alpine Coaster, which is an elevated track, something like a toboggan-style car that will take you through more than 0,62 miles of loops, curves, and bends!
Are you up for the challenge? This mountain town is waiting for you!
10. Ouray, Colorado
Ouray, also known as the "Switzerland of America", is a town in Colorado, United States. This place is great for people who want to have fun doing some outdoor activities, such as hiking and skiing, and it is also suitable for those who are looking to have a more relaxing time. They can choose to soak in the Hot Springs pools.
If you want to take a walk, admire the landscapes, and discover some local places, this is for you! You can go to Ouray County Museum, Ouray Alchemist Museum or you can choose one of the many breweries in town.
11. Sun Valley, Idaho
Another great destination for tourists is Sun Valley, a resort city in Blaine County, Idaho, United States. It's an amazing place for doing all sorts of winter activities, such as ice skating, Nordic skiing, sleigh rides, and snowshoeing.
If you decide to take a trip here, don't forget to check out Galena Summit and Pioneer Yurt.
12. Bozeman, Montana
We're at the last mountain town on our list. Bozeman is a city and the county seat of Gallatin County and it is located in southwest Montana. This is the type of place where you won't have time to be bored, especially due to the amazing landscapes you will see. From mountain peaks to low meadows, rivers, lakes, parks opened to the public, and caverns, you will surely have fun here!
If you want a pro tip, we recommend visiting the New World Gulch!
Whatever destination you choose from this list, we are sure you will have the time of your life! Have fun and don't forget to take pictures! Here's a fantastic camera for you! If you liked this article, don't forget to check this one out as well: Tired of the City? Find Peace in These 10 Breathtaking Places