While the US doesn't have any of those medieval castles that you'll find throughout Europe, that doesn't mean there aren't some extraordinary estates in our country. Many of the historic homes in the United States were built by barons of industry like the Carnegie's, Vanderbilt's, and Rockefeller's.
Their home was their shelter for creating art, developing and carrying out some noble mission, or simply experiencing life in an environment that influenced them.
You can read an author's entire collection, study a president's legacy, or celebrate the achievements of a civil rights hero. Still, nothing gives you a proper understanding of a famous figure like visiting the place they called home. The wealthy past of America comes to life as you stroll through the hallways and gardens of these 15 breathtaking properties.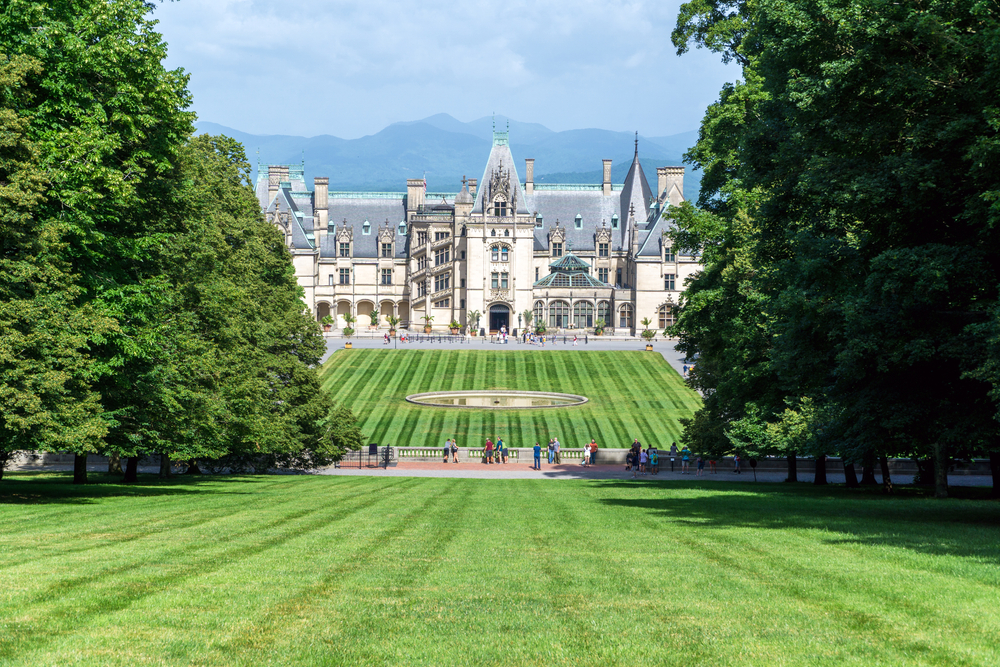 1. The Biltmore Estate
Where: Asheville, NC
George Vanderbilt's Asheville mansion is a favorite among travelers in North Carolina. Known for its manicured gardens, an indoor swimming pool, and a bowling alley, one of the first of its kind, this home is a perfect example of late 19th-century American opulence. The sprawling, 8,000-acre estate of George Vanderbilt is a modern curiosity.
Completed in 1895 at the Gilded Age's height, the Biltmore Estate's four acres of square footage come with 35 bedrooms, 43 bathrooms, and 65 fireplaces. Vanderbilt inherited his fortune from his grandfather, Cornelius, patriarch of one of the wealthiest families in the country, who made his wealth in railroads and shipping.
The estate grounds are open to the public and include the Antler Hill Village and Winery, which dot the manicured pathways and groomed gardens.
Tip: Steep inclines and rock crawls await you! You can go off-road like never before in a Land Rover truck, which you can drive yourself to this estate.
2. The Mount
Where: Lenox, MA
Edith Wharton's grand mansion, The Mount, was built in 1902 and overlooks endless, lush, organized gardens. Best known for writing The Age of Innocence, Wharton was a Pulitzer Prize-winning author who hugely influenced modern American home design and gardening. The Mount was converted into a public landmark in 1980 and has daily tours that take visitors through the extensive 42-room estate.
Tours are available through the gardens, and there's even a ghost tour in the autumn when spirits evoke the haunted nature of the old grounds. The home is notable for its turn-of-the-century architecture, a 2,700-volume library, and phantom inhabitants.
Tip: To get some peaceful relaxation, head down the street to the famed Red Lion Inn of Stockbridge and sit back on the porch, complete with rocking chairs.
3. Kykuit – The Rockefeller Estate
Where: Sleepy Hollow, NY
Sleepy Hollow, New York, is famous for Ichabod Crane and Kykuit. And overlooking the Hudson River, you'll find John D. Rockefeller's historic stone house, Kykuit, built in 1913. Kykuit houses Moores, Picassos, Calders, and even a well-known 20th-century sculpture collection within the house's six stories and forty rooms.
Even though this is still an active residence for the Rockefeller families, the private main grounds of the house are available to the public through guided tours. Each tour covers a different part of the grounds, including the Coach Barn, where a collection of classic cars and horse-drawn carriages is on display, and the Italian garden, home to the Adam and Eve fountain.
Tip: When your tour is finished, check out the Rockefeller State Park Preserve. Here you'll find trails that take you through dense forests, perfect for bird watching.
4. Sunnylands
Where: Rancho Mirage, CA
As a famed businessman, publisher, and philanthropist, Walter Annenberg and his flamboyant décor shine bright at Sunnylands, where he and his wife share this estate in Southern California. At Sunnylands, you will find a statement pink pyramid roof and a well-known glass wall exterior, a distinct modern home exposing guests to the picturesque mountainscape.
A golf course designed by Dick Wilson was a favorite of the Annenbergs, who played the course almost every day they were here. A new visitor center was completed in 2011, and Sunnylands welcomes its guests for tours throughout this pristine estate, as well as giving you a look into the life of the Annenberg family.
Tip: Be sure to go when Sunnylands hosts a free movie night on the Great Lawn. This happens every other week or so.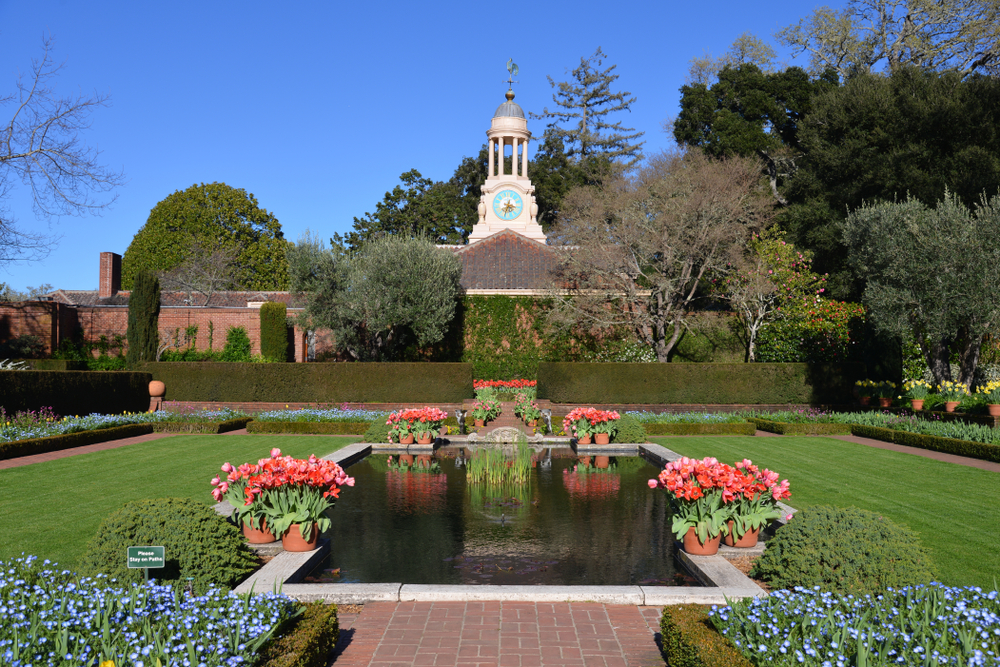 5. Filoli
Where: Woodside, CA
This 1917 mansion was turned into a site for the Natural Trust for Historic Preservation in California. It is known for its English Renaissance garden and its 654-acre property. Take the traditional guided home tour, but stay for orchard walks, nature hikes, and urban beekeeping classes. From the historic home and manicured gardens to a large estate and natural trails, explore the beauty and tranquility of another time.
Visitors can visit the cafe, have a glass of wine, or enjoy afternoon tea. Filoli also hosts seasonal activities, including tours of the home and grounds, art shows, music, education programs, and special events. It's also conveniently located between San Francisco and San Jose.
Tip: Become a member and drop by any time.
6. Chalk Hill Estate
Where: Healdsburg, CA
Chalk Hill Estate was built around 1966 on 1,300 acres of land at the Mayacama Mountains' base in Sonoma County as a vineyard and home for wine connoisseur Fred Furth.
It is well known for its Sauvignon Blancs and Chardonnays with its perfect agricultural and fermentation processes. You can book ahead to get an estate tour that will take you behind the scenes of its winemaking process, which includes tastings of the current pours.
Tip: Check out the Chalk Hill Culinary Lunch Tour; it is a unique excursion centered on the organic garden that supplies the excellent cuisine at the estate. After the tour, you can relax with wine tastings and small plates of fruits and vegetables you saw while visiting the garden.
7. Mount Vernon
Where: Mount Vernon, VA
In Fairfax County, VA, built in 1735, this is where George Washington lived for 45 years. His former residence honors America's foremost founding father with tours of the 21-room mansion, beautiful gardens, and a fully functioning distillery and gristmill. The tours bring guests through the estate halls and focus on life in the 1700s, such as dining culture, canine life, and slave labor.
Those wanting to learn the history of slavery should take a custom tour of the estate, while music buffs can join the property's resident fifer for a musical display. Also, dog lovers might enjoy the "All the President's Pups" walking tour, which lets you and your furry friends explore the history of canine life at Mount Vernon.
Insider Tip: A 45-minute narrated boat ride on the Potomac is a great way to admire the majesty of the grounds. You'll get the best view of Mount Vernon if you hop on board this sightseeing cruise.
8. The Breakers
Where: Newport, RI
What was considered the Vanderbilt family's summer cottage (possibly the understatement of the year) was designed in the Italian Renaissance style, and to say it is grand is an understatement. Built in 1895 by Cornelius Vanderbilt II, this towering 70-room estate provides panoramic views of the Atlantic. The Great Hall charms visitors with its grand red-carpet staircase, unique marble moldings, and walls flooded with Italian art and sculptures.
You can also see the library, where a fireplace from the 16th century remains in pristine condition. The estate's style is grand and luxuriant, with fountains and manicured gardens. Among other things, the Vanderbilts knew how to celebrate the holidays. Tour the Gilded Age mansion at Christmas for live music, visits with Santa, and everything decorated in silver and gold.
Tip: Make sure to take a hike on Newport's Cliff Walk, a 3.5-mile scenic stroll along the Atlantic coast that offers unbelievable views of the many summer estates, including a great view of The Breakers.
9. Black Point Estate
Where: Lake Geneva, WI
Built in Queen Anne style in 1888 by Chicago beer baron Conrad Seipp, Black Point Estate sits on top of Lake Geneva. Originally designed with 13 bedrooms and one bathroom, the house was constructed to escape city life. The estate remained in the family for three generations until, in 2005, Seipp's great-grandson gifted it to the state of Wisconsin to be used as a historic site.
The home is open for tours beginning in May through October, and visitors still arrive at the site by boat, the same way its original visitors once did.
Tip: The Wisconsin Historical Society Passport grants entry to the Black Point Estate, among 11 other historical landmarks throughout the Cheese State.
10. The Inn at Shelburne Farms
Where: Shelburne, VT
Driving through Vermont, if you make your way through winding roads, you'll see the mammoth Shelburne Farms appear magnificently on your horizon. With a panoramic view of Lake Champlain, the magnificent Shelburne Estate, formerly a private home but now a nonprofit with the mission to educate towards a sustainable future, is a portrait of country living.
It was built in the 1880s by Dr. William Seward and Lila Vanderbilt Webb as a residence and farm and was internationally known for hackney horse breeding. The property was restored in 1987, and ever since, the estate has been an inn with 24 rooms and 4 guest cottages, along with a public farm-to-table restaurant. It made Fodor's list of the Top 100 Hotels in 2012!
Tip: Stop by the Shelburne Farms store and pick up some renowned fresh cheddar cheese, maple syrup, cured meats, and farm-made jams.
11. Monticello
Where: Charlottesville, VA
Thomas Jefferson built this sprawling plantation in 1772 with the land he had inherited from his father and named it Monticello. He originally built this estate to grow tobacco, wheat, and other crops at the top of an 850-foot peak in the Southwest Mountains. Designed with Neoclassical influences and kept in perfect condition, Monticello greets visitors who wish to explore the house and land, including four exhibits examining Jefferson's legacy of liberty and public service.
The house stands as a national treasure, with its facade on the back of a $2 bill. Green thumbs should make their way to the center for historic plants and garden tastings, while architecture fanatics might enjoy the "Making Monticello" exhibition on the home's planning and construction.
Tip: Be sure to grab the Monticello Neighborhood Pass so you can obtain access to James Monroe's house in addition to Jefferson's Monticello.
12. Brucemore
Where: Cedar Rapids, IA
Once defined as "the grandest house west of Chicago," this estate in Cedar Rapids, Iowa, offers visitors a glimpse back into early twentieth-century life and is a living landmark that charts the history of Cedar Rapids. Take a tour, noting the collections, including antique electronics like a 1930s film projector and an Edison phonograph, or stroll through the grounds, stopping in the flower shop and admiring the 1910 landscape arrangement.
Concerts, theater, festivals, garden walks, holiday celebrations, and tours animate the site and celebrate its community's heritage. The 26-acre, park-like estate invites exploration of its history, gardens, grounds, and 21-room mansion. Each season, nature's changing beauty entices visitors to the estate, offering new experiences.
Tip: Grab your picnic basket and plan for a picturesque lunch in the gardens!
13. The Whitney Plantation
Where: Wallace, Louisiana
One of the few Southern plantations to concentrate on slave activity, The Whitney Plantation uses many first-person narratives to paint a picture of what life was really like for Louisiana's enslaved community. The estate educates you about slave life in an excellent and well-thought-out way.
The plantation's history is also told, and many people don't realize that it was operational until about 1974. A guided and self-guided tour of the estate takes visitors through the slave quarters, historic Antioch Baptist Church, and the Big House, focusing on the lives of the men and women who lived and worked there.
Tip: We recommend you download the tour app in advance and bring headphones for your phone.
14. The Elms
Where: Newport, RI
The Elms was once the summer home of Edward Julius Berwind and his family in Philadelphia and New York, who made their fortune in the coal industry. In 1898, the Berwinds engaged Philadelphia architect Horace Trumbauer to design a house modeled after the mid-18th-century French chateau d'Asnieres outside Paris.
Construction of The Elms was finished in 1901 at a cost reported at approximately $1.4 million. Allard and Sons of Paris designed the interiors and furnishings. Today, guests at the estate can expect to see gorgeously landscaped grounds dotted with many fountains and serving as a window into the Gilded Age through the eyes of a coal magnate.
Tip: Don't miss the Servant Life tour for a behind-the-scenes look at what it took to run this home.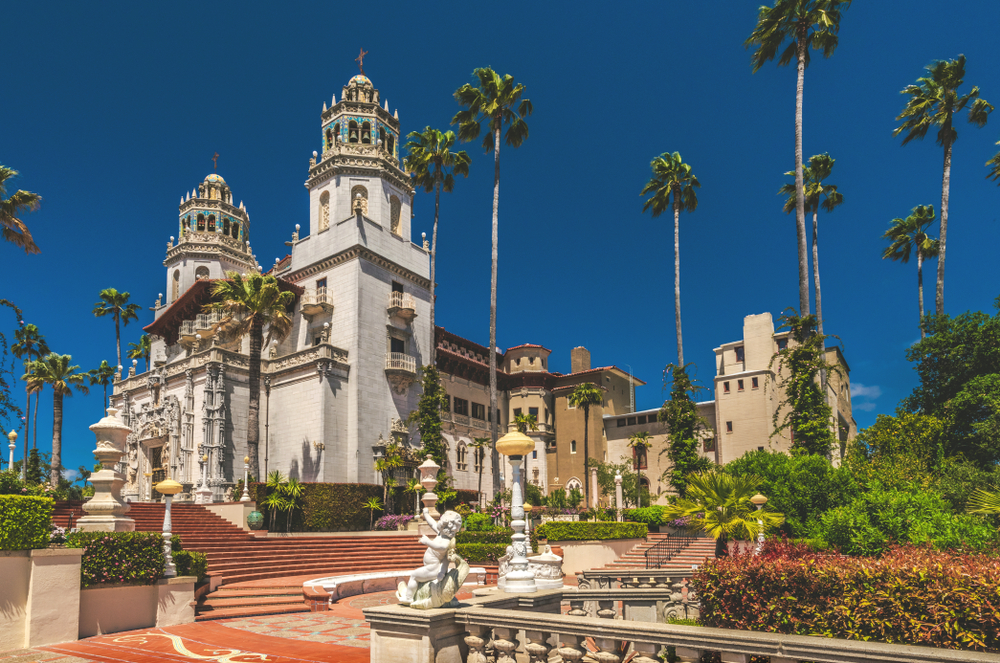 15. Hearst Castle
Where: San Simeon, CA
Set on top of a hill over the ocean, newspaper magnate William Randolph Hearst's famous San Simeon estate, the founder of the company that owns Town & Country, allows visitors to step inside the inspiration behind Citizen Kane's Xanadu. Travelers can examine the grand rooms of the estate and the upstairs suites, or take the evening tour, complete with guides dressed in period clothes, to see the estate come alive at night.
Tip: Don't be surprised if you see zebras and other herds on the estate! They are descendants of Hearst's private zoo. When media magnate William Randolph Hearst set out to build a castle, he outdid himself!
Do you plan to travel? Get ready for your next trip and get a new luggage: Rockland Fashion Softside Upright Luggage Set
Let us know below if you've been to any of these places, and also check out: 7 Magical Healing Spots You Should Visit in the US