If you're planning your travel budget, you've probably already thought about numerous ways to cut your costs. All you need is an open mind and some creativity. And since the US isn't exactly considered one of the cheapest places to travel in the world, a little budget planning will definitely help in making your dreams come true!
We thought you could use a little help, so we've come up with a few destinations in the US that are relatively cheap, this list has some of the best ones, so all you need to do is check out our article and see which places fit you best.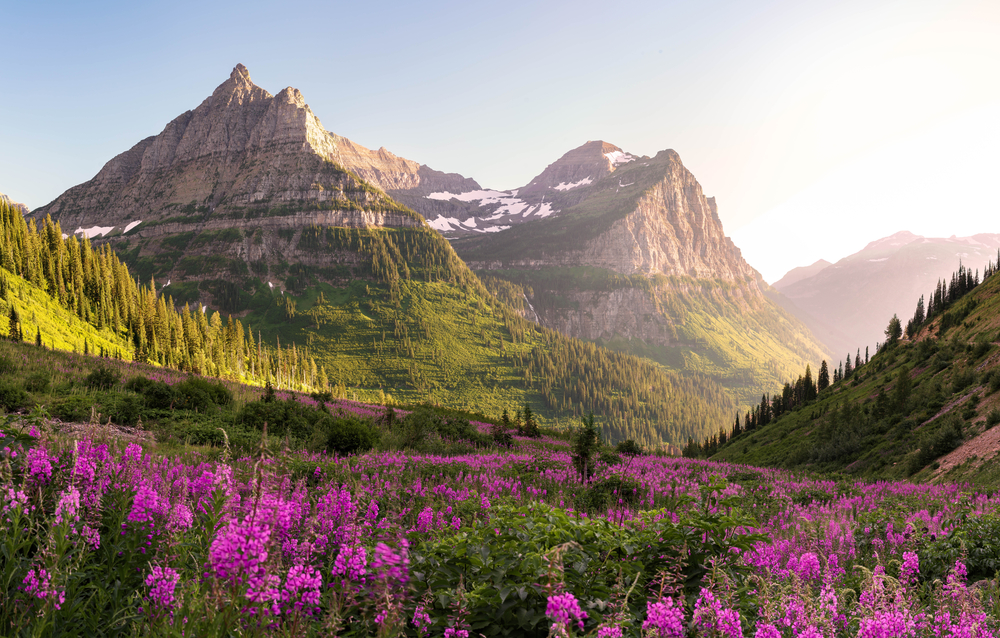 Glacier National Park, Montana – $105-160/day
Glacier National Park has lots of rugged beauty in Montana. You'll find alpine lakes that are in mint condition, snow-capped mountains, plunging valleys, and so much more.
Imagine those scenic drives through the park that will instantly take your breath away, and there are over 700 miles of hiking trails ready to be explored. Traveling to Glacier National Park is definitely a great choice if you have a limited budget because it has so many possibilities for every type of traveler.
There are many campsites during the summer months that will allow you to reduce your accommodation costs. Also, you can enjoy low transportation costs by using the super-affordable park shuttles.
Salt Lake City, Utah – $100-150/day
This place is like a hub for nature lovers, and it makes a great launching point for some of Utah's best national and state parks. There are tons of things to do in Utah!
It has a wide range of accommodations, and you'll definitely find something to fit your budget and liking. This is one of the many destinations that are perfectly made for budget travelers.
Travelers report spending around $40 per day on meals in Salt Lake City. And if you're visiting Salt Lake City to check out the national and state parks nearby, you'll probably spend around $20 for a seven-day individual pass.
Albuquerque, New Mexico – $76-130/day
You've probably already heard all about the wonderful things you can do in New Mexico. So, if you're looking for some travel inspiration, you should consider heading to Albuquerque for a budget-friendly vacation.
It's one of the most culturally diverse and artistic cities in the Southwest, and you'll definitely love it. The ideal budget pick for Albuquerque is the traditional Adobe home and garden for only $65 per night.
Or, you can also find an Airbnb for as little as $40 per night. If you want to only rely on Albuquerque's public transportation, you'll be paying $2/day. Taxis and rideshares will cost you around $30 per day in the city.
Denver, Colorado – $123-245/day
The Mile-High City is one of those destinations that you have to try in this lifetime because of its neat mix of eclectic metropolitan and rugged outdoor vibes.
With its spectacular art scene and bustling downtown, perfect for those who love the city, plus the backdrop of the Rocky Mountains, Basically, Denver has something in store for every kind of traveler.
The best part, of course, is that it's totally doable even with a tight budget. Denver has a stellar food scene, where you can budget around $40–50 per day for meals and still find many delicious options throughout the city.
Milwaukee, Wisconsin – $70-170/day
You may have missed this Midwestern city in your travel plans so far, but now's the time to try it. It's located on the shores of Lake Michigan, where you'll find many water-related activities in and around Milwaukee.
You can take a sunset cruise, go paddleboarding, or relax on one of the sandy beaches. You'll find lots of neat museums, delicious restaurants, and homegrown breweries throughout the city.
But the best part of the city is how affordable it is. You can spend as little as $70 a day, and you can take advantage of everything the city has to offer without spending too much money.
Chicago, Illinois – $130-166/day
Although you might associate Chicago with towering skyscrapers and a glittery downtown, there's so much more to it than just that. Also, you might assume that it might cost you a fortune to visit it, but that's not true.
After living in Chicago for a long time, we've gathered some tricks from a bunch of people who mastered the art of saving money as residents, and we are here to share them all with you.
When it comes to accommodation, Airbnb is the best bet for finding budget-friendly places. And although restaurants might create a little fuss because they're a bit more expensive, you can pull it off with lighter meals.
The good thing is that there are tons of things to do in Chicago for free. In fact, you could plan an entire trip and not spend a dime, which will only let you spend more on Chicago's signature deep-dish pizza!
Nashville, Tennessee – $70-112/day
Music City is definitely a destination many travelers want to visit at least once. It's incredibly famous for its nightlife, live music, museums, and more.
I mean, Nashville is THE HEART of the American country music scene, and visitors that come here can have a bite of the well-known Southern hospitality. Although many people visit this city, there are many affordable options for budget travelers. You can find a charming guest suite for only $52/night.
When it comes to food, portions are generous and prices are low, so go ahead and stretch your dollar in Nashville's restaurants. Plus, there are tons of free things to do in Nashville, from live music to free museums!
Louisville, Kentucky – $94-120/day
If you dream of fine whiskey, soul food, and thoroughbred horses, Louisville is the perfect place for you. This Kentucky gem is full of awesome things to do, and it's among the most ideal destinations for budget travelers.
You'll very easily find good and affordable accommodation in Louisville. Plus, in the spirit of the same Southern hospitality I've mentioned before, when it comes to food, portions are huge and prices are very reasonable.
If you want to use the town's public transportation, you can have unlimited rides for only $15 a week. Trust me, you'll need it, as there are many things to do there!
San Antonio, Texas – $86-150/day
San Antonio is full of rich colonial history and Mexican culture. The San Antonio River is the city's attraction, as it's lined with cafés, restaurants, shops, and more.
You can spend hours strolling and admiring the city's beauty. With a little bit of planning, you can spend as little as $86 per day. One of the things you definitely have to try is the food. There's excellent Mexican food you can find at every corner.
Plus, the taquerías are very cheap. As for public transportation, you won't have any problems because it's super cheap. Cheap, as in, $2.75 for a day pass!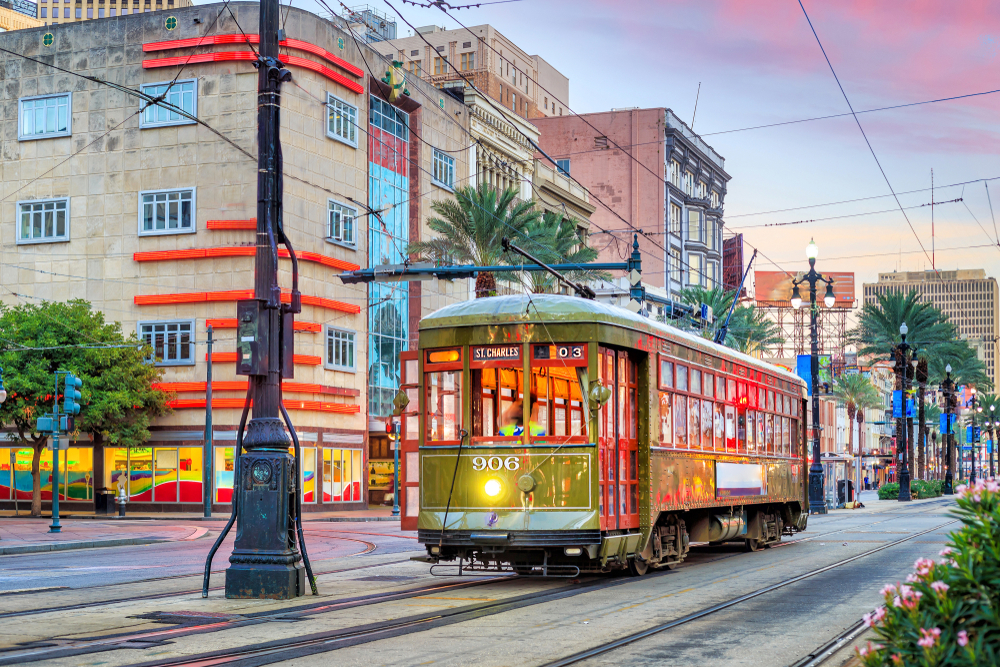 New Orleans, Louisiana – $94-147/day
New Orleans is the heart of jazz music, vibrant art, and epic gastronomy. This incredible city can be the perfect destination for traveling on a budget, as you can spend as little as $94 per day.
For accommodation, you can find great Airbnb in dreamy places that cost only $56 per night. Also, the food in New Orleans is divine, and we can definitely guarantee that your belly will be very happy there.
If you're vegan, you'll love it even more. When it comes to local transportation, this city has a cool feature: there's a streetcar system that operates throughout touristy areas of the city. And yes, it's super cheap: only $3/day for a day pass!
Asheville, North Carolina – $75-163/day
Asheville is one of the coolest places in America. This hip town is nestled in the Blue Ridge Mountains. Not only will you feel incredibly good there, but you'll also be able to enjoy nature just a couple of minutes outside town!
You can book a cozy cabin in Asheville's historic Grove Park for $76 per night. When it comes to food, it has a ton of cheap and amazing places.
You'll definitely have a good time with only $20–$35 per day for meals. If you're a nature lover but you want to have the option of keeping your foot in the city as well, you'll love this place.
Atlanta, Georgia – $106-140/day
Atlanta is a destination that you should visit at least once in your lifetime, thanks to its rich history and cultural diversity. It has fantastic museums, historical landmarks, and awesome outdoor spaces.
On top of that, it's one of the most budget-friendly cities in the country. When it comes to Atlanta's food scene, I'm getting hungry just thinking of it, as it's a diverse city with many ethnic restaurants from all over the globe.
If you were to ask for my opinion, I'd say don't get frugal when it comes to food and budget around $30–50/day. It will be worth it!
And what better thing you can do while traveling than take some nice pictures? A fun thing to have is a disposable camera with you. This one from Kodak is an incredible choice: Kodak Funsaver One Time Use Film Camera (2-pack)
You should also read: 10 Best Museums in the US REALLY Worth Visiting