Whenever you are traveling to another city or state in the U.S., transportation is always tricky and can be quite challenging, depending on the place. In some cities, it's very complicated to reach certain places if you don't own a car or decide to travel without it.
You have to change multiple forms of transportation, wait several minutes for them to arrive, or find your way to the right station just in time to see it pass you by. Bottom line: you have to be prepared in advance and know some details beforehand.
So, here are a few tips to help you along on your next trip, if you decide to leave your car at home.
What option of transportation do you have for traveling around the U.S.?
Nowadays the transportation system is expanding, especially in big cities such as New York, Washington DC, Chicago, San Francisco and so many more.
Some of the most popular and accessible transportation methods include the following: buses, subways and metros, commuter trains, trolleys and streetcars, ferries, and tramways.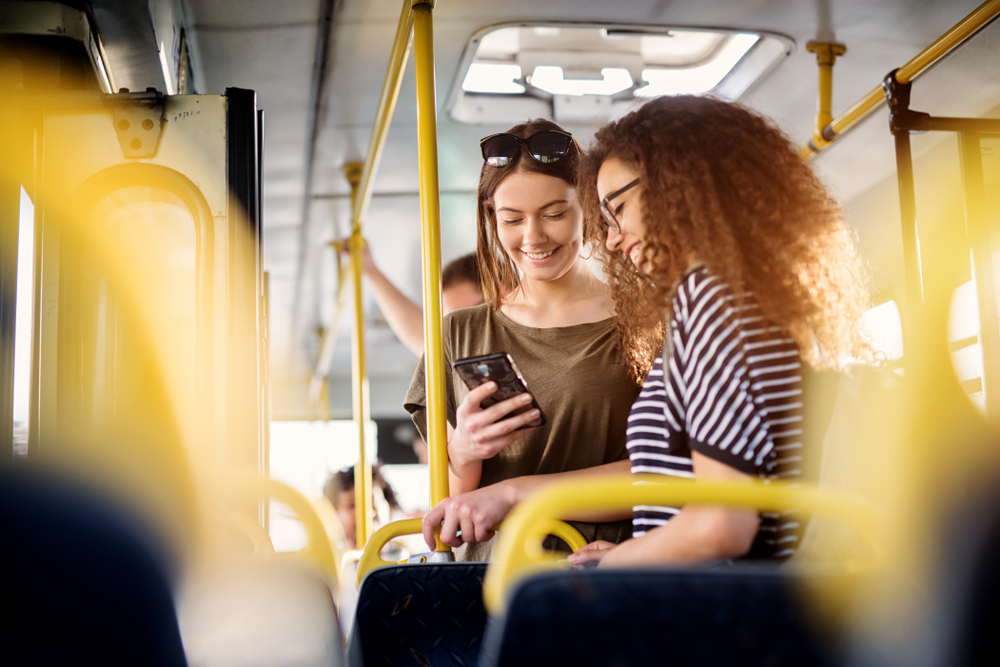 Buses
In the U.S. there are two types of buses: city and interstate buses. As the name suggests, one is for traveling outside the state and one for destinations inside the city. The quality of inner-city buses differs from one city to another, but the best ones are in Seattle, San Francisco, Honolulu, and Pittsburgh.
Interstate buses are run by private companies and the majority of them offer a direct route between one city to another, so it's an efficient alternative to reach a destination. Most of them have bathrooms, are clean, and offer air conditioning.
Bear in mind that sometimes the drive can be very long, however, you are granted some stops until you reach your destination to stretch your legs, for bathroom breaks, or to eat.
How to travel by bus and how much does it cost?
For those who haven't traveled that much with the city bus, it can be tricky, especially in a bigger city. So, you may want to start doing your research and learn about stops, departure, and arrival stations. When it comes to the tickets you can purchase them from the driver with cash. Tickets are for one ride and in the U.S., they range from $1.25 to $2.50.
When it comes to the interstate bus there are a couple of popular firms and the first step into traveling with one would be to reserve your seat, you can do it online, by the phone, or in person by going to the station. The most reliable bus company is Greyhound. Make sure that on the day of the departure, you arrive one hour before the trip to check your luggage.
The prices for one ticket range from $10 to $25.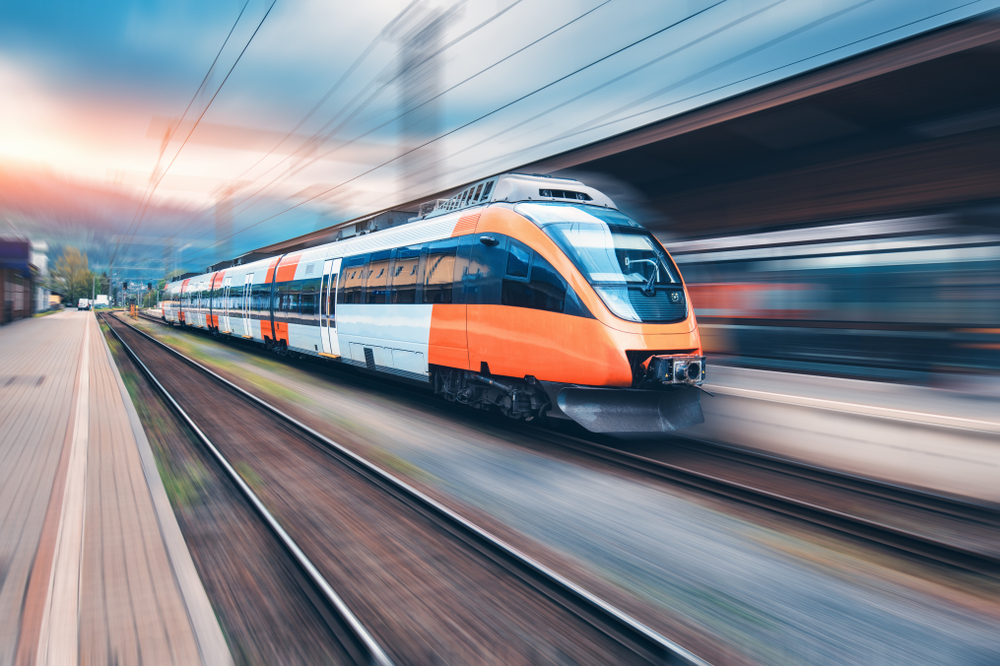 Trains
Just like with buses, there are two types of trains: commuter and intercity. Commuters connect the suburbs part with the downtown area, they are also very quick and efficient for those who have their jobs in the city.
There aren't many networks for commuter trains, but the most popular ones reside in big cities such as New York City, Chicago, and so on.
Intercity trains are used to travel long distances, between cities. Amtrak is the only one that runs train city routes. Most people rely on this option when traveling to another city throughout the country. For long-distance routes, these also provide beds, dining areas and some even have Wi-Fi.
Bear in mind that they are not fast nor cheap, however, the overall experience is worth it.
How to travel by train and how much does it cost?
Research in advance what routes you need to take to reach your destination with both commuter train and intercity.
With commuters, you can look up their schedule online and see if there are any delays, which can sometimes happen. The tickets can be purchased at the counter or from a vending machine. You don't need reservations so you can sit anywhere.
Fares for commuter trains vary from city to city but they can be as low as $5 and as high as $30, depending on your destination.
When it comes to intercity trains you should get to the station early to check your luggage if you have any. They tend to leave a bit earlier from the station, and so when the train reaches the station hop on immediately.
Just like I mentioned before, it's the same for intercity trains, the price may vary it can be anywhere between $50 to $150.
If you travel often and need a small carry-on that will fit all of your things, check out this one from Amazon! Is the best!
Rapid transit
If you haven't heard about it before, we're going to explain it to you. Rapid transit is a fast way of transportation, exists in urban areas such as subways, metros, and so on.
They are very reliable, highly affordable, if not cheap, and fast. They can only be found, however, in big cities such as New York City, Miami, Cleveland, and Washington, for example. In smaller cities or where the population and traffic aren't so dense that require alternative transportation, there are others such as tramways, trolleys, or monorails.
Their disadvantage is the fact that they are not as fast and efficient as those previously mentioned, however, the experience is nice if you are traveling in a different city.
How much does rapid transit generally cost?
In the U.S., metros, and subways are very cheap since the majority of people who don't own a car or don't want to rely on one are opting for public transportation. In big cities, the price for the subway is generally between $2-$6 which is quite decent if you think about it.
However, many factors influence the price such as distance, the city that you are in, how commercial the city is, and so on. Tickets are usually purchased at the station over the counter or a vending machine.
Useful tips for when you are traveling with rapid transit
Like with any other transportation, there are some tips you should consider before embarking on a trip on one of the rapid transit transportation. For starters, you need to validate your ticket, however, depending on the type of transportation you choose, you need to do so before entering it, and in some, you need to do it after.
In addition, when you are taking underground transportation, it can be confusing as to where you actually are, so research beforehand what station you should reach and look at the map (you can find it online) with the station to know where you are.
Also, nowadays some apps can offer directions and some helpful insights, such as the schedule of the transportation if there are any delays, and how much a ticket (some even allow you to purchase one online) costs.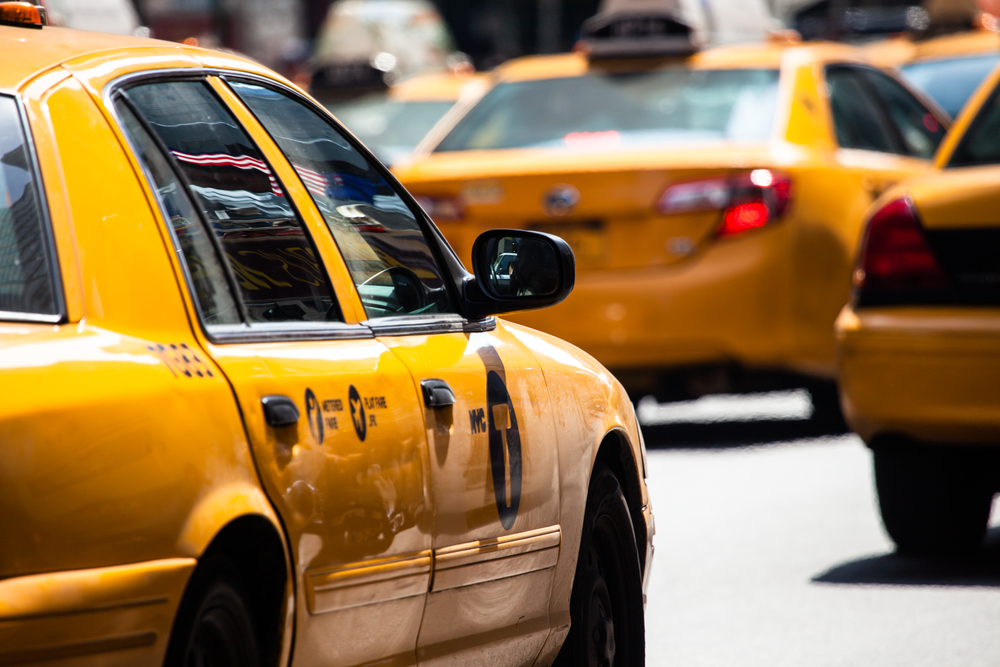 Taking a cab
In the U.S., especially in big cities taxis are a popular alternative to public transportation and a comfortable one as well. You may know that in New York, taxis are the second symbol representing the city (after the Statue of Liberty).
What can be tricky with them is the fact that in the case of dense traffic it can take quite some time until you reach your destination. However, it's much more comfortable than having to switch buses, subways, and so on.
In addition, you wouldn't have to worry about directions since the driver knows the city and where to take you.
How to take a cab and how much is it?
If you have seen cabs before then you know they have two lights on top of it, one that's green and one that's red. If the red one is on, then it means the cab is taken, if the other one is lit up it means it's available.
In big cities, there's the old classic way of taking this transportation, by raising your hand and making eye contact with the driver. They will stop by you, you get in the backseat and tell them the address. But since we live in modern times, you can also download several apps for this service.
Nowadays, it can be between $2-$3 per mile to reach a destination. It's also good if you tip the driver 10%.
If you liked this article you may also be interested in this related piece: 8 Things Smart Travelers Always Do Before a Flight